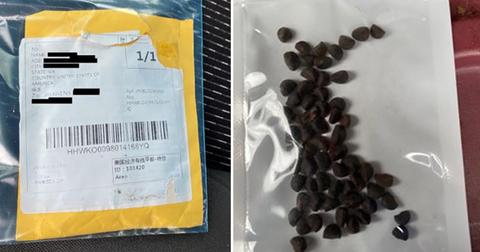 People are getting bags of mystery seeds from China and they're being told not to plant them
By Mark Pygas

Updated
Several people in Virginia have received unsolicited packages of seeds in the mail, possibly originating from China, and the Virginia Department of Agriculture and Consumer Services (VDACS) is asking people not to plant them.
According to WHSV, several people have reported receiving the seeds. They reported the unsolicited packages to authorities, leading the VDACS to get involved.
"The Virginia Department of Agriculture and Consumer Services (VDACS) has been notified that several Virginia residents have received unsolicited packages containing seeds that appear to have originated from China," the agency wrote in a press release.
"The types of seeds in the packages are unknown at this time and may be invasive plant species. The packages were sent by mail and may have Chinese writing on them."
VDACS asked people to avoid planting the seeds, stating that they could be an invasive species.
"Invasive species wreak havoc on the environment, displace or destroy native plants and insects and severely damage crops. Taking steps to prevent their introduction is the most effective method of reducing both the risk of invasive species infestations and the cost to control and mitigate those infestations."
Anyone who receives a similar package is asked to contact the Office of Plant Industry Services (OPIS).
"Please do not plant these seeds. VDACS encourages anyone who has received unsolicited seeds in the mail that appears to have Chinese origin to contact the Office of Plant Industry Services (OPIS) at 804.786.3515 or through the ReportAPest@vdacs.virginia.gov email."
However, the Better Business Bureau seems to believe that the mysterious packages could be part of a customer review scam, in which companies ship low cost items to people so that they can write a fake review for their business in a resident's name.
"That is rather random. I don't think I've heard of seeds before," Rupp said to FOX 13. "The first thing to do is Google your address and see what's out there. Numerous things will come up when you Google your address. It's kind of scary sometimes."
Several other people, some not in Virginia, took to Twitter to report receiving similar seeds in the mail.
"My mother just told me about these," one user wrote. "I look in my mailbox and I have received these today. She's in Virginia however I am in Pennsylvania."
While another added: "Wow, I did get a packet a couple of weeks ago, looked like pumpkin seeds inside and did have the Chinese writing. After determining that neither of us ordered them, into the trash it went. Now I'm sorry I didn't keep so I could report."
"I received these seeds from China also," another added. "College Station, Texas. They were marked earrings."