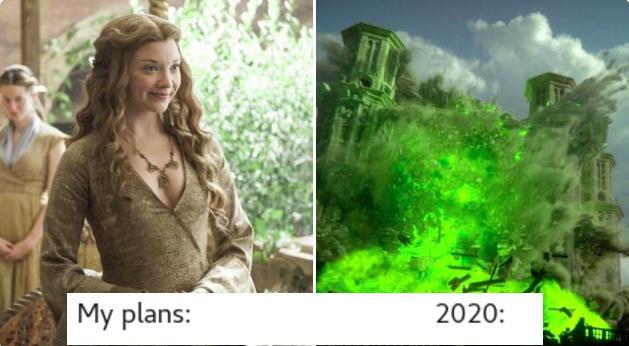 These "my plans vs 2020" memes are helping us get through this bummer of a year
By Mustafa Gatollari

Updated
No one could've ever predicted the absolute crapfest of a year that 2020 was going to become, but folks had a bad feeling when, at the beginning of the new decade, Kobe Bryant's helicopter crashed. And then things got progressively crazier as we learned of a scary new virus emerging from Wuhan, China. And now, we're all living the quarantine life.
While New Year's resolutions aren't exactly the best approach to success (I mean, if you want to change something about your life, you really don't need to set an arbitrary date to do so), everyone makes all sorts of plans ahead of time. Whether it's vacations, starting a new job or business, or whatever "normal" activities or endeavors predicated on human interaction in a society-as-usual type situation — those were all effectively canceled. Thanks a lot, COVID-19.
And because the best thing to do in dire, life-altering, frightening situations is to inject a little bit of comedy into it, folks are jumping on the "My Plans vs 2020" meme bandwagon.
Journalist Bobby Box perfectly summed up the piano-on-the-head that is the year 2020 with these two wonderful images, one lifted straight from the classic horror flick, Scream.
If you haven't seen it, I hate to break it to you, but it doesn't end well for Rose McGowan in the flick. People were not only tickled pink by Bobby's hilarious meme, but others have submitted their own entries, like when Atreyu's faithful steed, Artax, drowns in the Swamp of Sorrows in The Neverending Story. Sorry for reminding you of this.
Or how about when Gandalf protects the Fellowship from the wrath of the Balrog in Lord of the Rings, right before uttering, "Fly, you fools" and plummeting to his doom. Well, not really doom — he just gets reborn as Gandalf the White and ends up being an even bigger badass.
If you're a fan of Fleabag then this one will hit you particularly hard.
While it's easy to get depressed looking at all of these memes, some people are tossing in some 2021 redemption stills for a more uplifting take on this tweet. Like The Bride in "Kill Bill" wreaking all sorts of havoc on her enemies after waking up from her coma.
The memes weren't just restricted to cinema, either. Remember when Randy Johnson accidentally turned a bird into a poof of feathers during a freak MLB pitching scenario?
My favorite has to be this meme-ception one where a popular Leonardo DiCaprio image that was taken as he was filming Inception, which is used for a bunch of different memes, was coupled with another viral video still of someone slipping on ice. It's brilliant.
Then there are more tragic ones, like the death of this character in My Girl.
I'm still not over that, nor the life-cripplingly realization that Paul Dano's character makes in Little Miss Sunshine when he realizes he's color blind and therefore cannot realize his lifelong dream of joining the Air Force.
Oh and if you're a Game of Thrones fan, that image of the green dragon's fire explosion and Margaery Tyrell's smug face will probably bring back some memories.
Some of them changed the text/format up a little bit, like these stills from Uncut Gems (although I'd probably put Adam Sandler in the first pic slot, and the blonde-haired goon in the second one.)
The Last Dance is a shining beacon of hope in this whole pandemic, and Jordan laughing his butt off is a very appropriate image, also because as far as basketball's concerned, the man was the closest thing to God on the court.
I had to submit my own, too, because Commando's the best movie ever made.
But I think the real winner of them all is this tweet from electronic music duo Lost Kings, that made a very appropriate Fyre Festival reference. Congratulations guys, you nailed it.