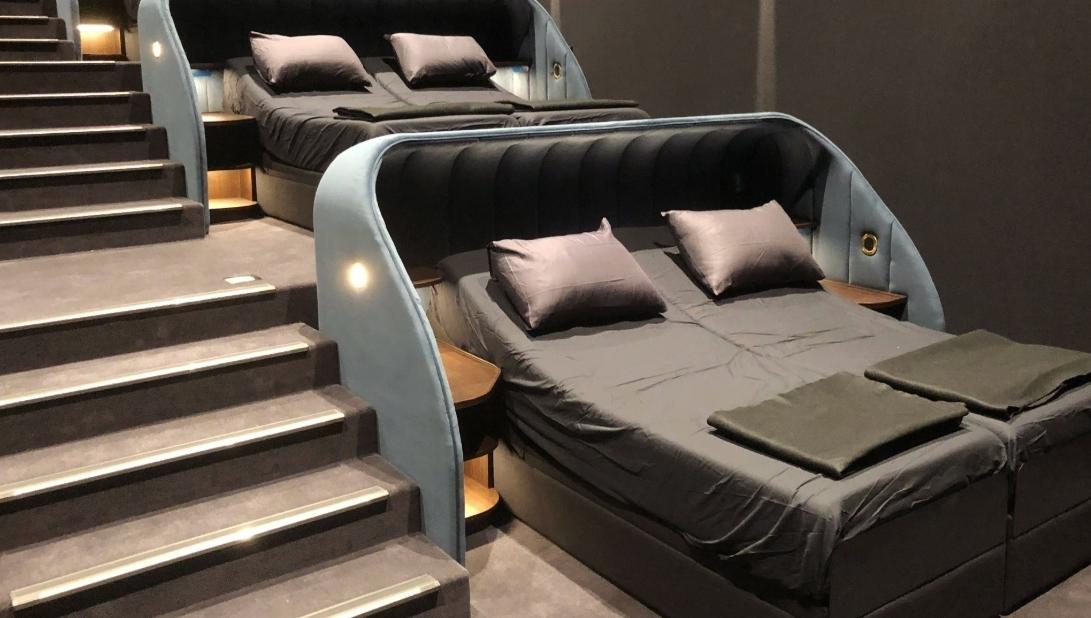 Movie theater replaces all its seats with double beds and it looks so comfortable
By Mark Pygas

Dec. 2 2019, Updated 9:05 a.m. ET
Cinema seats aren't exactly comfortable, especially if you're tall. That's probably why so many movie theaters are replacing their normal seats with recliners and the like recently.
But one movie theatre in Switzerland has gone all out by replacing the seats in one of their movie theatres with double beds so you can snuggle with your partner or your best friend this festive season.
Article continues below advertisement
Cinema Pathé in Switzerland opened their "VIP bedroom" screen earlier this year, and it looks perfect for watching a Christmas movie this holiday season.
Article continues below advertisement
The cinema describes the experience as being just like watching a movie at home. The theater has 11 beds, which have adjustable headrests so you're not looking at the ceiling the entire movie. The beds are complete with soft sheets, two pillows, and even bedside tables for your complimentary drinks and popcorn.
Article continues below advertisement
Buying the VIP package ($48.50) gets you a double bed for you and your loved one, as well as free snacks and drinks delivered to you right in bed.
Customers are also given a pair of slippers to make things even more comfortable.
If you're worried about watching a movie in a bed someone else has been in, Venanzio Di Bacco, the CEO of Pathé Switzerland told My Modern Met that hygiene is a priority and sheets are washed in between every screening. "The hygiene aspect is very important to us," he added.
Article continues below advertisement
The theater has a range of other VIP rooms if you think you might fall asleep in the beds and miss the entire movie. There's a room with double sofas, and even a kids cinema with bean bags, a ball pit, and a slide so you don't have to take the stairs.
Article continues below advertisement
Unsurprisingly, people seem to be big fans of the creative ideas. One user wrote: "I think i'd fall asleep and miss the movie!"
While another added: "Are you kidding me I would be snoring in 10 minutes not good."