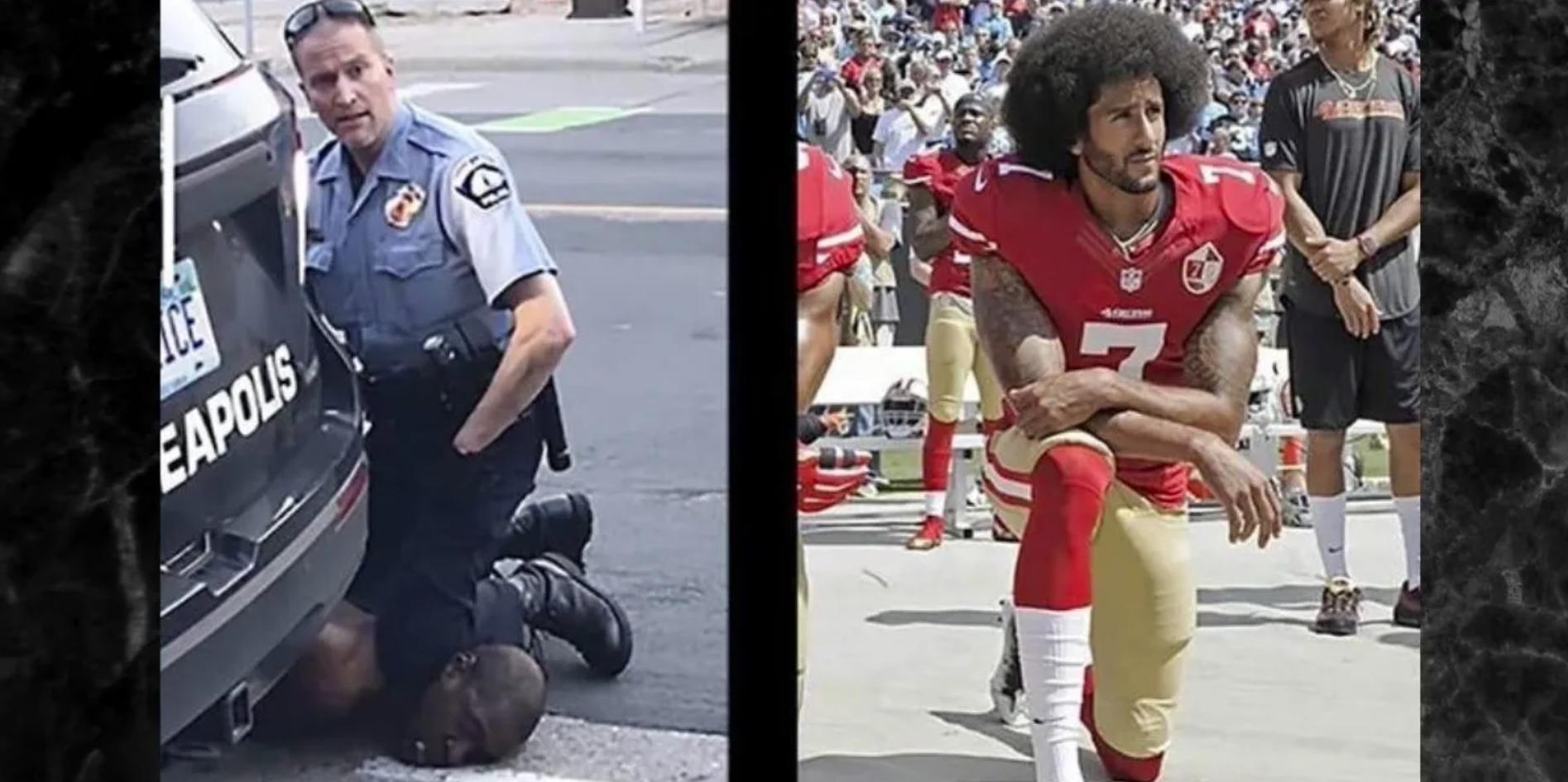 MLK's daughter shared a powerful message about how people react to these two photos
By Annie Reneau

Jun. 5 2020, Updated 8:58 a.m. ET
When Colin Kaepernick started kneeling during the national anthem at the beginning of NFL games, many Americans railed against him. They called him un-American. They called him disrespectful. They failed to see his peaceful protest against racial injustice and police brutality as the act of a patriot yearning to improve his country, choosing to focus on their own discomfort with his actions instead.
Article continues below advertisement
A Minneapolis police officer knelt on the back and neck of a black man, George Floyd, who had just been taken into police custody. According to CBS News, he was a forgery suspect, and as the officer held him to the ground, video taken by bystanders shows Floyd repeatedly crying out that he couldn't breathe.
"My stomach hurts. My neck hurts. Everything hurts ..." he can be heard saying in the video. "(I need) water or something. Please. Please. I can't breathe, officer. I cannot breathe. I cannot breathe."
Article continues below advertisement
Floyd stopped moving. The bystanders continually asked the officer why he kept kneeling on the man's neck and chest. At one point, he knelt with his hands in his pockets while Floyd lay beneath his legs. It's incredibly disturbing to watch, considering that Floyd was pronounced dead at the hospital the same evening.
People are understandably outraged. The FBI is now investigating the incident and the four officers involved have been fired. Hopefully, justice will prevail—though even if it does, it won't bring back this man's life.
But this is not a lone case. Bernice King, daughter of Martin Luther King, Jr. posted a striking photo combo of the officer kneeling on Floyd on one side and Kaepernick kneeling on the sidelines, writing on Twitter:
Article continues below advertisement
"If you're unbothered or mildly bothered by the 1st knee, but outraged by the 2nd, then, in my father's words, you're 'more devoted to order than to justice.' And more passionate about an anthem that supposedly symbolizes freedom than you are about a Black man's freedom to live."
Article continues below advertisement
The reason for the kneeling on the right is the same kneeling on the left. It's not just a matter of police simply killing black people—it's the dehumanization and devaluing of black lives in our justice system overall. It's the straight line one can draw from a white woman wielding her racist power to call the police—telling them "an African-American man is threatening my life" when a birdwatcher simply asked her to put a leash on her dog per the rules—to the death of an unarmed black man in the hands of law enforcement.
It's the history of vigilante "justice" that makes white men think they have the right to stop a jogger in the middle of the street and question him at gunpoint and then kill him when he tries to defend himself.
It's the inability of a black man to calmly inform an officer that he has a legal, concealed carry weapon without getting shot in his car in front of his girlfriend and her 4-year-old daughter.
Article continues below advertisement
It's the inability of a black man to exercise his second amendment right and defend his loved ones and property without having his girlfriend shot eight times and killed in her own bed.
It's story after story of automatic suspicion of wrongdoing, presumption of criminality and assumption of guilt of a black person in a police encounter. It's also the lack of accountability and killing with impunity for law enforcement officers that happens far too often.
This is why distrust of the police exists. This is why kneeling protests exist. This is why Black Lives Matter exists.
A police officer can sit with his hands in his pockets while a black man begs for breath beneath his knee while no one with any power in the situation does anything to stop it. This is why Kap knelt. This is why, no matter what you feel about the anthem, he wasn't wrong to do so.