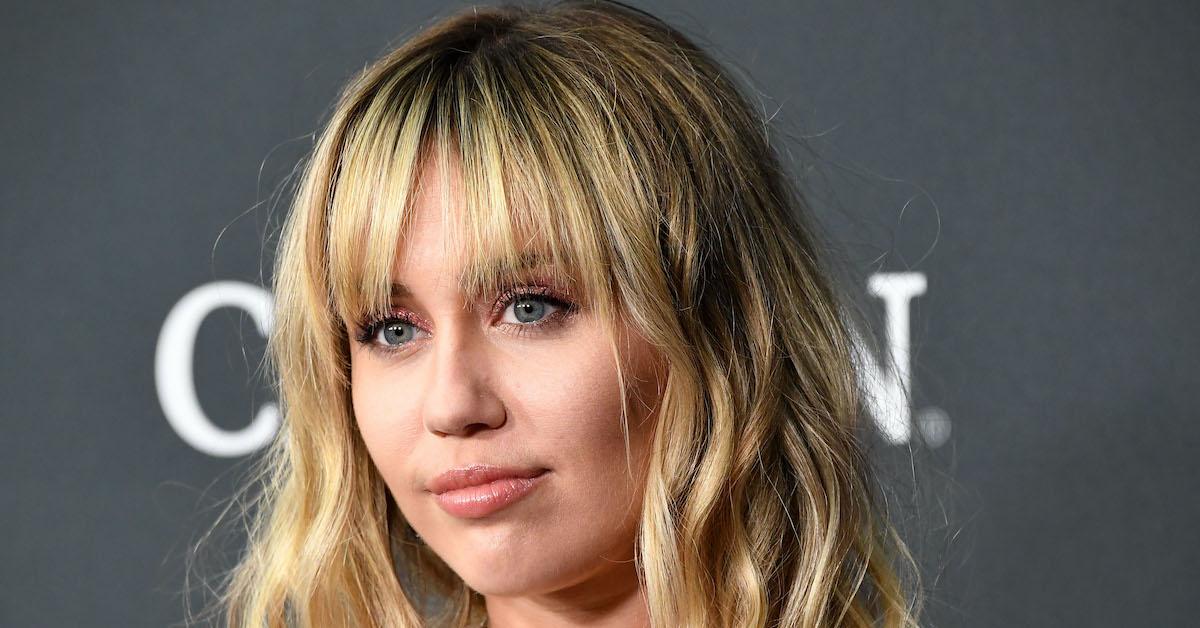 Miley Cyrus posts thrift shop selfie, telling fans secondhand is the "most sustainable fashion"
By Sophie Hirsh

Oct. 23 2019, Updated 3:02 p.m. ET
Miley Cyrus often uses her wardrobe to show just how stylish vintage and animal-free fashion can be — and the singer took things to the next level in a recent Instagram post. On Tuesday, Miley shared a few mirror selfies of herself shopping in a thrift store, telling her 100 million followers that secondhand shopping is the most sustainable way to update your wardrobe.
Article continues below advertisement
"Tom Ford but make it thrifty," Miley captioned a shot of herself posing in a thrift store wearing an all black ensemble, topped with a hat, and followed by a heart emoji. She then added in parentheses: "previously loved / owned clothes = most sustainable fashion source."
Article continues below advertisement
Miley is absolutely right about that — by opting for secondhand or "previously loved" clothes instead of buying them new, you are making a pretty sustainable fashion choice. Purchasing secondhand clothing reduces the demand for new clothing and new materials; it rescues items from the waste stream that may have otherwise been discarded; it allows customers to wear name-brand pieces without directly supporting the fast fashion or luxury fashion industries; and, best of all, it's usually more affordable. While shopping from ethical and sustainable fashion companies is also a good option, these smaller companies tend to be pricey, so thrifting is a win-win.
Article continues below advertisement
As Miley alluded, fashion is generally an incredibly wasteful and polluting industry. According to 7Billion for 7Seas, the fashion industry needs to produce fabric for 1 billion garments every year, a process that relies heavily on conventional cotton (a crop that requires tons of water and pesticides) and synthetic fabrics that are derived from fossil fuels. Then, the process of dyeing fabric with synthetic dyes puts toxins into our water system, with the fashion industry responsible for about 20 percent of the planet's wastewater, as per Sustain Your Style.
Not to mention, most patterns in the fashion industry result in fabric waste that is sent to landfills, where it emits greenhouse gases such as methane. And additionally, people who work in fast fashion factories in undeveloped nations are often grossly underpaid and not protected by any labor unions, as detailed in the documentary The True Cost.
Article continues below advertisement
Miley often opts for vintage styles, both in her day-to-day life and on the red carpet, as documented on the Instagram account What Miley Wears. And not only that, but Miley, who has been vegan since 2014 due to her love of animals, always chooses animal-free garments and accessories.
Article continues below advertisement
The singer has been photographed wearing amazing vintage and cruelty-free items from Chanel, Dior, Fendi, and many other designers. Not to mention, in the music video for "Don't Call Me Angel," a song Miley collaborated on with Ariana Grande and Lana Del Rey, Miley wore an outfit made of vegan leather and faux feathers, according to PETA. And this past May, Vogue declared that Miley's "new style chapter is all about vintage."
Basically, Miley proves that fashion does not need to be new, harm the planet, or hurt animals to look killer. Click here for a guide on how to become a thrift shopping expert just like your favorite former Disney Channel star.