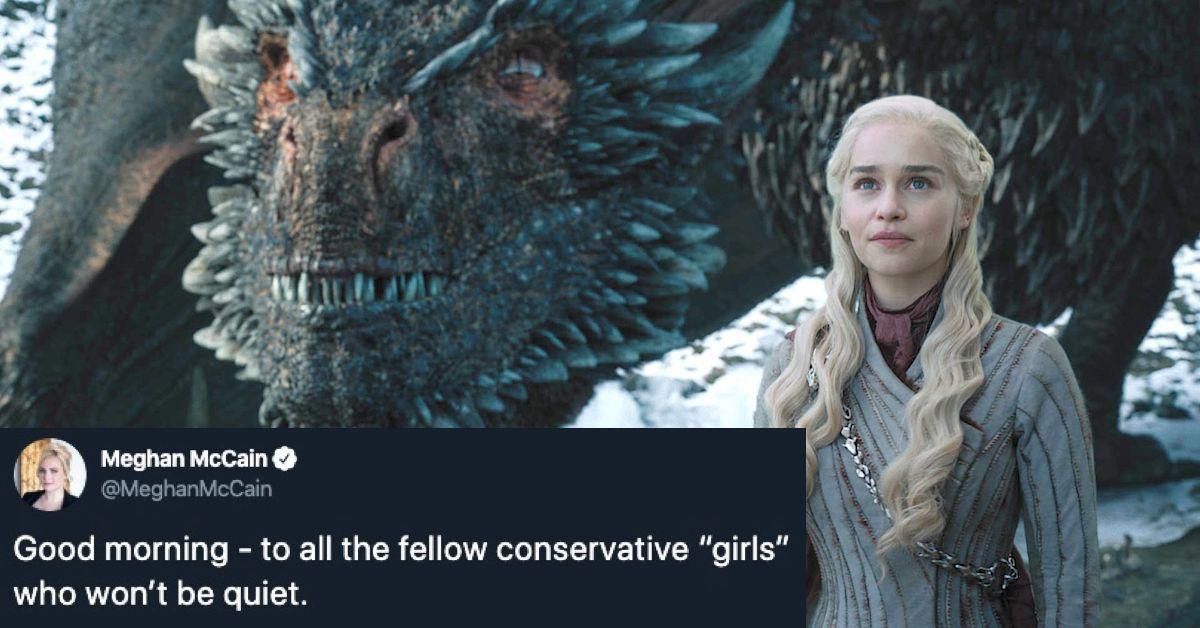 Meghan McCain gets roasted on Twitter for comparing herself to Daenerys from 'Game of Thrones'
By Amber Garrett

Dec. 17 2019, Updated 1:35 p.m. ET
As one of the two self-proclaimed conservatives on The View, Meghan McCain often butts heads with her more left-leaning co-hosts on The View. One such scuffle went down on the Monday episode of the show, when moderator Whoopi Goldberg shut down McCain for shouting over her fellow panelists to assert her opinion on Trump's impeachment.
Article continues below advertisement
"Girl, please stop talking!" Whoopi finally said, exasperated, and after a few more exchanges, they segued to break. Then, early Tuesday morning, McCain seemed to address Whoopi's remarks with  a pointed tweet. But it didn't quite go off as well as she initially thought i might.
Article continues below advertisement
Seeming to reference Whoopi calling her "girl" and telling her to be quiet, Meghan shared a GIF of Game of Thrones character Daenerys Targaryen and her dragon. This might have been a fierce-as-hell response in January of this year, but for anyone who has seen the final season of Game of Thrones, this seems like a bit of a self-own from the 35-year-old political analyst. 
(Spoilers ahead for the four of you who don't know how GOT ends...)
See, despite being the champion of the enslaved and downtrodden for years, Dany kind of loses it in the final episodes and incinerates an entire city and all of its innocent citizens. So... maybe not the best comparison one could draw to oneself. Several critics online pointed that fact out to Meghan with some hilarious tweets.
Article continues below advertisement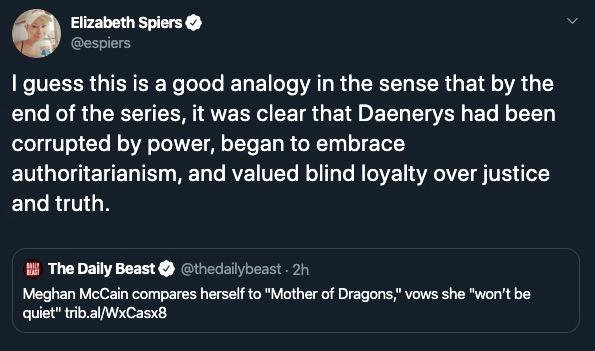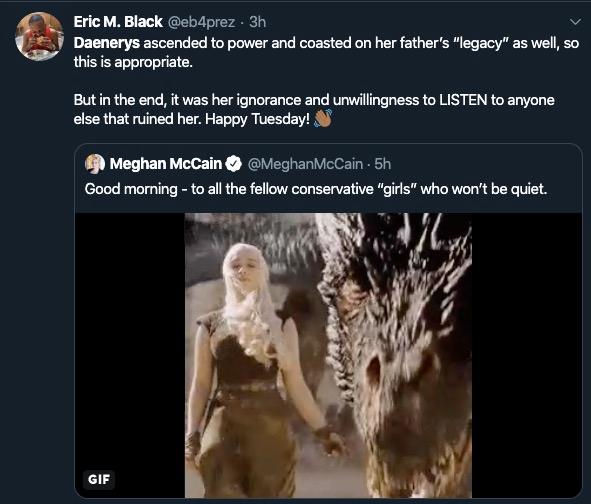 Article continues below advertisement
People drew comparisons to some of Dany's least flattering traits, like her entitlement based on who her father was and her failure to listen to others. 
Still others said that given her values, a pre-genocide Dany would probably be in favor of impeachment, not against.

Article continues below advertisement
Really, though, it's hard to even think about the Breaker of Chains anymore after what she did to King's Landing, leading many to wonder what kind of person would find her relatable now.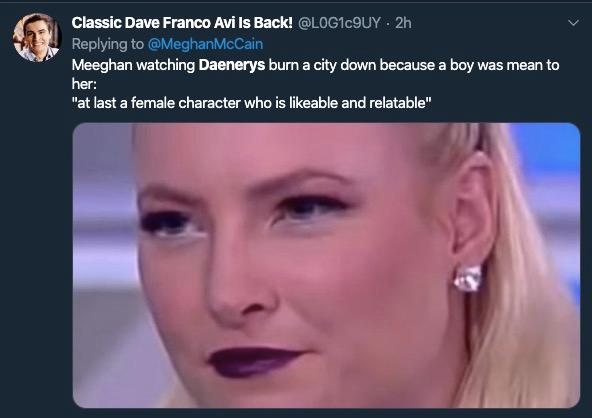 Article continues below advertisement
After this little self-Dracarys of hers, Meghan and her co-host Whoopi addressed the conflict at the top of the Tuesday broadcast, and they rightly pointed out that the kind of spirited debate that often goes down on The View is not unlike what happens at any large family gathering these days where political opinions diverge. 
Discourse gets heated, and the show is modeling that it can sometimes get out of control but, even when passions win out over kindness and respect, we can come back together and find common ground.
Article continues below advertisement
"Whoopi and I get along great. I love you very much, I've loved you for a long time," Meghan said. "You were good friends with my dad. We fight like we're family. It's all good, we're not tearing the set apart. Calm down, all of you, OK? It's all good."
The panelists also pointed out, before moving on to other topics, that this kind of heated exchange is treated very differently when it goes down between men who disagree. Meghan argued that the way media often covers the discourse on The View can be very sexist. 
But the truth is, they're having the types of tough conversations people often avoid having with their family, even if they should really attempt having them. And, if they do, they're just as likely to find themselves getting heated over them from time to time.