Actor and Wild Turkey creative director Matthew McConaughey recently helped bring hundreds of meals to first responders who have been working tirelessly to battle the California wildfires. The joint effort is part of Wild Turkey's annual "With Thanks" charity campaign.
This awesome act was a joint effort between Wild Turkey and Operation BBQ Relief, which is a non-profit that travels to areas where a disaster has struck and provides hot meals for those in need. For this campaign, they cooked up hot turkey dinners for first responders using turkeys donated by Butterball.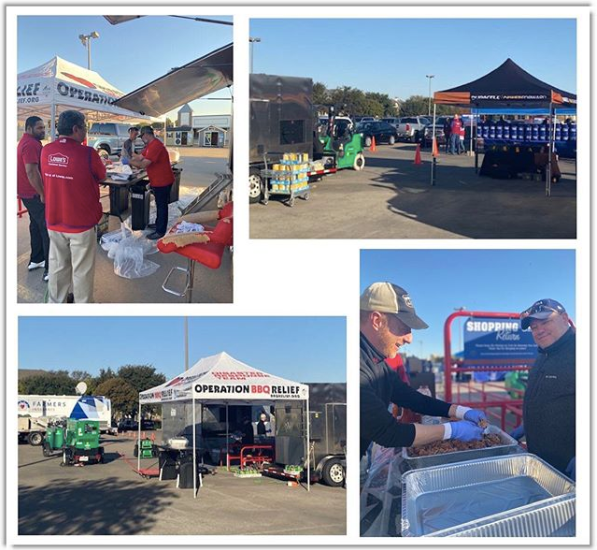 The campaign started on November 1, and Matthew McConaughey was right there to roll up his sleeves and get to work. A press release states, "McConaughey rallied volunteers and jumped behind the grill to help prepare 800 turkey dinners, which were then quickly delivered by the group to more than 20 firehouses of heroes who are battling the wildfires that are raging across Southern California."
Volunteers didn't stop there, though. They cooked and packaged an additional 800 meals for homeless shelters in the area. During the day, McConaughey took to Facebook Live to bring attention to the campaign and encourage others to volunteer and support Operation BBQ Relief's efforts year-round, says the press release.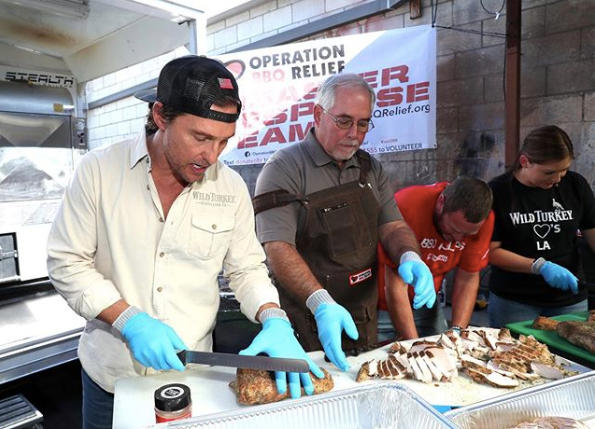 This wasn't exactly the first plan Wild Turkey had in mind for their annual "With Thanks" event. They originally planned to be in Los Angeles on National First Responder's Day to honor those who fought the Woolsey Fire last year, but they shifted gears when the current fires presented an emergency situation.
"Teaming up with Operation BBQ Relief as part of the Wild Turkey 'With Thanks' has never been more meaningful," McConaughey said in the press release. "Little did we know when planning this annual event that California, my second home, would once again be hit with devastating fires. Being able to provide meals to the men and women who put themselves on the line is an honor for me, Jimmy, and Eddie Russell. We are grateful to be here today to say thank you, shine a light on their unwavering conviction, and hopefully inspire others to get involved and help in their own communities."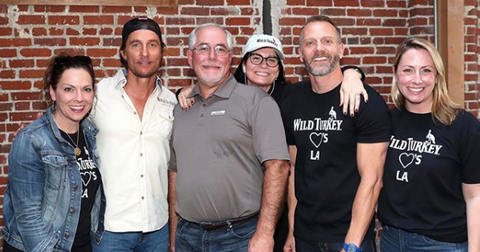 This event was just the kick off for Wild Turkey's month-long campaign. They will continue to work with Operation BBQ Relief as they bring meals to first responders in Dallas, New Orleans, and Chicago throughout November. They've got some exciting Thanksgiving events toward the end of the month. As an official sponsor of Operation BBQ Relief, Wild Turkey will also be donating $50,000 to help them continue their amazing work.
"We are so fortunate to be working with Wild Turkey for the 'With Thanks' campaign to shine a spotlight on first responders across the country," Said Stan Hays, CEO and co-founder of Operation BBQ Relief. "Part of our mission throughout the year is to support these men and women as they are responding to severe situations in their communities. BBQ is comfort food and reminds people of good times. These hot meals we are preparing uplift the spirits of the first responders for their hard work each and every day."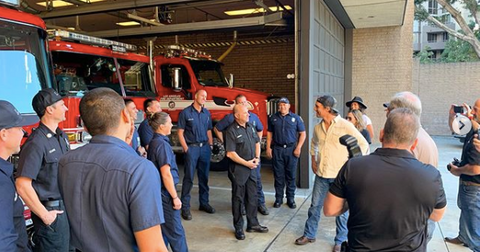 Matthew McConaughey is no stranger to charitable efforts. In 2008, he founded the Just Keep Livin' Foundation, whose programs serve in 37 schools and promote the importance of good decision-making, health, education, and active living. Additionally, the actor's been involved with Wild Turkey since 2016 and has participated in their With Thanks campaign for several years. In 2017, he visited Lawrenceburg, KY and helped deliver more than 4,500 turkeys to residents and food banks. And last year, he was there when Wild Turkey surprised first responders from Hurricane Harvey in Houston with a turkey dinner.
"Wild Turkey is founded on community — from out tight-knit group of distillery employees to the townspeople who have supported us through the years," said Wild Turkey Master Distiller Eddie Russell. "To honor that spirit, every year we recognize people who perform extraordinary acts to support their communities — and do it with conviction. We are grateful to have our Creative Director Matthew McConaughey to help us take action and give thanks again this holiday season."
You can visit Operation BBQ Relief's 'With Thanks' page to donate to the cause and make a contribution toward the over 3 million meals the organization has served since its inception in 2011. If Matthew McConaughey could see you clicking that donate button right now, he'd say, "Alright, alright, alright."