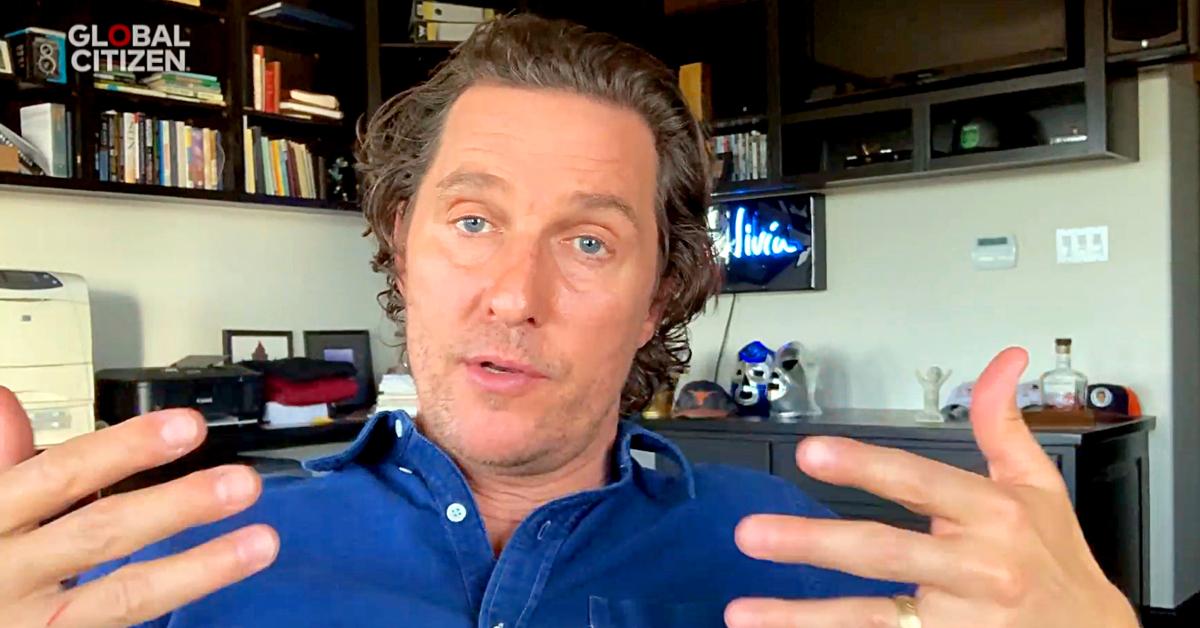 Matthew McConaughey calls out "Hollywood hypocrisy" after Joe Biden win
By Mustafa Gatollari

Dec. 7 2020, Updated 12:27 p.m. ET
Matthew McConaughey found himself in hot water on Twitter after stating that "Hollywood elites" shouldn't be surprised Trump supporters aren't accepting the results of the 2020 election after they've been "condescend[ed]" and "patronize[d]" by esteemed celebrities and artists.
During a discussion with Russell Brand on his Under the Skin podcast, the 2014 Oscar Winner was asked if he had witnessed a "condemnation and criticism of ordinary working people," in the entertainment industry.
Article continues below advertisement
Brand continued by saying, "[There is] a kind of offhandedness, like, 'Oh, they're dumb, they're voting for Brexit, they're voting for Trump.' I don't like it, and I don't like to hear it."
McConaughey agreed, "There are a lot [of people] on that illiberal left that absolutely condescend, patronize, and are arrogant towards the other 50 percent."
He also pointed out the "double standard" that many of his fellow Hollywood creatives demonstrated, pointing out that they weren't accepting of Donald Trump's 2016 victory and attempted to discredit his Presidency. So that the same people shouldn't be surprised or condemn those on the far-right who are challenging Joe Biden's victory. He further expounded on his comments with Brand during a discussion with TIME.
Article continues below advertisement
"I'm sure you saw it in our industry when Trump was voted in four years ago, they were in denial that was real. Some of them were in absolute denial....it looks like Biden's our guy. Now you've got the right that's in denial, 'cause their side has fake news. And I understand, they've been fed fake news. No one knows what the hell to believe, right? So they're putting down their last bastion of defense," McConaughey said.
Article continues below advertisement
The Failure to Launch star has stated that he would love for more Americans to meet one another in the middle and even "dare[d]" folks to "get aggressively centric."
He also stated that all of the tensions in the 2020 election between members of the far left and the far right ultimately created a perfect storm of brutal honesty, "I think what this year's election did is expose what we all kind of didn't really want to say out loud."
Article continues below advertisement
It didn't take long for McConaughey's comments to reach Twitter, where the star received criticism for stating that individuals on both side of the political spectrum are quick to criticize those with opinions that differed from their own.
Article continues below advertisement
Many pil the hate on McConaughey, conflating "conservative" talking points like 5G broadband causing the coronavirus with disputing election results in the same tweet.
Article continues below advertisement
Article continues below advertisement
Other people appreciated the actor's honesty and applauded his decision to speak his mind and encourage Americans to "meet in the middle." And there were also tons of Twitter users who expressed that extremists on both sides are more often than not the most vocal of individuals, as hyperbolic statements tend to garner more attention and attraction than those that are more centrist.
Article continues below advertisement
McConaughey added that ultimately it's up to the American people to decide what direction they want to take the country in and it's "not up to our leaders" to make that decision.
But his comments caused a right political kerfuffle online.
Article continues below advertisement
Article continues below advertisement
Article continues below advertisement