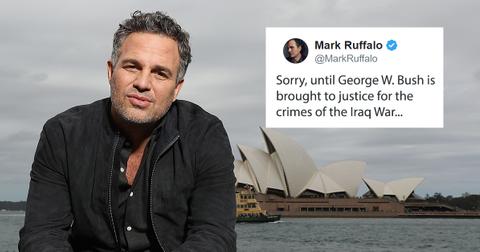 Mark Ruffalo blasts Ellen for calling George W. Bush her 'friend'
By Mark Pygas

Updated
If you've been on social media at all in the last few days, you've probably heard about all the drama surrounding television host Ellen Degeneres.
Many Ellen fans and LGBTQ+ activists were disappointed when Ellen was spotted sitting next to former President Bush at a Cowboys vs Packers game on Sunday. Further photos appeared to show the two laughing together.
Former President George W. Bush called for a constitutional amendment that would define marriage as a union of a man and a woman in 2004, making him very unpopular with LGBTQ+ activists. His presidency was also heavily criticized over the Iraq war.
After Ellen was criticized online for laughing with former President Bush, she defended herself on Monday's episode of the show. Ellen said in part:
"Here's the thing: I'm friends with George Bush, and in fact, I'm friends with a lot of people who don't share the same beliefs that I have," Ellen said, comparing it to "being friends with people who wear fur" even though she doesn't agree with it. "Just because I don't agree with someone on everything doesn't mean I'm not going to be friends with them."
But that response doesn't seem to have satisfied everyone. In a tweet on Wednesday afternoon, Avengers actor Mark Ruffalo blasted Ellen over her stance.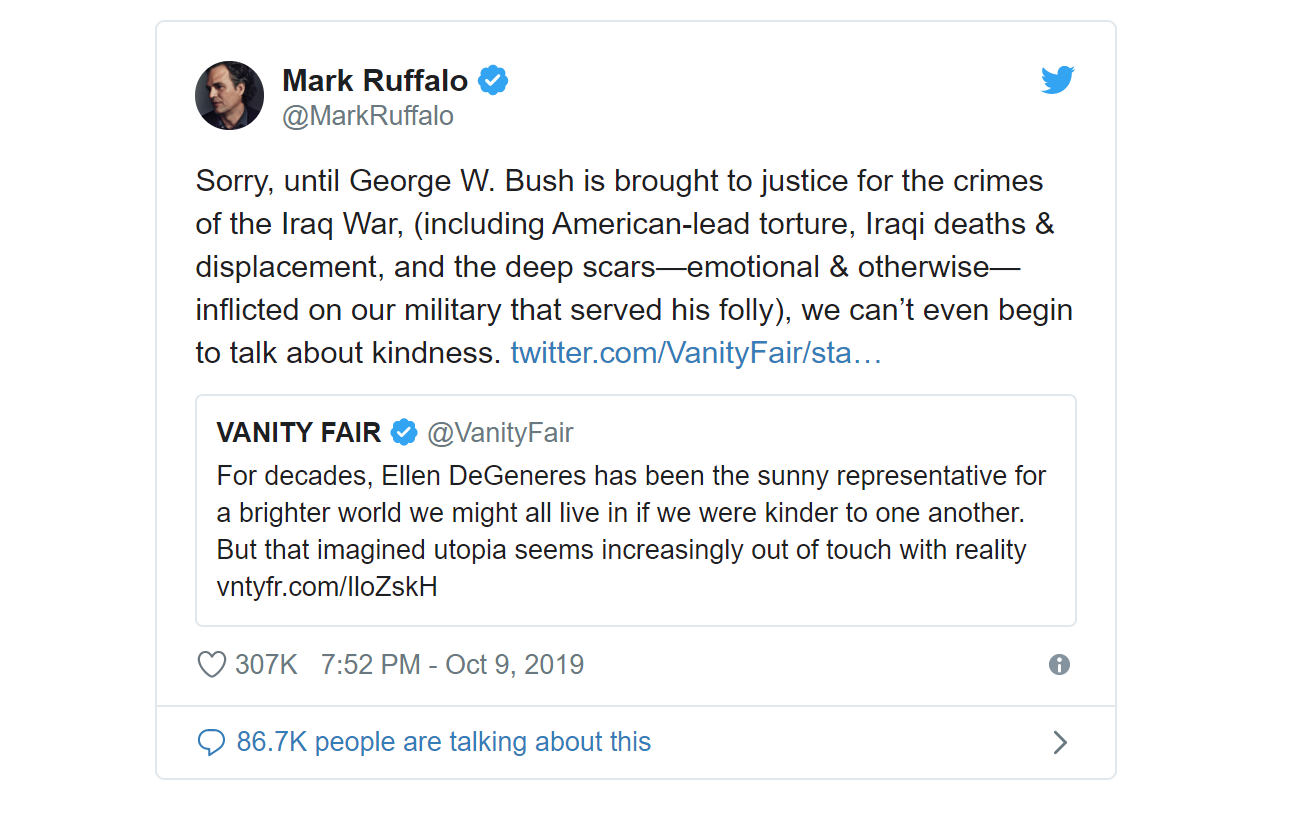 The actor wrote: "Sorry, until George W. Bush is brought to justice for the crimes of the Iraq War, (including American-lead torture, Iraqi deaths & displacement, and the deep scars—emotional & otherwise—inflicted on our military that served his folly), we can't even begin to talk about kindness."
Ruffalo's tweet led to some mixed reactions, with one user writing: "Thank you @MarkRuffalo for making it clear that if we ever want to live in a world with true kindness that we won't get there by normalizing war criminals."

Another added: "Mark until you run for office you have no clue what the hard choices and decisions are. It's not a bowl of cherries being the leader of the free world. If you think you have all the answers why don't you run for office?"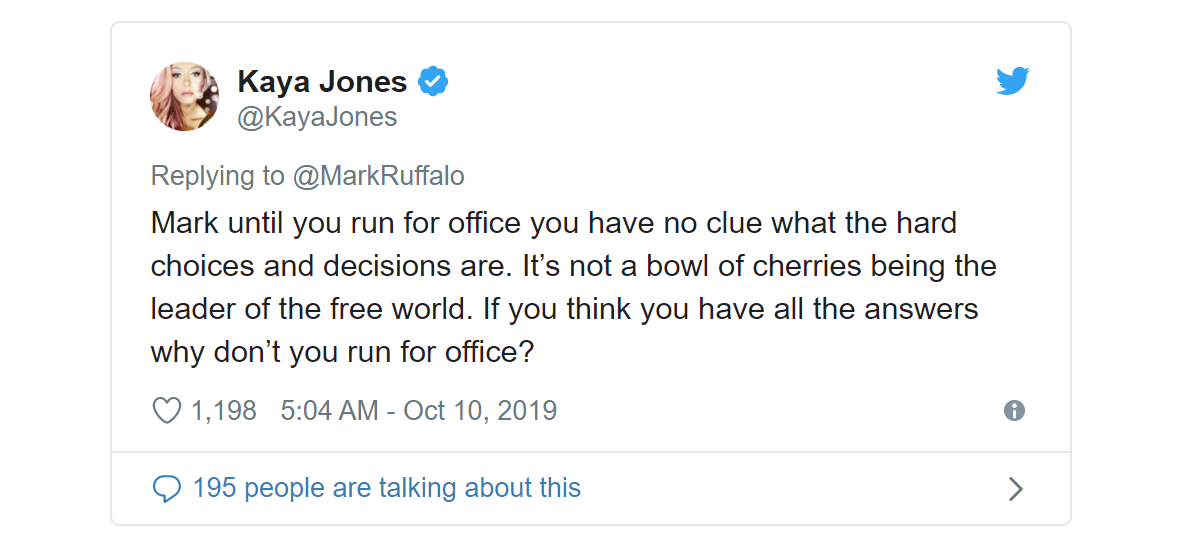 Another concluded: "Thank you Mark for being better than most of your colleagues in Hollywood. More people need to understand that George Bush was a detriment to mankind, even if not as outlandish as Trump."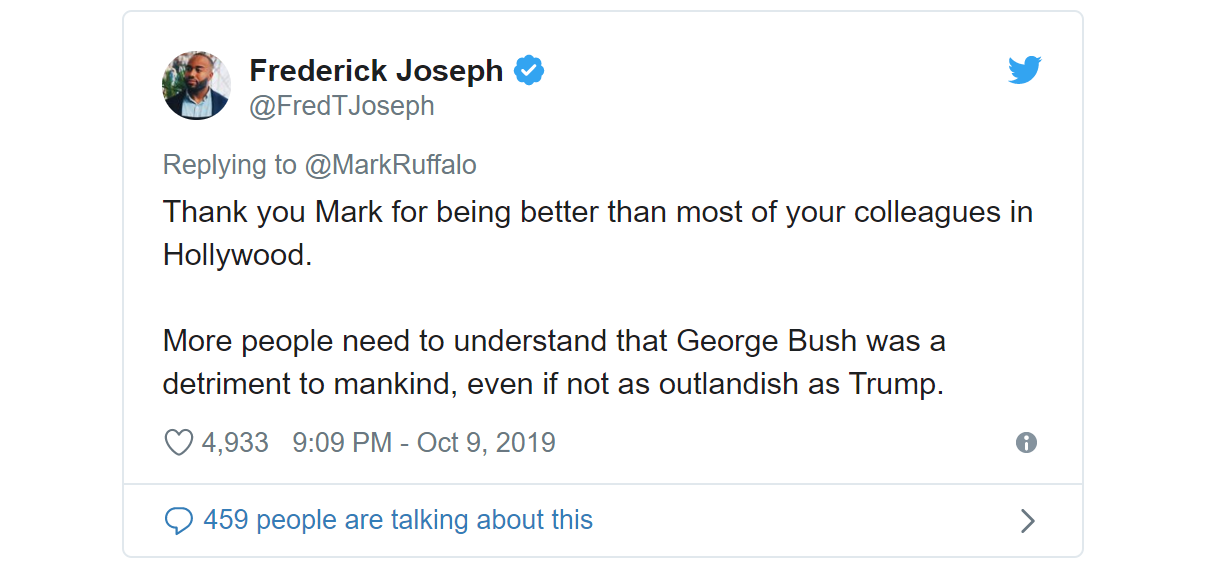 Some fellow celebrities did support Ellen, with Reese Witherspoon writing in a since-deleted tweet:
"Thank you for this important reminder, Ellen! 'I have friends who don't think the same things that I do. When I say be kind to one another, I don't mean be kind to the people who think the same way you do. I mean be kind to everyone.'"
Kristen Bell also seemed positive, sharing a photo of Ellen and George W. Bush on Instagram, along with a supportive caption.
David Cross labelled Ellen's defense as "neither, 'shut down,' nor was it 'powerful.' It was weak, self-serving, dissmive and eye-opening."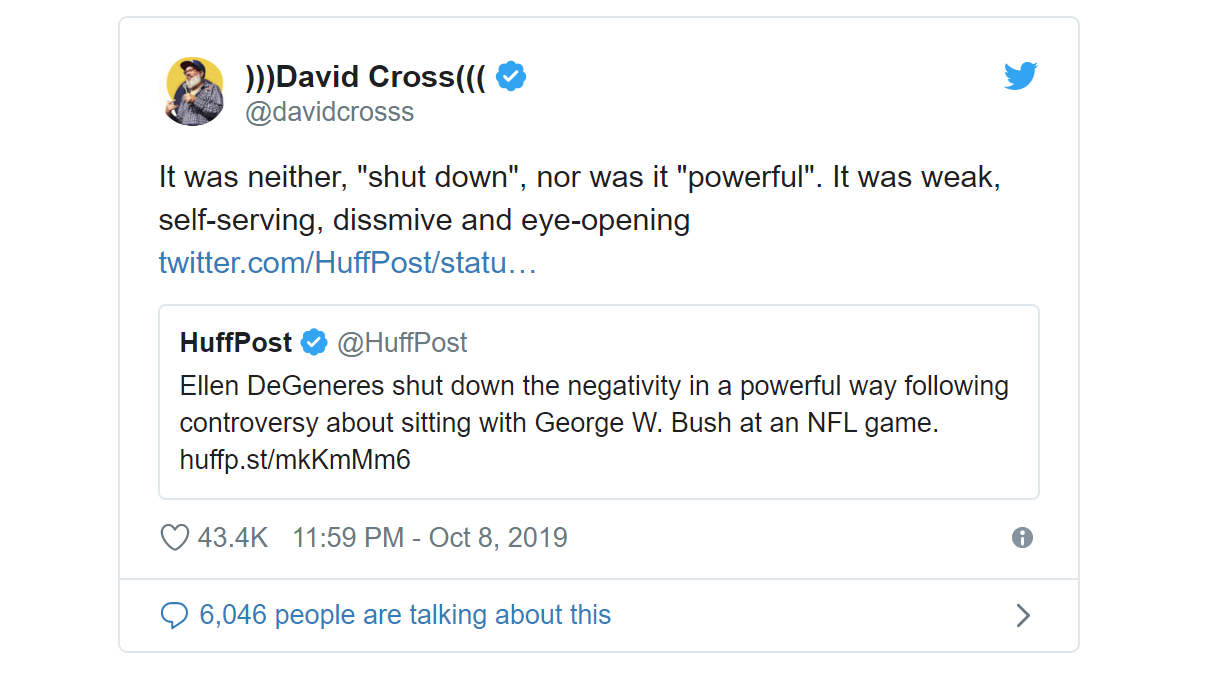 Gwen Stefani simply wrote "I love you."