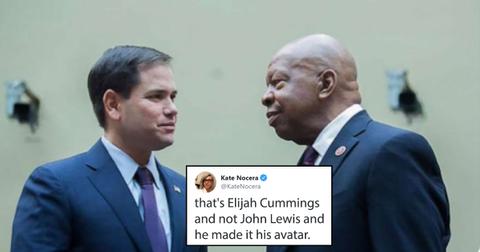 Marco Rubio tweeted a photo of Elijah Cummings in a tribute to John Lewis
By Mark Pygas

Updated
Rep. John Lewis, a civil rights icon, passed away on Friday after a battle with Stage IV pancreatic cancer. Lewis was one of the "Big Six" civil rights leaders and played a crucial role in the 1963 March on Washington.
Tributes began flooding in Lewis following the announcement. Among those paying honor to Lewis were Florida Sen. Marco Rubio and Alaska Sen. Dan Sullivan. The problem? Both of them initially shared photographs of Rep. Elijah Cummings, not Lewis.
"It was an honor to know & be blessed with the opportunity to serve in Congress with JohnLewis a genuine & historic American hero. May the Lord grant him eternal peace," Sen. Marco Rubio wrote on Twitter.
The photo that Rubio shared was of Maryland Rep. Elijah Cummings, who passed away in 2019. Rubio even changed his profile picture to the incorrect image for a time.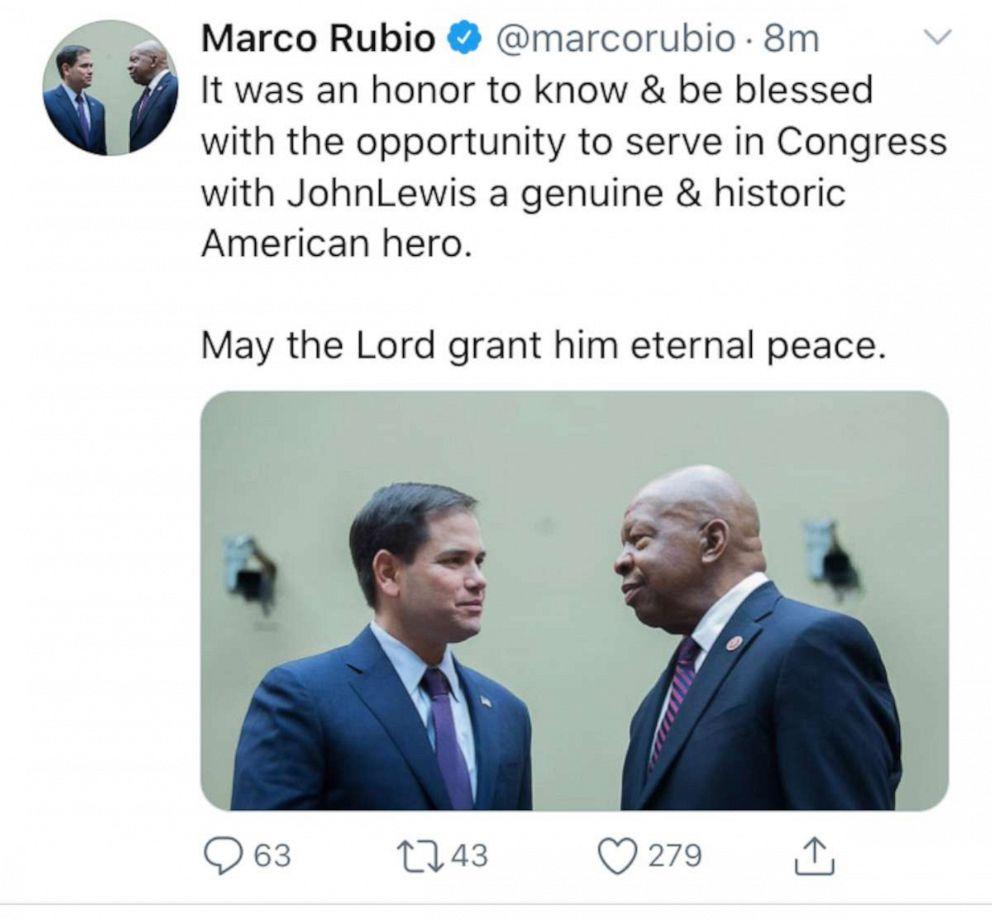 Twitter users were quick to point out the error. Kate Nocera, a journalist for Buzzfeed, wrote: "That's Elijah Cummings and not John Lewis and he made it his avatar."
Rubio went on to correct his mistake, explaining: "Earlier today I tweeted an incorrect photo."
Rubio wasn't alone in his mistake. In a since-deleted post to Facebook, Alaska Sen. Dan Sullivan also shared a photograph of him with Cummings.
In a caption alongside the image, Sullivan wrote that "America has lost a legend with the passing of Congressman John Lewis of Georgia."
Sen. Dan Sullivan joins Sen. Marco Rubio in posting a picture of the late Elijah Cummings in their tribute to civil rights icon John Lewis. pic.twitter.com/EdrUWmKIw7

— Travis Akers (@travisakers) July 18, 2020
"Senator Sullivan's staff made a mistake trying to honor an American legend," a spokesperson for Sullivan told CNN.
This isn't the first time the two have been confused, and in a 2019 press release, Lewis joked that he was going to grow a beard to help people tell him apart from Cummings.
"Just this weekend, I went to church in Maryland," Lewis said in a statement at the time. "Someone came up to me and said, 'Hi, Mr. Cummings! I vote for you all the time.' I just said thank you. What else could I say? That's when I decided, I should just grow a beard."
"People stop me all the time and tell me they're from Maryland," Lewis added. "I'm John Lewis, from Georgia. Rep. Cummings is a good friend of mine, but we're not the same person."
"I considered getting a tattoo on the back of my head, just to clear things up. I tried to convince Elijah to get one too, but that didn't go over so well."