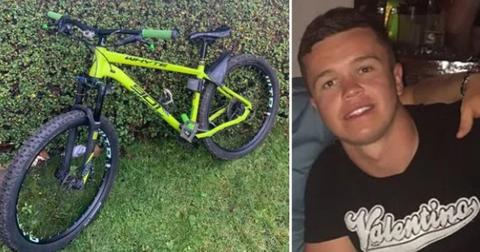 Man buys stolen $1700 bike for $100 and returns it to owner
By Mark Pygas
When Ste Burke from Liverpool in the United Kingdom was approached by three men and asked if he wanted to buy a bicycle that retails at £1300 ($1700) for just £80 ($100) he knew something was fishy about the situation. For one, the bike still had a lock attached to the back wheel.
Realizing the bike was stolen, Ste bought it anyway, but not for the reason you might be thinking.
Ste explained to Metro: "I had just come home from the gym and I was getting my gym bag out of the back of my car to go inside my home when I was approached by 3 men carrying the bike."
"That was my first red flag, then I saw the bike lock on the back of the wheel and he wanted to sell a £1350 bike for £100. I offered him the £80 and he took it."
But when the men had left, the 26-year-old immediately set about reuniting the bike with its owner.
He continued: "So as soon as they left I put it on Twitter because I knew it wouldn't have been stolen far away as it was locked."
In a post on Twitter, Ste wrote: "Has anyone had their bike stolen? Just bought this for £80 and it's got a bike lock on it. Apparently it's from the Crosby area. Bought it so I can get it to back to the right owner. I know it's a £1350 bike and id be heartbroken if it was me. Give us a shout."
The post quickly went viral, and Ste was contacted by a woman who knew the original owner. In further updates, Ste explained that the man brought the key to the lock and a receipt for the bike.
After saving up £1300 for the bike, it had been stolen when his house was broken into a few days prior. Unsurprisingly, the man was happy to get his bike back.
Ste further explained to Metro: "He thanked me as his home was recently burgled and it's a bit of good news for him through the hard time he's going through."
And of course, Ste doesn't plan on getting his money back: "He told me he got paid on Friday and could he send me the money then and I said no. I told him I didn't feel right taking money off a man who has just had his house burgled."
Twitter users were impressed by the random act of kindness, with one user writing: "Dude... what a kind thing to do... nice one... hope karma or whatever sends some good vibes your way."
While another added: "What a real nice and genuine person you are this is a great lesson to us all on how to be a good person."