Man who wanted to be 'injected' with COVID to prove it wasn't serious dies from it
By Robin Zlotnick

Nov. 12 2020, Updated 10:36 a.m. ET
A man who denied the seriousness of COVID-19 and actually wanted to be "injected" with the virus to prove it was no big deal has died from COVID-19. The Minion Death Cult Podcast, a podcast that explores political extremists, especially on Facebook, shared screenshots from his account on Twitter, where they went viral.
Article continues below advertisement
In a Facebook post on August 5, the man, referred to as Don, wrote, "I have a plan. Inject me with the coronavirus. If I die then all of your paranoid bulls--t is legit. If I don't die then you all are f--king deceived political pawns! Let's go! Bring it! ALASKA AS ONE! AMERICA AS ONE!!!"
Article continues below advertisement
The man is also depicted in one picture with a Donald Trump tattoo on his hand. In the tattoo, Trump seems to be flying with one fist out, posed like Superman.
This man seems to be all in for President Donald Trump and his agenda. Of course, Trump repeatedly downplayed the threat of the coronavirus and transformed wearing a mask into a divisive, political statement, and many of his supporters have echoed his false statements about the virus being a "hoax" and "like the flu."
Article continues below advertisement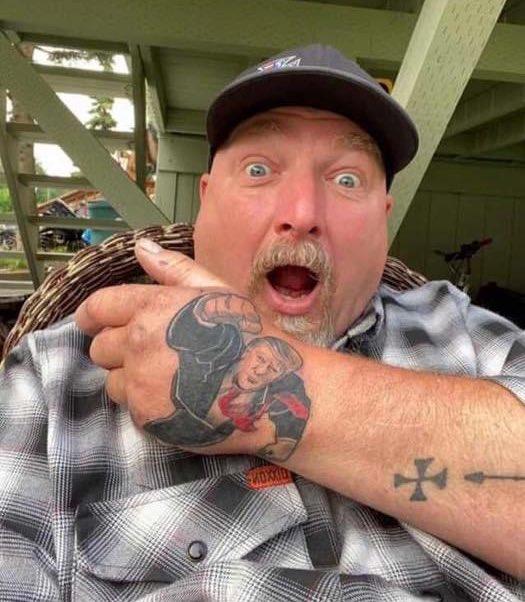 Unfortunately, in some cases, this has led to great tragedy. Skepticism about the seriousness of the virus does not prevent you from falling ill with it, and this man is one of several who tragically learned that lesson.
Article continues below advertisement
In a more recent Facebook post, the man explained that he was in the ICU. He had contracted COVID-19 and he wasn't doing well.
"A requiem," he wrote. "To all my friends and family and acquaintances. I love you all passionately. My son Timothy, daughter Victoria love ya more than life. All of you have added to my life and character of which I am grateful.
Article continues below advertisement
"Currently I am in Providence Hospital ICU fighting COVID complications. Each day my lungs are getting worse. I may be on the ventilator tonight. That pretty much means the end. My body, heart, and all else is healthy, just my lungs are dying. At peace. I know where I'm going to when it comes.
"I do hope all y'all know your truth too. Love everyone! President Trump! Fight the hood [sic] fight!! Break down the left's fraud! Make America Great Again."
Article continues below advertisement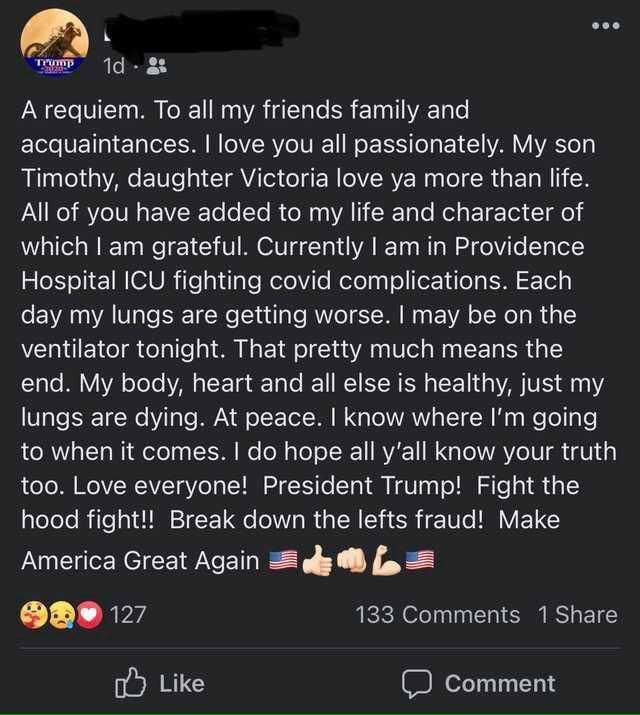 Even in his very last moments, after succumbing to the virus the President poisoned his brain with misinformation about, he still expressed support for Donald Trump and believed "the left" was full of lies. How do we fight against a thought process so insidious?
Article continues below advertisement
The folks at Minion Death Cult Podcast shared a few other posts from Don's page, one from back in August in which he questions why the country was being shut down if the virus wasn't that serious, and another, an update on his last post from a friend who confirmed that he had indeed died from COVID-19 complications.
Article continues below advertisement
"My dear friend. Why?" the person wrote. "I blame Trump and his poor leadership. Unfortunately, Don worshipped Trump and followed his leadership to a fault. ANY OF YOU SAY DIFFERENTLY Don't comment! This is not up for debate on my page.
"Please pray for his soul my good friend... I know you are in heaven. You may have been a stubborn man when it came to your beliefs but you were a proud man, a proud and loving father to kids you loved more than life!"
Article continues below advertisement
One Twitter user reacted to this tragic story by asking, "Is it weird that I feel really bad for guys like this? They bought into this cult that was so horrible that they didn't treat a deadly virus seriously."
It's not weird. It's a horrible thing that happened and unfortunately keeps happening because the president has been so effective at spreading lies and cultivating mistrust in facts. It's not weird to feel bad that someone was so sucked into the lies that they paid for their beliefs with their life. It's human.