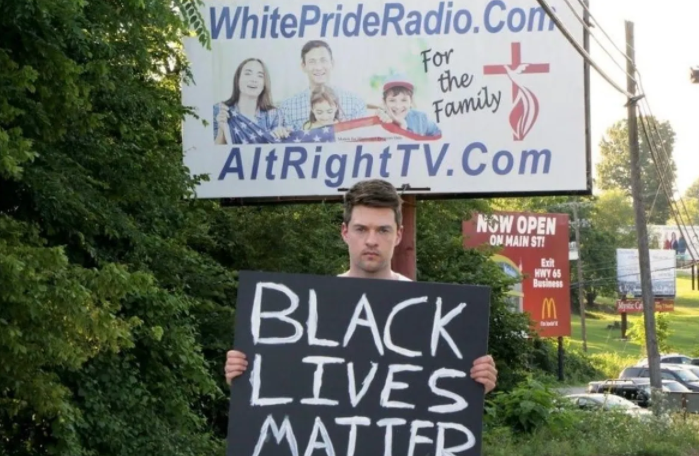 Man held up a Black Lives Matter sign in 'America's Most Racist Town' and shared how it went
By Annie Reneau

Aug. 20 2020, Updated 11:18 a.m. ET
Is Harrison, Arkansas truly America's most racist town? It's not like there are official statistics kept on such things, but the town of 13,000 in the Ozark Mountain region does have a reputation. According to the Arkansas Democrat Gazette, Harrison was the site of riots in the early 1900s that drove most of the Black population out. (Current demographics put the town at over 95% white, with less than 1% of the population being Black.)
Article continues below advertisement
The Knights of the Ku Klux Klan and the white supremacist group Kingdom Identity Ministries are based in the area. The KKK uses a Harrison post office box for its mailing address, and its national director lives outside of town.
Though city leaders insist that the town's reputation has been tarnished by a small group of people, there have been signs—literal signs—that white supremacist views aren't that uncommon. One billboard in town in 2013 read "Anti-racist is a Code Word for Anti-White," and another advertises "WhitePrideRadio.Com" and "AltRightTV.Com" with an image of a white family holding an American flag next to a cross and a message that says "For the Family."
Yeesh.
Article continues below advertisement
Rob Bliss recently tested the waters in Harrison by holding up a Black Lives Matter sign where townsfolk drove by. The responses were...not surprising, unfortunately. But a note from one young person helped dilute the ugliness that simply standing and holding Black Lives Matter sign revealed.
Please be aware that the video contains racist slurs and profanity. Watch with discretion.
Article continues below advertisement
Unless you were living under the illusion that racism no longer exists, or still think that "All Lives Matter" is an okay response to Black Lives Matter, or somehow missed the memo that Black Lives Matter does not now and has not ever meant that Black Lives Matter more than others, the responses are appalling. As one commenter pointed out, it almost comes across like a South Park episode with exaggerated caricatures of real people. Only these are real people.
Thank goodness for that young person at the end—wearing a mask, no less—offering encouragement and praise for his statement. All it take sometimes is one person to offer a ray of hope to help keep a movement moving forward in the face of resistance.
Just think, if this is the kind of racist abuse a white man takes just for making the simple statement that Black Lives Matter, imagine what Black people have to deal with. This racist garbage is why BLM exists in the first place. Be like Rob and stand strong in the face of hate, America.