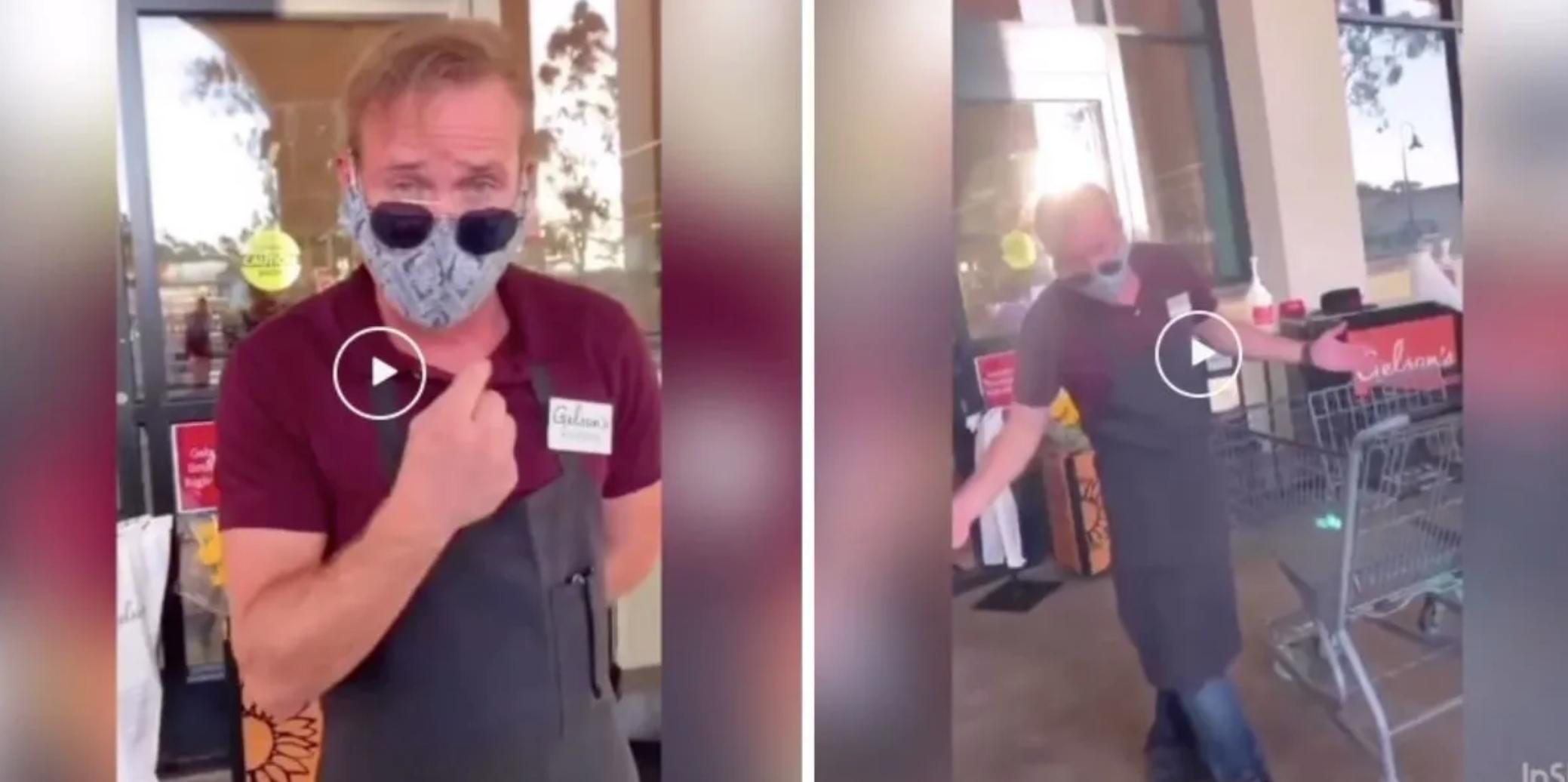 Grocery worker literally dances his way through a 'Karen' protesting store's mask policy
By Annie Reneau

May 21 2020, Updated 9:20 a.m. ET
The coronavirus pandemic has brought all kinds of humans out of the woodwork, from silly dinosaur dads to kooky conspiracy theorists. A new viral video reveals how differently some people are handling our strange new reality—from a disgruntled customer who refuses to follow a supermarket's mask-wearing policy to a delightfully unfazed employee dancing while he disinfects the grocery carts.
Article continues below advertisement
Shelley Lewis shared a video she filmed after she was told that all customers and employees had to wear a masks to enter a Gelson's grocery store in Dana Point, California. Lewis—who is listed as a speaker at the 2019 Flat Earth International conference (ahem)—clearly saw herself as the hero of the story, a victim being discriminated against due to her undisclosed medical condition that precludes her from wearing a mask.
But the real hero is the upbeat, unassuming grocery store employee who "absolutely and humbly" retrieved a manager for Lewis then continued dancing away while cleaning carts outside the store.
Article continues below advertisement
It's a joy to behold, truly. The store clerk, who normally works as a bartender, is so happy to have a job. He's happy to be of service. He happily goes about his work while wearing a mask—which none of us love, but understand is important for protecting others—and doesn't let this woman's antics get under his skin.
The store manager also stayed cool, calm and collected as Lewis went through her litany of complaints. When he explained the store's mask policy, she told him she has a medical condition and couldn't wear a mask. (If true, maybe you should do your grocery shopping online instead).
Article continues below advertisement
When the manager offered to shop for her, she told him that she had "private things" to buy. (Ummm... you know everyone can see what you put in your grocery cart when you shop, right?). She was also incredulous about the idea of handing him her "private credit card" to take into the store to process. (Have you really never handed over your credit card through a drive-thru window, Shelley?!)
Article continues below advertisement
While much has been made of Lewis's attempt at victimization—the best part of this story is how the Gelson's employee with the shades and the unflappable sunny attitude handled this whole situation. She even asked him why he was so happy, as if everyone should be throwing a fit outside the store over having to wear a mask. He never said anything disparaging. In fact, he maintained an impressive level of respect and positivity throughout the video.
If he had read her Flat Earth International bio, he would have seen that she claims to have lupus, which is an autoimmune disease, which increases her risk of complications from COVID-19. If he had known that, he may have kindly pointed out that everyone there was wearing a mask to protect people like her.
This is what an everyday hero looks like right now—a guy enjoying his day job, doing what needs to be done to protect the public he's serving and entertaining himself and others in the face of abject ignorance. He is the hero we all need.