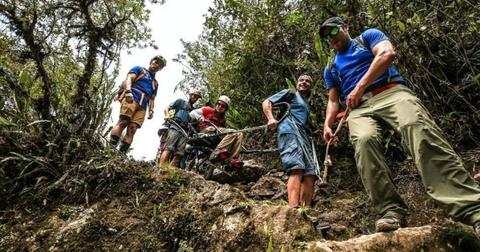 Machu Picchu is now wheelchair accessible thanks to two friends and a new wheelchair
By Mark Pygas

Updated
Millions of people flock to see the magnificent ruins and incredible landscape that make up Machu Picchu every year. But in December 2018, one visitor made history by being the first person in a wheelchair to access the ancient Inca site. 
Article continues below advertisement
And dozens more are set to follow them thanks to Wheel the World, a company founded by longtime friends Alvaro Silberstein and Camilo Navarro, which has the goal of making world heritage sites accessible to everyone no matter how remote they are. 
Article continues below advertisement
The company was born in 2016 when the two friends — one of whom uses a wheelchair, while the other doesn't — set out to explore the Torres del Paine National Park in Patagonia. Silberstein has been in a wheelchair since a car accident at age 18.
The pair were able to raise $8,000 for a lightweight, foldable wheelchair that made the hike possible. And now, they want to offer the same opportunity to other wheelchair users. 
" Accessible does not mean inclusive," Navarro told CNN. "There are one billion people [in the world] with disabilities. But there's not one main travel company dedicated to these users." 
Article continues below advertisement
The friends, born in Chile, moved to the United States to attend business school and soon set about developing Wheel of the World into a business. The company uses specially designed steel-and-aluminum chairs that act as a kind of wheelbarrow, with only one wheel and two long sticks in front that a guide or travel companion holds onto and uses to steer the wheelchair.   
"It's designed with only one wheel and two long sticks that make it look like a wheelbarrow. It is a mix of steel and aluminum, like a bicycle, so it's light," Navarro explains. The only downside of the chair is that it cannot be self-propelled, so it requires someone to guide it. 
Article continues below advertisement
While many disabled travelers have avoided visiting remote and difficult-to-access sites because of the cost and hassle of obtaining and shipping an appropriate wheelchair, the two friends store them on-site in Peru.
This means that a four-day Wheel the World tour is only around $1,500 (not including flights and a hotel), which is competitive with rates offered to non-disabled people. 
Article continues below advertisement
"Sometimes we get phone calls from national parks saying they want us to come explore the place," says Navarro. But with many sites around the world being protected under international law, it's not as easy as installing a wheelchair ramp. "Accessibility is a matter of being creative," Navarro added. 
The company also offers tours of Easter Island in Chile and scenic spots in Mexico and Peru, all of which were nearly inaccessible to wheelchair users before Wheel of the World. 
Navarro says that the company is also hoping to offer tours to people with other accessibility needs, such as those who are deaf and blind.