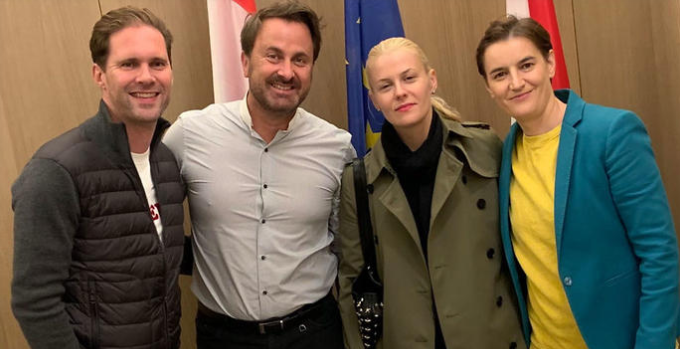 People love this 'normal looking' photo of two LGBT+ world leaders meeting
By Mark Pygas

Sep. 12 2019, Updated 8:57 a.m. ET
Photo opportunities of world leaders smiling and shaking hands don't usually attract much attention. But one photo, showing the Prime Ministers of Luxembourg and Serbia at a meeting alongside their partners, is going viral on Twitter for all the right reasons. 
Article continues below advertisement
The photo—posted by journalist Benjamin Butterworth—shows openly-gay Xavier Bettel of Luxembourg alongside his partner, and openly-gay Ana Brnabić alongside her partner. And yes, this may be the most powerful display of LGBT+ power ever seen. 
Article continues below advertisement
According to Pink News, Xavier Bettel and Ana Brnabić met on Sunday, September 8, ahead of a state visit to discuss Sebria's proposal to join the European Union. 
It marks one of the first times that two openly LGBT+ world leaders have met. Back in June, Bettel met Irish Taoiseach Leo Varadkar, who is also openly gay. 
Bettel became Luxembourg's first, and the world's third, openly gay prime minister back in 2013. His government introduced marriage equality in 2015, and he married architect Gauthier Destenay shortly afterwards. 
Article continues below advertisement
Brnabić became Prime Minister of Serbia in 2017, but declared that she did not want to be branded "Serbia's gay PM". 
Instead, she wanted to be known for her "competence, professionalism and trustworthiness." 
Amnesty wrote that Brnabić attending Belgrade Pride in 2017 "was welcomed by some as progress." Though she has also attracted her fair share of criticism.
"However, the authorities failed to protect LGBTI individuals and organisations from discrimination, threats and physical attacks," Amnesty continued. 
Article continues below advertisement
"In April, the UN Human Rights Committee urged Serbia to implement hate crime legislation effectively, and to introduce a procedure for legal gender recognition compatible with international standards." 
Brnabić's partner, Milica Djurdjic, gave birth to the couple's first child earlier this year. 
But despite the criticism, Twitter users still saw the meeting between the two world leaders as progress. 
"HOLD YOUR HORSES how did I miss that the prime minister of Luxembourg is gay and how do I best stan," one user joked.  
Article continues below advertisement

"European countries are so far ahead of US in regards to acceptance," another added. "So annoying, but cheers to Luxembourg, Serbia and Ireland, US should be so lucky."
Article continues below advertisement

While another commenter added: "Actually what strikes me the most about this (wonderful) photo is how very very young these prime ministers and their partners look!"