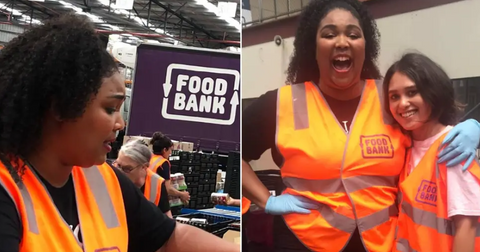 Lizzo takes break from Australia tour to pack food hampers for bushfire victims
By Mark Pygas
Grammy award nominee Lizzo took a break from her Australian tour to pack food hampers for those who have been forced from their homes by wildfires.
Australia has been devastated by wildfires for months now. At least 25 people have been killed, and more than 12.35 million acres burned nationwide. But those feeling the worse effects of the bushfires are Australia's wildlife.
At least 1,000 homes have been lost and thousands have been forced to flee from their homes as evacuation orders are put in place.
The rapper took a break from her tour of Australia and paid a visit to food donation charity Foodbank, where she helped volunteers pack hampers.
"We knew someone would be visiting but we weren't told who. Usually, it's only politicians who visit so it was a pretty big deal," a volunteer called Emily told Insider. "Safe to say everyone was freaking out, even the CEO looked so excited. Just shocked that it was really her and that she would make the time to come to Foodbank."
Emily said that after a tour of the warehouse, Lizzo gave an emotional speech to volunteers, expressing her love and support for Australia.
"She gave a little speech about how much she's always wanted to come to Australia and was sad that this coincided with the trip, but then saw it as an opportunity to come and spread awareness and do what she can while she's here," Emily added.
Emily told Insider that Lizzo was "everything you'd hope and expect her to be. I was so excited that it was a bit of a blur! I remember her saying, 'Please let me know if you guys need anything, do you want some cupcakes?!'"
Volunteers took to social media to share photos of Lizzo hard at work.
"Beautiful [Lizzo] stopped by our [Food Bank Victoria] warehouse today to thank our hardworking team and vollies who have been working tirelessly for the past 6 days," the charity explained on Twitter. "What a star, she even packed hampers for fire-affected regions. Thank you for the support."
"She just really boosted morale and was so happy to take pictures and talk to everyone there," a volunteer added. Pictures don't do her justice, she is radiant and just as kind and welcoming as you would hope."
According to their website, Foodbank has sent over 22 truckloads of supplies to areas impacted by the wildfires. They were carrying over 4,500 hampers and 161,280 bottles of water along with other daily essentials. The charity is providing the relief on top of their day-to-day work of providing hampers to 815,000 food insecure Australians a month.
Unsurprisingly, social media users loved Lizzo's volunteering.
"Lizzo has done more for Australia than the Australian Prime Minister," one user joked.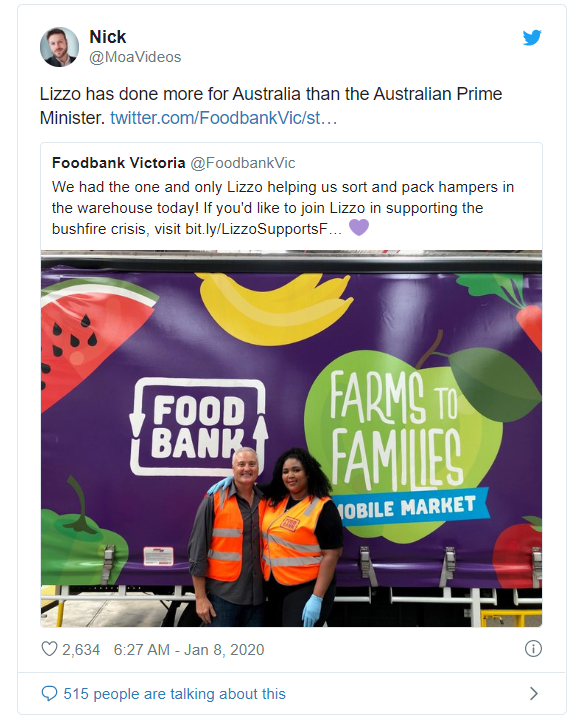 While another added: "Lizzo took a break from her Australia tour to pack food hampers for bushfire victims, proving that she's 100% that wonderful."