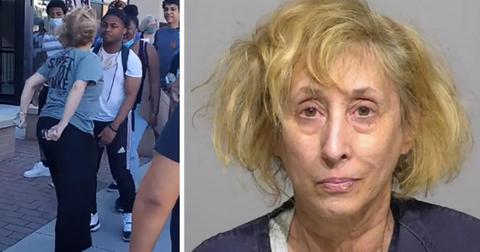 White lawyer arrested after spitting on 17-year-old black protester, assaulting another
By Mark Pygas

Updated
A 64-year-old lawyer has been arrested after she was caught on video spitting on a 17-year-old taking part in a Black Lives Matter protest in Milwaukee, Wisconsin. Stephanie Rapkin is also accused of shoving a 21-year-old college student who was writing a message in chalk on the sidewalk in front of her home.
Shorewood police said that when they went to arrest Rapkin on battery and disorderly conduct charges, she resisted and kneed a police officer in the groin.
Video of the spitting incident was posted online and started when Rapkin parked her car in the middle of the street that a crowd of demonstrators was marching down.
The person filming the video approaches Rapkin and asks her to move the car.
"She won't move her car, so we can't go," the person filming says. "She won't move her car."
Rapkin continues walking away, before turning around and saying: "She won't keep me safe. You won't keep me safe. Move away from me. Move away from me."
Another group of protesters approaches Rapkin, and a shouting match begins.
Rapkin then spits on Eric Lucas, a 17-year-old student at Shorewood High School. Other demonstrators get between the two and usher Rapkin away.
At a press conference, Lucas said he was "mentally and physically shaken to be assaulted by an adult in my own community during a pandemic."
"Again and again I am viewed not as a child but as a color," Lucas said, according to WDJT. "That my people and me, a young black man living in a white American can one day be equal. Every day my heart stays warm with a chance of success in this cause. Winning against injustice poverty. Winning against poverty."
"I'm disappointed in feeling unloved by individuals who I've done no harm to. Injustice anywhere is a detriment to justice everywhere," Lucas added.
"If you are ready for it not to be a subject, not to be held accountable. Not to repent for the sins that have happened. This is not how we're going to operate this situation," State Representative David Bowen said.
In a subsequent video, a group of people can be seen arguing with Rapkin outside of her home. Urban Milwaukee reports that they had been writing messages like "Racist lives here" and "I spit on a child" in chalk on the sidewalk in front of her home.
Debra Brehmer scolds the woman for spitting on a 17-year-old during a pandemic. Rapkin alleges that the teenager was "a man who attacked me." Another bystander, Joe Friedman, states that Lucas did not attack Rapkin.
"I said I was sorry, but when someone comes up to you like this," Rapkin says as she gets into Friedman's face and appears to shove him in the chest.
"What are you doing?" Friedman asks.
"I am explaining how it happened," Rapkin states.
Friedman then accuses Rapkin of putting her hands on him, claiming that it is assault.
Friedman told media outlets that he was stunned that Rapkin had pushed him.
According to a press release from Shorewood police: "The victim in today's incident reported he was peacefully protesting on the sidewalk in front of suspect's home when the suspect came out and engaged in a verbal altercation with the protesters. The victim reported the suspect then slapped both of her hands on the victim's chest and physically pushed him."
After the second incident, police arrested Rapkin on battery and disorderly conduct charges on Sunday. Rapkin resisted arrest and kneed a police officer in the groin. She was booked into the Milwaukee County Jail and kept overnight, with bail set at $950.
According to the Milwaukee Journal Sentinel, Rapkin had been taken into police custody on Saturday following the spitting incident.
Shorewood Police are now seeking charges of battery, disorderly conduct, battery to a law enforcement officer, and resisting/obstructing an officer.
Michael Maistelman, an election law attorney, is also seeking to Rapkin suspended or disbarred.
Larry J. Martin, executive director of the State Bar of Wisconsin said that "both [of the videos] disgusted and disturbed. ... There is no justifiable reason for one person to ever spit on another individual."