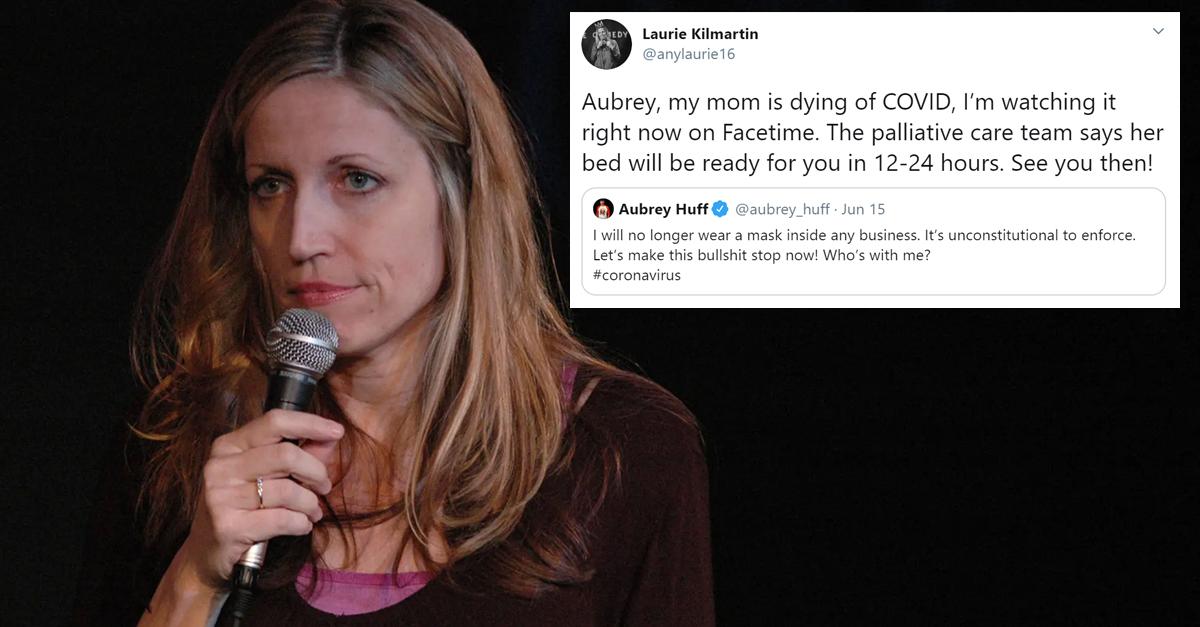 Comedian Laurie Kilmartin live-tweets her mom dying of COVID-19 with humor and grace
By Robin Zlotnick

Jun. 22 2020, Updated 7:26 a.m. ET
Laurie Kilmartin is a stand-up comic and longtime writer for Conan O'Brien. When her dad was dying in 2014, she live-tweeted his hospice care with an incredible sense of humor. After he died, she released a comedy special called, 45 Jokes About My Dead Dad, a tender and hilarious special that tackles the issues of dealing with death and dying head-on. Later, she wrote a humorous book about death and grief called, Dead People Suck: A Guide for Survivors of the Newly Departed.
Article continues below advertisement
On June 18, 2020, Laurie's mom died after a short and intense battle with COVID-19. And for a week or so before, Laurie live-tweeted the whole experience of spending her mom's last moments with her on an iPad. Her tweets are equal parts hilarious and heartbreaking, not to mention full of righteous anger about the COVID-19 crisis and the way some people are denying it's an issue.
Article continues below advertisement
The sense of humor with which she was able to approach the situation is so admirable, and the vast majority of people were extremely supportive. Still, Laurie had to deal with some snide comments from persnickety people in her mentions.
"I hope she doesn't see your Twitter account," one person wrote, speaking about Laurie's mom. "She won't, because she'd dying," Laurie simply responded.
For several days, Laurie and her sister sat with their mom on FaceTime, connected through an iPad. Her mom had entered a skilled nursing home for a bad hip injury, and it was there that she contracted COVID-19.
Article continues below advertisement
"When we knew we had to put her in one for strength building, they're all closed or they all have had COVID outbreaks, so they're not taking any people," Laurie told ABC7. "I was given two options, and one was an hour away and one was kind of close. And I picked the close one, and they had a COVID outbreak."
"The day after mom entered her nursing facility, there was one case of COVID," Laurie tweeted. "I just called, now there are 50 cases of COVID associated with this facility, employees and patients. Ten days later. This is Highland Park, in Los Angeles." In another tweet, she wrote, "Thinking I should have sent my mom to recover at a meat-packing plant instead."
Article continues below advertisement
She and her sister fought extremely hard to get to visit their mom. The hospital she was being treated at stopped allowing visitors because of the pandemic, but Laurie rallied friends and fans to contact the hospital, and eventually, they modified their rules. Laurie and her sister were able to spend about an hour with her mom on the Monday before she died.
Article continues below advertisement
The rest of the time, they were stuck on the iPad. Much of Laurie's very understandable anger about her mom's death on Twitter has been directed at those who still refuse to wear masks to help prevent the spread of the virus, notably, former baseball played Aubrey Huff.
He tweeted saying that he would no longer wear a mask inside any business because "it's unconstitutional to enforce." Laurie wryly responded that she was in the midst of watching her mom die of COVID-19 and that "her bed will be ready for you in 12-24 hours." She then posted an update once her mom had passed that just said, "The bed's available."
Article continues below advertisement
Article continues below advertisement
Laurie lamented that even after her mom died of COVID-19, she still has family members who believe that the mandate to wear masks in public is "unconstitutional." Wearing masks has been proven as an effective way to protect communities from the spread of COVID-19.
It's a simple, easy thing to do to protect others, and anyone who isn't willing to is saying that they just don't care about other people. "In lieu of flowers," Laurie tweeted after her mom's death, "the family asks that you throw hot coffee on the face of anyone not wearing a mask."