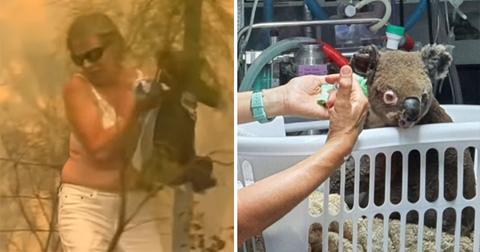 Koalas aren't 'functionally extinct' but they are in trouble following Australia wildfires
By Mark Pygas

Updated
Australia has been experiencing record-breaking wildfires in recent weeks after temperatures soared to more than 40C (104F) in many areas. At least four people have so far died, but those suffering most appear to be Australia's wildlife. 
Deborah Tabart OAM, chairman of the Australian Koala Foundation (AFK), told the Daily Mail that she believes over 1000 koalas may have been killed in the last two months as a result of deforestation and the fires. She went on to claim that the fires have also destroyed 80 percent of the koala's natural habitat, leaving the animals "functionally extinct."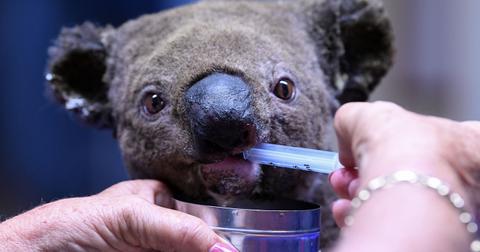 Functionally extinct refers to when a species population has declined past the point of no return.
"If we combine all of the estimated deaths of koalas in the bushfires, there could be 1000 koalas that have been killed in the last two months," she said. "We know there are 31 koalas that have been killed in Port Macquarie, but I think that is not a high enough number."
Tabart warned that even after the wildfires, koalas will continue having a rough time.
"Because of deforestation and now the bushfires, there is so little habitat left and trees with eucalyptus take months to grow back," she said.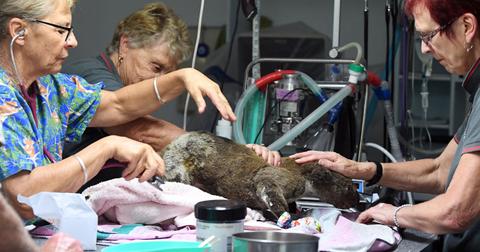 Dr. Christine Hosking, a koala expert at the University of Queensland, told The Feed that AFK's claims are probably exaggerated, but while koalas aren't functionally extinct, they are in trouble. 
"In ecology it's always grey -- there's never black and white, because koalas are very hard to track and count," she said. 
"But to say they're functionally extinct all over Australia, you can't possibly say that, because in some places they're doing well -- in some places they're over-abundant."
Hosking explained that koala populations vary across Australia. In some southern states, they are over-abundant and even considered pests. But in Queensland, New South Wales and the Australian Capital Territory, they are considered endangered.  
In the latest expert estimates, researchers put the koala population at between 120,000 and 300,000 across Australia according to Hosking. 
"They're very good at promoting the plight of the koala, but us researchers prefer to have scientific background before making a statement," Hosking said of AFK.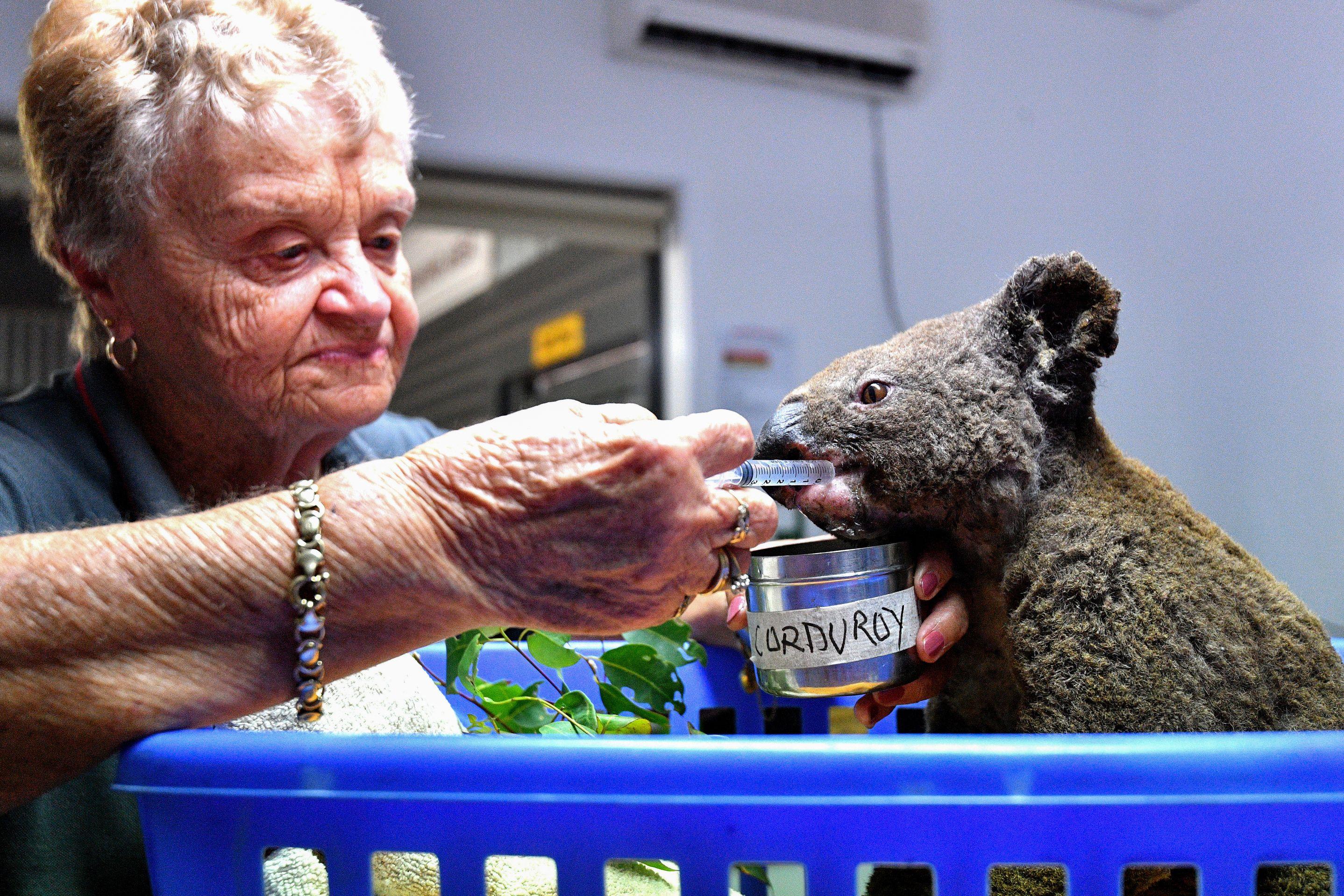 But while Hosking believes that koalas aren't functionally extinct, the wildfires have taken a serious toll. 
"In the case of the bushfires, we need to wait a bit longer -- the fires are still burning," she said. "It's certainly been devastating for some populations in those bush areas, but you couldn't really quantify it yet. It will take a few years."
Other experts have also taken to social media in an attempt to debunk AFK's claims. Dr David A. Steen, a wildlife expert wrote: 
"Pretty frustrating to see so many of the biggest voices in climate science credulously share that recent article about Australian fires leading to the extinction of koalas. You've just... got to be better than that. We all need your credibility intact. It was obvious hyperbole."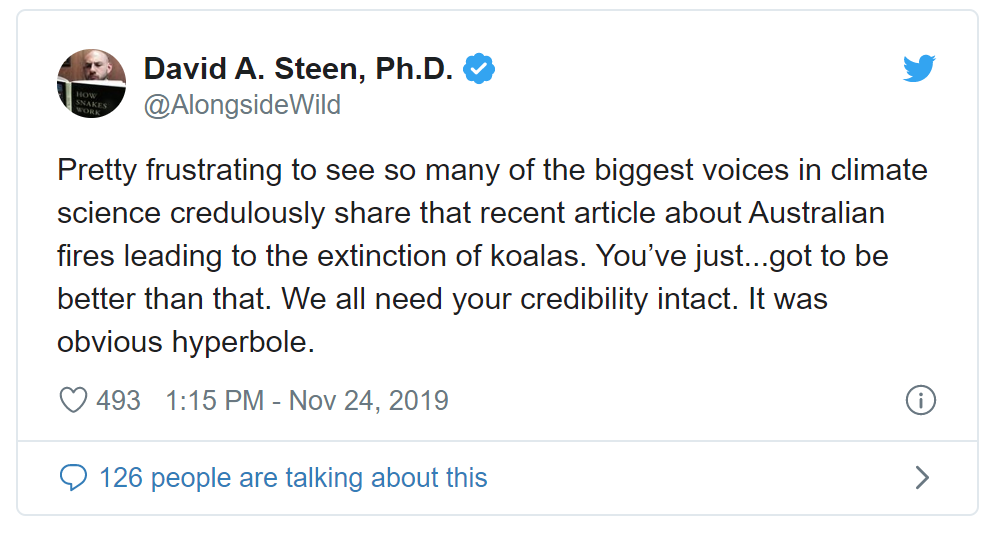 Diana Fisher, an ecologist, went on to add: "Loss of many in bushfires (~1M ha of the 100M ha of forest in eastern Australia) is sad, but Koalas are nowhere near functionally extinct."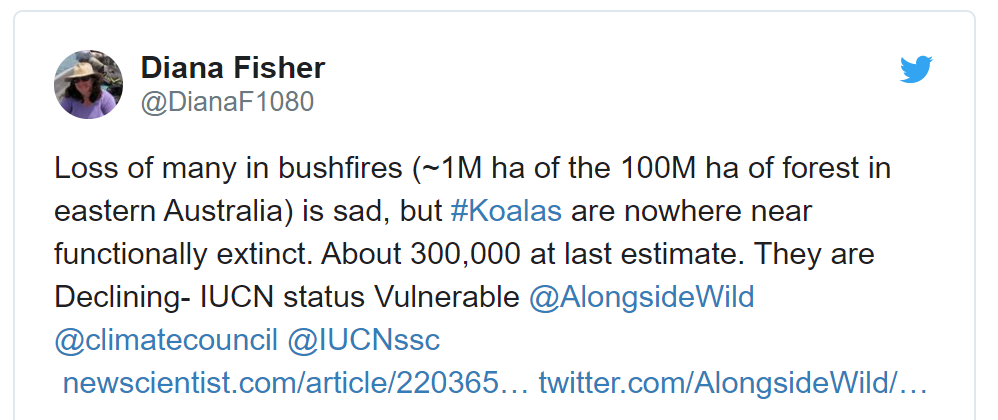 Donations to the Port Macquarie Koala Hospital have exceeded $1.6 million as of the time of writing. The hospital has so far helped over 31 koalas who were badly burned in the wildfires. A surge in donations came after grandmother Toni Doherty was filmed using the shirt off her back to save a koala since named Lewis. 
Lewis is recovering at the hospital, with staff saying he had a "lucky escape" though he still remains in a critical condition.
The hospital explained in an update: "After treatment at the Hospital, Lewis is now receiving round the clock care by one of our long term home care volunteers and Hospital supervisor, Barb. Barb hand feeds Lewis a single leaf at a time, with feeding taking up to an hour a feed." 
"Lewis's prognosis is guarded as he sustained significant burns however he is receiving the best possible care."
Toni told Today why she decided to save the animal: "I've never heard a koala before. I didn't realize they could cry out. It was just so heart-rending and I knew I needed to get him out of there as quickly as possible."
"I knew I needed to put something around him as I ran to the tree, so I just took off my shirt and covered him with it. I just tried to get him out of the fire, it was so hot and so frightening."