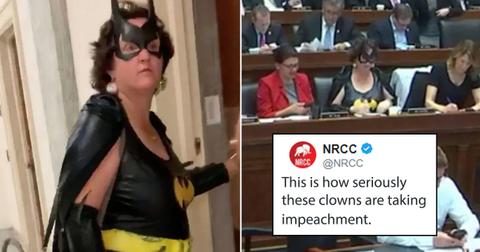 A congresswoman showed up to vote as Batgirl and Republicans are criticizing her
By Mark Pygas

Updated
Rep. Katie Porter of South California decided to wear a costume to congress on Halloween, but the decision isn't sitting well with many Republicans. Porter showed up to the capitol on Thursday in full Batgirl regalia, complete with a mask, a cape, and knee-high boots.  
Article continues below advertisement
According to Mediate, she eventually dressed in more business formal clothing but kept the mask on for a vote in the Financial Services Committee. That didn't stop the haters, though. In a tweet, the National Republican Congressional Committee wrote: 
"As House Democrats prepare to officially blow up their Majority with impeachment, @RepKatiePorter is prancing around dressed as Batman. This is how seriously these clowns are taking impeachment."
Article continues below advertisement
Porter wore her costume on the same day that Democrats voted for a resolution on the ground rules that would be used for President Donald Trump's impeachment inquiry. 
Steve Guest, the spokesman for the Republican National Committee, also took to Twitter to express his distaste over the costume, writing:  
Article continues below advertisement
"Democrat Rep. Katie Porter is making a mockery of the House of Representatives."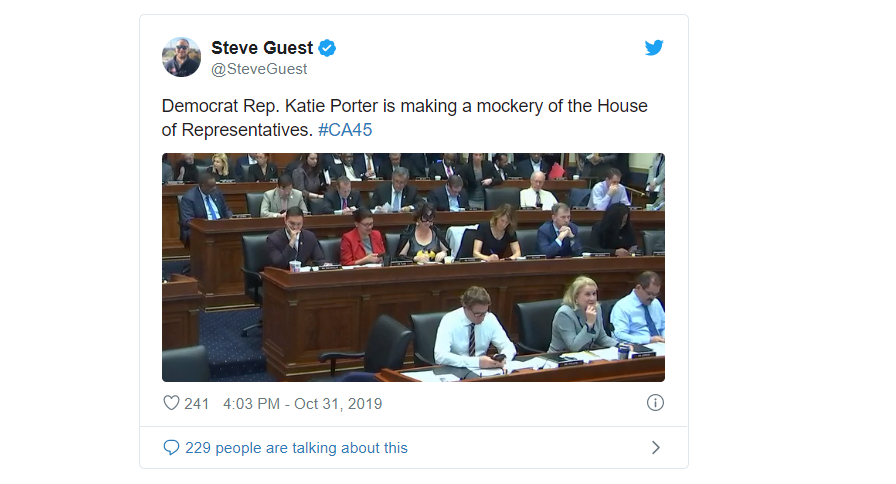 Article continues below advertisement
But Porter doesn't seem to be letting the hate get to her, responding to the comments by tweeting: "Taking my work in Congress seriously doesn't mean I take *myself* too seriously. To my kids Luke, Paul, and Betsy, I'm still just Mom—seeing the Bat Signal on Halloween & putting on a goofy costume come with the territory."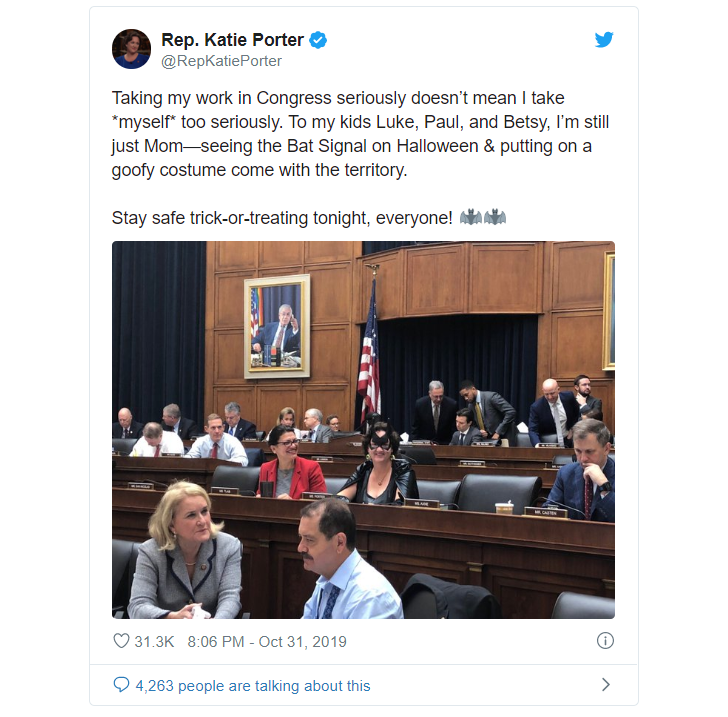 Article continues below advertisement
Others took to Twitter to support the Congresswoman, with activist Adam Best writing in a series of tweets: "The Republican President dresses like a clown even when it isn't Halloween. I think Katie Porter can enjoy the holiday as Batwoman, especially given her commitment to taking down scumbags."
"Of course Republicans, who love their criminal president, got triggered by a Democrat dressing up as someone who beats criminals to a pulp."
Article continues below advertisement


Article continues below advertisement
Another user added: "I personally love the fact that Rep. Katie Porter wore a Batwoman costume to votes and I think that Congressmen and Congresswomen should learn to take themselves less seriously."