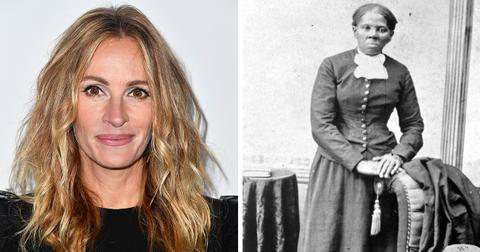 Julia Roberts was suggested to play Harriet Tubman by a studio executive
By Mark Pygas

Updated
Harriet, a historical drama released earlier this month, stars Cynthia Erivo as abolitionist and political activist Harriet Tubman, who helped rescue 70 enslaved people through her network known as the Underground Railroad. 
But according to the film's screenwriter and producer, Gregory Allen Howard, Julia Roberts was considered for the staring role at some point. Yes, someone wanted Julia Roberts to play Harriet Tubman.
In a Q&A with Focus Features, Howard revealed that he started working on the film way back in 1994. And when he first took it to studio executives, one suggested that Roberts should play Tubman.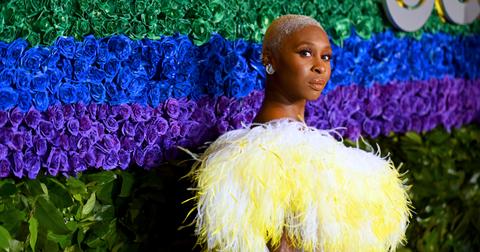 "I was told how one studio head said in a meeting, 'This script is fantastic. Let's get Julia Roberts to play Harriet Tubman,'" Howard explained. "When someone pointed out that Roberts couldn't be Harriet, the executive responded, 'It was so long ago. No one is going to know the difference.'" 
Thankfully, decades later, when the film became a reality, the idea didn't stick. Howard goes on to credit the success of 12 Years a Slave and Black Panther for finally making Hollywood take him seriously. 
But as you can imagine, the idea of Roberts playing such a historically important black woman didn't sit well with Twitter. "I told my agent, 'You can't say this kind of story won't make money now,'" he explained. 
One user wrote: "Bwahaha. 'This script is fantastic. Let's get Julia Roberts to play Harriet Tubman.' I don't know what's worse: Such a suggestion or the fact that it took 25 years to finally make the film."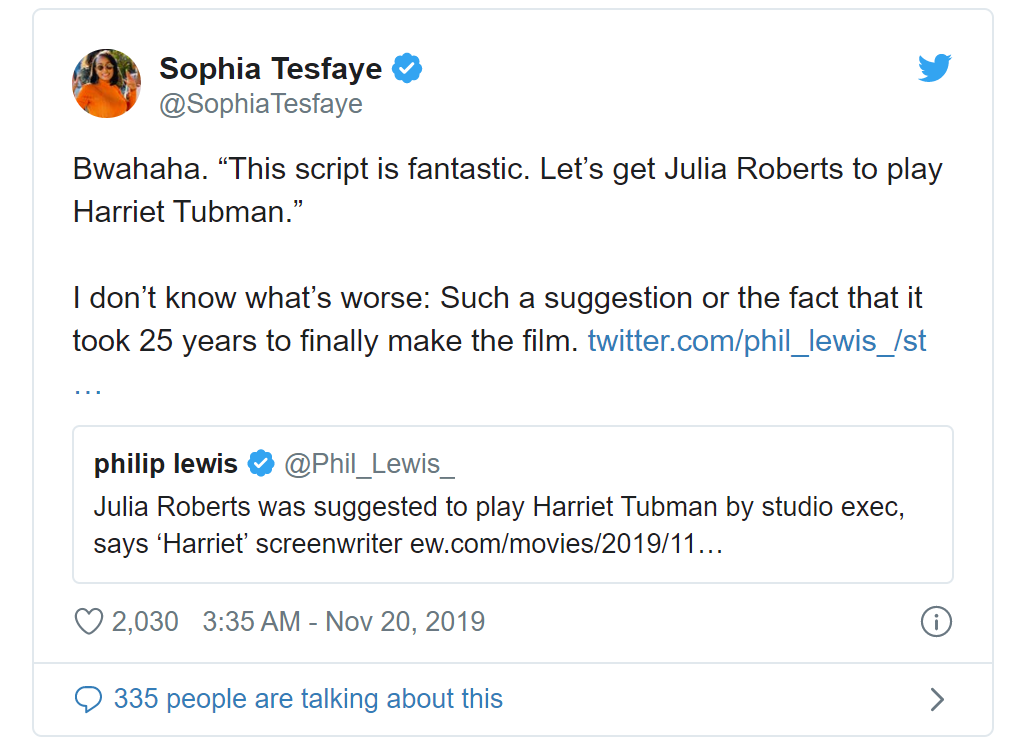 Another added: "Yes, it is entirely believable that a Hollywood exec, 25 years ago, would suggest Julia Roberts to play Harriet Tubman. These are the same people who were greenlighting Pauly Shore movies at the time."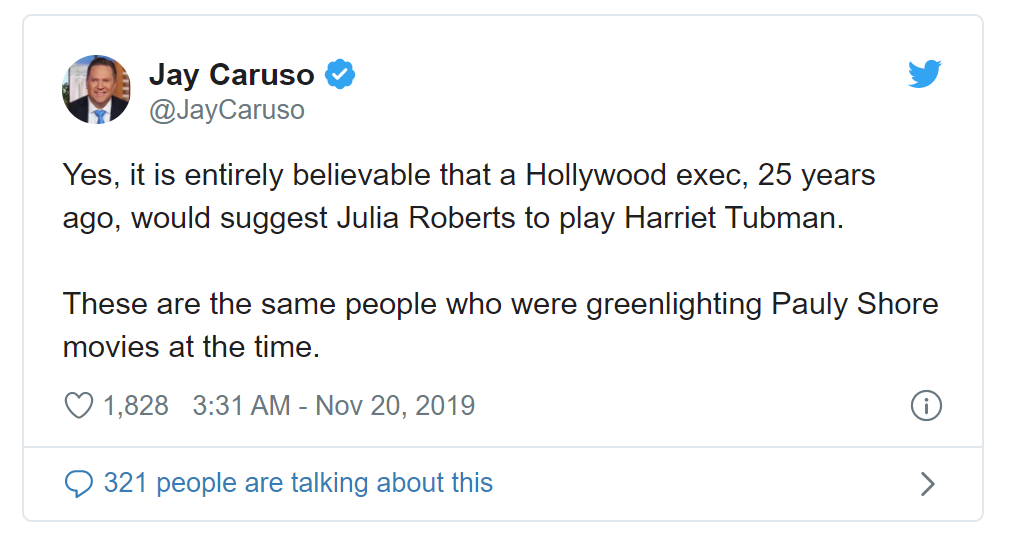 Another user joked about Scarlett Johansson's Ghost in the Shell controversy: "Imagine suggesting Julia Roberts play Harriet Tubman when Scarlett Johansson exists."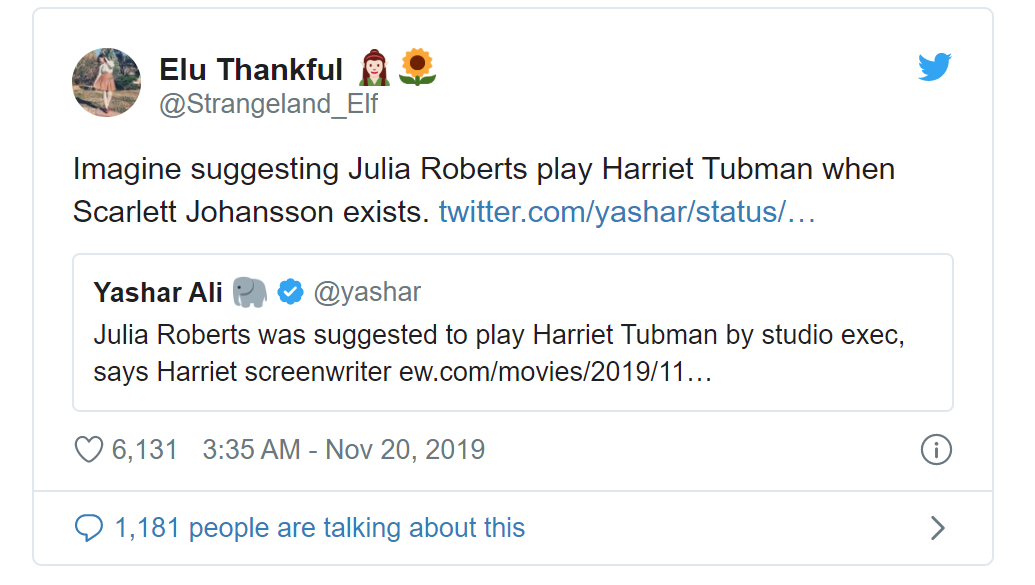 Others used the moment to inspire young actors: "If you're chasing a Hollywood dream and feel doubtful you'll ever make it, remember there are executives getting paid shit loads of money to suggest JULIA ROBERTS should play Harriet Tubman. A jar of cockroaches is more qualified than some of these people so DON'T GIVE UP."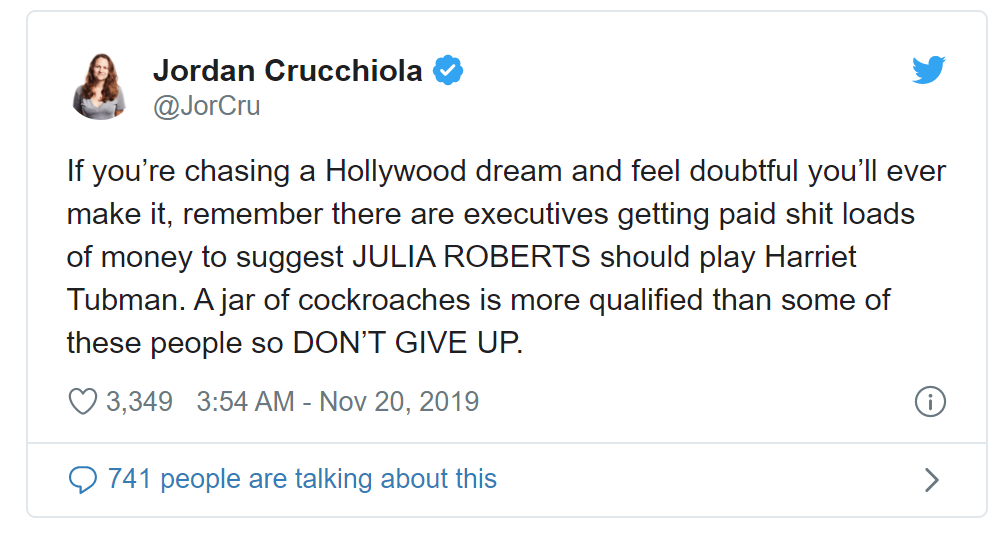 Another added: "What I imagine the tension in the room was like in that general meeting when that studio exec suggested to Julia Roberts that she could play Harriet Tubman."
What I imagine the tension in the room was like in that general meeting when that studio exec suggested to Julia Roberts that she could play Harriet Tubman.

pic.twitter.com/SNm3U8B0z8

— Matthew A. Cherry (@MatthewACherry) November 20, 2019