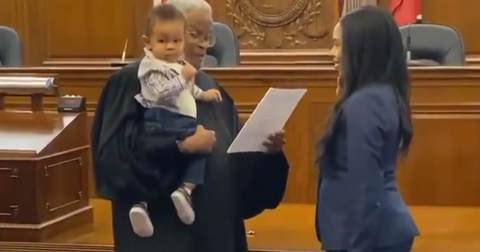 Judge praised for holding lawyer's baby while he swore her in
By Mark Pygas

Updated
A Tennessee judge is earning plenty of praise online after he made a new lawyer's swearing in to the state bar even more special by offering to hold her baby son as he administered her oath. 
Juliana Lamar, who graduated from Belmont University College of Law, earned her right to practice law last week.
Among those attending her swearing in ceremony was her 1-year-old son Beckham. Beckham, who was born while Lamar was studying, got to be a part of the ceremony after Judge Richard Dinkins offered to hold the baby while he administered the oath. 
Sarah Martin, a friend of Lamar, took to Twitter to share the special moment, writing: "Judge Dinkins of the Tennessee Court of Appeals swore in my law school colleague with her baby on his hip, and I've honestly never loved him more."
Y'all. Judge Dinkins of the Tennessee Court of Appeals swore in my law school colleague with her baby on his hip, and I've honestly never loved him more. pic.twitter.com/kn0L5DakHO

— Sarah Martin (@sarahfor5) November 9, 2019
Lamar was ecstatic that Beckham got to be involved, telling Buzzfeed News:
"On the day of my swearing in, right before we began, Judge said he wanted Beckham to take part in the moment. And I am so glad he did because to have my son take part in one of the greatest moments of my life was truly a blessing." 
It wasn't the first time that Judge Dinkins had an impact on the student.
"Judge Dinkins has also been a guiding light during my legal career," Lamar said. "When I was nine months pregnant, the day before I found out I needed to be induced, Judge Dinkins spoke on the importance of voting at an event I hosted as the President of my school's Black Law Students' Association."
"During this event Judge Dinkins reminded me of how proud he was of me and that he knew I would do great things, even with a baby in tow."  
Lamar also went on to explain the difficulties that came with having Beckham during her time at law school. Just a week after undergoing a C-section, she had to be back at class because of the school's tough rules on missing classes. 
She added that her husband Javon, who is currently serving in the US Army at a nearby base, was key to her making it through the tough period. 
"The pressure I felt was horrible, and I hope it has led my law school to rethink its policies for future mothers," Lamar added. "I understand having a child during law school is often a choice, however, as young female professionals there is not a perfect time for us to have children." 
The judge also earned praise from Twitter users, with one writing: "That is so awesome!! I'm glad there are people in the judicial community like this."

Another user wrote: "Met this man this summer as an intern and watched him get interviewed for an event he was being honored for. He's one of the smartest, nicest and most interesting people I've ever met and an essential part of TN history." 

While another user concluded: "The best part is his instinctive bouncing of the baby. Once a dad, always a dad!"