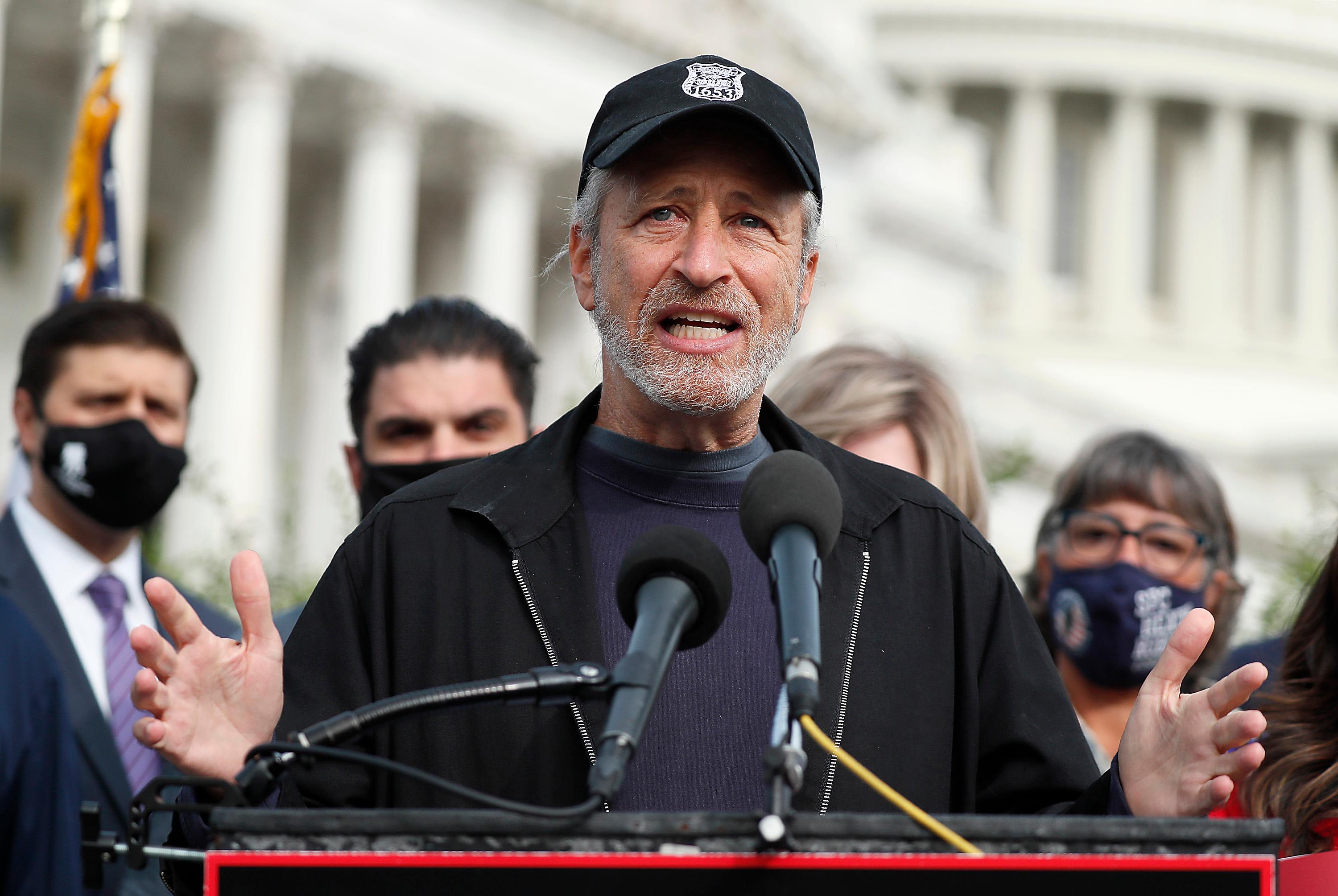 Jon Stewart is back on Capitol Hill fighting for veterans affected by burn pits
By Mark Pygas

Sep. 17 2020, Updated 9:28 a.m. ET
Former Daily Show host Jon Stewart campaigned for years to establish a permanent compensation fund for 9/11 first responders who became ill after working in the rubble of the twin towers.
Article continues below advertisement
First responders and survivors have increased rates of cancer and other diseases because of the toxic dust that many of them inhaled at the scene.
While there had already been September 11th Victim Compensation Fund, which pays out compensation for deaths and illnesses related to the attack, funding had to be continually renewed by Congress.
Article continues below advertisement
Thanks to lobbying efforts led by Jon Stewart, President Donald Trump signed a bill that permanently reauthorized the fund in 2019.
"Our nation owes each of you a profound debt that no words or deeds will ever repay," Trump said. "But we can and we will keep our nation's promise to you."
Now, Jon Stewart is back on Capitol Hill. This time, he's campaigning for a compensation fund to help veterans affected by burn pits.
Article continues below advertisement
According to the VA, burn pits are a "common" way for soldiers to get rid of waste. However, many experts have warned that the smoke given off by the pits could be toxic.
Article continues below advertisement
"Welcome to another exciting episode of 'When is America going to start acting like the great country we keep telling ourselves we are?'" Stewart said during a press conference.
"The fight starts again. The only difference between the 9/11 responders at Ground Zero who are sick and dying from toxic exposure is that that was caused by a terrorist attack on our country," Stewart said. "The veterans in Iraq and Afghanistan are suffering the same illnesses and the same toxic exposure because of the actions of our own government."
Article continues below advertisement
Stewart is backed up by Sen. Kirsten Gillibrand and Rep. Raul Ruiz, former Veterans Affairs Secretary David Shulkin and a number of veterans affected by burn pits.
The proposed bill, Presumptive Benefits for War Fighters Exposed to Burn Pits and Other Toxins Act of 2020, would entitle service members who were present at a burn site to lifetime health care coverage if they suffer from cancer or any respiratory disease linked to carcinogenic toxins.
"To put it simply, the bill says that if you were there, you are covered, plain and simple," Gillibrand explained.