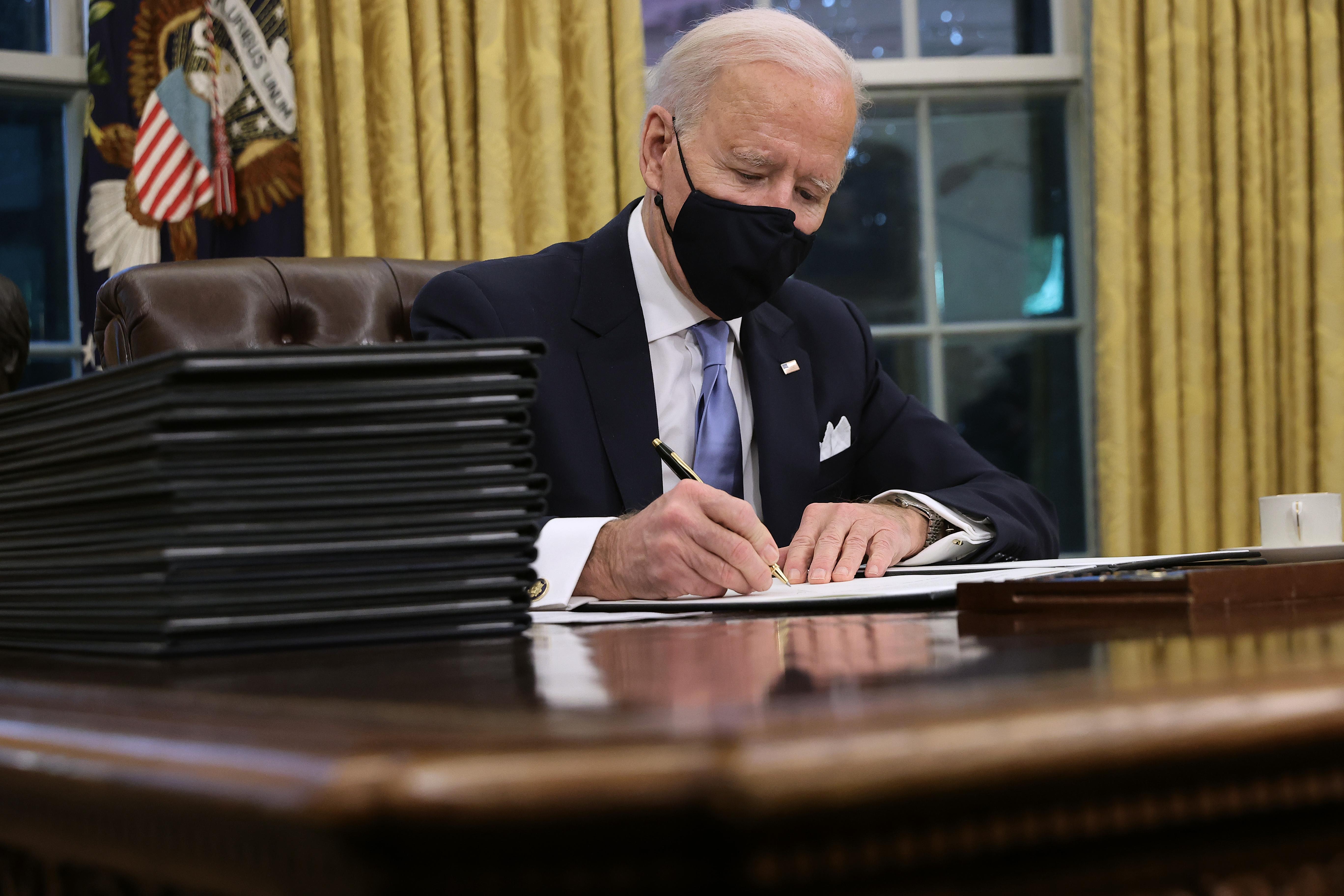 Joe Biden's first executive order is a mask mandate for federal grounds
By Mustafa Gatollari

Jan. 21 2021, Updated 10:20 a.m. ET
Following Joe Biden's inauguration, the 46th President of the United States, like many other Presidents before him, hit the ground running signing executive orders into action to define the direction of his administration. He signed over a dozen separate orders that primarily pertained to COVID, climate change, and immigration.
Article continues below advertisement
Many of the signed actions also reversed some of the policies put in place by Donald Trump, especially those relating to the environment, the U.S. census, immigrant policy, and regulation.
Most notably, however, Biden has taken an on-the-record strong stance against "anti-mask" rhetoric by mandating they must be worn on federal property; it was the first executive order he signed.
CBS reported Biden as saying, "I thought there's no time to wait. Get to work immediately." As for the letter that Donald Trump had left Biden, the new President said it was "very generous." He revealed that he wouldn't disclose the contents of the letter without speaking to Trump first but said, "Because it was private, I will not talk about it until I talk to him, but it was generous."
Article continues below advertisement
Article continues below advertisement
There are several other executive orders that Joe Biden's administration plans on implementing, "In the coming days and weeks we will be announcing additional executive actions that confront these challenges and deliver on the President-elect's promises to the American people, including revoking the ban on military service by transgender Americans, and reversing the Mexico City policy."
The mask mandate is part of a greater overall COVID-19 initiative, the beginning of a "100-day masking challenge" of sorts. There are also plans to bring back the Obama's administration health group, the "Directorate for Global Health Security and Biodefense," which received a boon in staffing during the ebola scare.
Article continues below advertisement
A response coordinator will be assigned to the group as well, who will report to President Biden on the distribution of vaccines, testing, and protective equipment production. Biden also plans on rejoining the WHO (World Health Organization) after Trump's administration planned the US to exit it.
As for financial relief in the wake of the COVID-19 pandemic, Biden also plans on extending moratoriums for evictions and foreclosures until March 31, 2021, at a minimum.
Article continues below advertisement
Student loan payments will be paused until September 30, and his administration stated that they still plan on canceling $10,000 of student loans for all indebted grads, however, the deal still must be agreed upon in Congress. Seeing as the DNC holds a majority Senate and Congress, there would have to be serious complications in negotiations for this not to be passed.
Article continues below advertisement
Joe Biden also signed an order to have the United States rejoin the Paris Climate agreement and to end the Keystone XL Pipeline development, along with stopping oil and gas developments at national wildlife monuments.
Several human rights orders were passed as well: like counting non-US citizens in the census, along with the equitable distribution of federal funds in "communities of color and other places of need," according to CBS.
Article continues below advertisement
Biden also ended construction of the border wall, maintained protection for Liberian refugees in the United States, softened ICE arrest protocols, ended the "Muslim travel ban," defended the "Dreamers" program that helps undocumented Americans gain citizenship status, froze Trump regulations that were in the process of being implemented, and will present an ethics pledge to every executive branch appointee to sign.
Not bad for a single day's work.