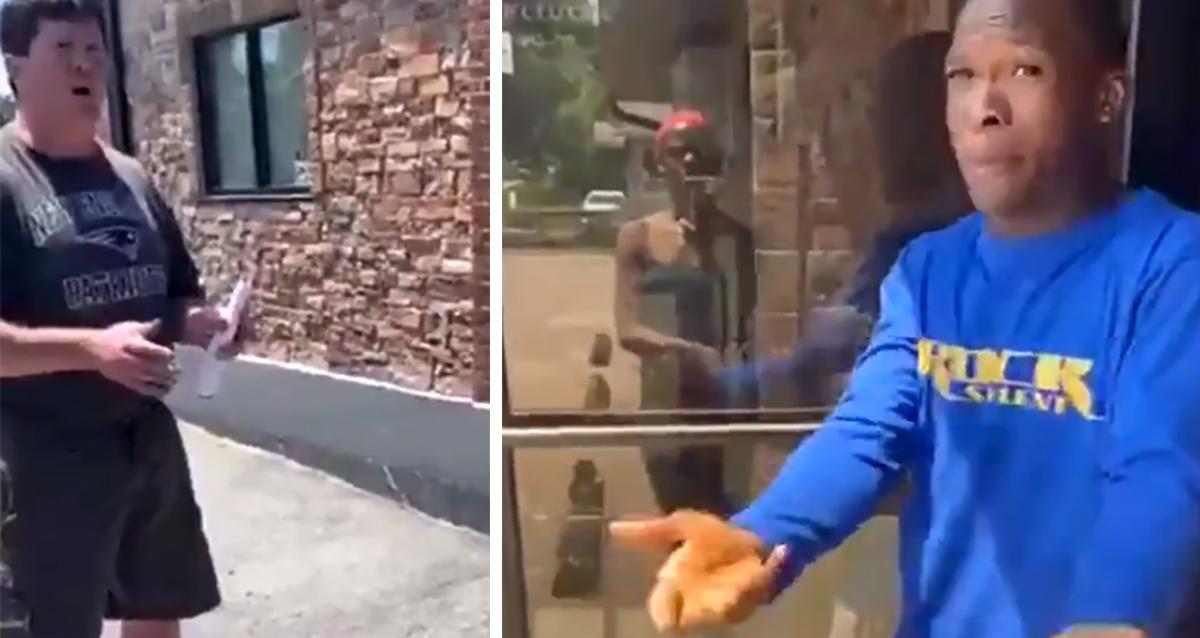 Black business owner claims white landlord evicted him for going to Black Lives Matter protest
By Mark Pygas

Jun. 8 2020, Updated 9:24 a.m. ET
Jeremiah Johnson, who runs a fashion and retail business called Stylent Brands, claims that he was thrown out of his rented office space by his white landlord. According to TMZ, the man saw a news video of Johnson peacefully protesting in Des Moines, Iowa, and assumed that he was involved in rioting and looting that also took place.
Article continues below advertisement
Johnson posted a video of an exchange between him and the landlord on Twitter, writing: "We got kicked out from our business office space by our landlord cuz he saw us on the news peacefully protesting. Violating our 1st amendment rights and the lease. Please share this video! When other people protest for haircuts, it's great! But when I protest peaceful, it's bad!!"
The video begins mid-argument, but Johnson can be heard telling the man: "You guys never thought anyone would step up and finally fight back against what was happening in this country."
The woman behind the camera interjects: "Either way, that doesn't have anything to do with you leasing this place."
Article continues below advertisement
Johnson continues: "I was protesting the right way, why get mad at me then? You said you're not OK with the riot, but you're also not OK with me peacefully protesting?"
The landlord then states: "I'll tell you now, if there's something illegally going on at a place that I'm at, I don't want to be a part of it. I am personally going to leave."
Article continues below advertisement
Johnson retorts: "But there's two different groups. The guys in the riot, and the peaceful protests."
The landlord adds: "All I know is that if someone's doing something illegal someplace..."
The woman behind the camera interjects: "But what does that have to do with him?"
Asked if he thought Johnson had done something illegal, the landlord replied: "I'm not saying you did. All I'm saying is that I think it's poor judgment to be at a place where some illegal is going on, whether you're part of it or not."
"We didn't think that was going to happen, we were there for peaceful protests," Johnson replied.
Article continues below advertisement
The landlord adds: "That's what I'm saying, when it happens, I leave. I'm out of there, I don't want my face associated with something that's going on..."
Johnson responds: "We're there with the news reporter, we're not out there with the guys who were doing it. You saw how we were."
Johnson then breaks the conversation off and the video ends.
In a further update, Johnson said that he was taking the matter to court. He went on to allege that his attorney had received an email from the landlord that read in part: "We live in a day and age where people demand rights who have never earned anything or done anything to deserve them... let alone respect."
Article continues below advertisement
"We took it to the court but no response yet," Johnson stated in a tweet. "He sent an email to us talking about, we are protesting for 'rights and respect' we haven't earn. Like what? Seriously? The only rights I care about is my human rights. If it's not value cuz of my skin color then idc about any rights."
Article continues below advertisement
Johnson also started a GoFundMe campaign to help pay for his legal fees and keep the business going. The campaign states: "As you all know, we've been kicked out from our office space because our landlord said he saw us on the news while peacefully protesting, exercising our 1st amendment right as Americans. He also claimed in an email that we were protesting for 'rights' that we didn't earn. There's nothing more that we value than our human rights. Until our human rights as African Americans is valued, then we don't value any rights created by mankind."
"Due to the fact that we currently don't have a building, this has been a major set back for us. We have invested so much time, effort, and money into the office, and getting kicked out has really pushed us back. On top of all our issues, COVID-19 has really slowed down our progress as well. Many people have been wondering how they can support us. This gofundme page was made to help us get back to where we once were, and also help us grow as a business. We need to hit our goal by the end of this week to get us back on our feet."
Article continues below advertisement
Johnson told TMZ that he is waiting for a judge to hear his case, and is alleging "racial discrimination, but also a violation of first amendment rights and violating the lease he signed." He also told the publication that his business is struggling because the eviction leaves him with no space to ship or store products.
The landlord did not respond to NewsHub's request for comment.
After the video went viral, some social media users ordered clothing from Johnson's website to support him.
Article continues below advertisement