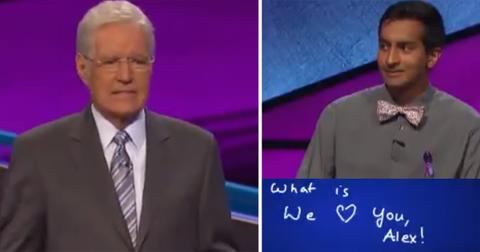 Alex Trebek got emotional after a 'Jeopardy' contestant answered with a heartfelt message
By Mark Pygas

Updated
Alex Trebek, the long-time host of Jeopardy!, revealed that he had been diagnosed with stage four pancreatic cancer earlier this year. He's been publicly fighting the disease ever since, appearing in awareness campaigns and keeping fans updated on his status. 
Fans and contestants seem to be fully behind Trebek, with the most recent example of support taking place during the final moments of Monday's show. During "Final Jeopardy," contestant Dhruv Gaur wrote an answer that got Trebek a little choked up. 
Not knowing the answer, Gaur instead wrote "What is, we love you, Alex." After reading the comments, Trebek said "That's very kind, thank you," before noting that Gaur had lost $1,995 with the incorrect answer, leaving him with just $5. 
Gaur explained his reasoning in a Twitter thread, writing: 
"I'm really glad I got the opportunity to say to Alex what everybody at the tournament was thinking. For context, Alex had just shared with us that he was reentering treatment for pancreatic cancer. We were all hurting for him so badly. 
Gaur continued: "When Final Jeopardy came up, I could've tried to puzzle it together, but really, just kept thinking about Alex, and thought he should know. I'm just very grateful I got the opportunity to say what I know everyone was thinking. Sending all the love."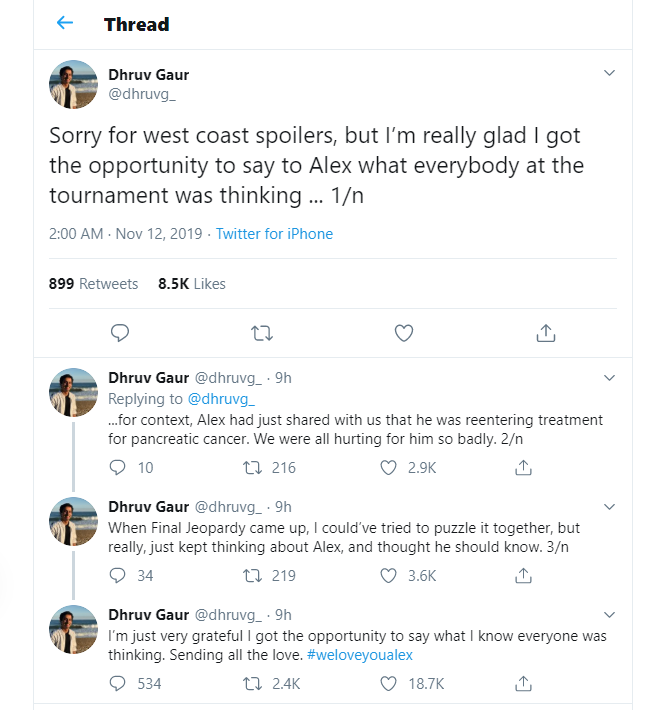 Viewers very much seemed to have the same feelings towards Trebek, with one user replying to the clip by writing: "Alex Trebek is an incredible TV host. Have watched him for years and now my kids do too. Wish him all the best!"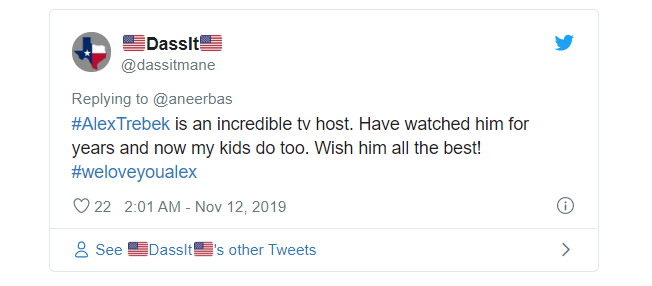 Another added: "Jeopardy is something I looked forward to every day, and let me tell you sometimes the world doesn't have many things like that! What a legend, I'm glad this message was directly received."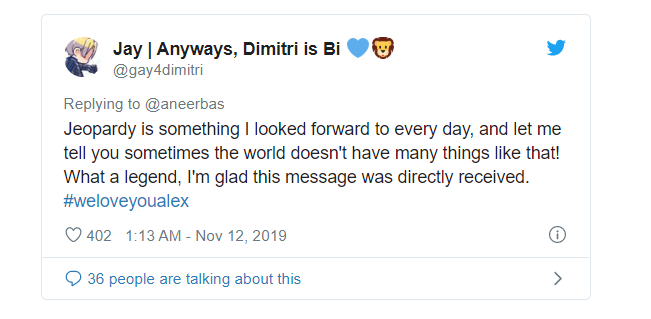 Some commenters also praised Gaur for the move, with one writing: "The contestant who wrote this didn't win the money, but he is the biggest winner on the show.  He has won the admiration of thousands just for writing something kind."