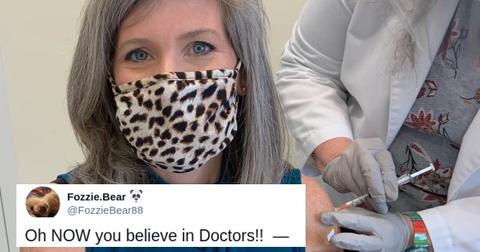 People are calling out "hypocritical" politicians first to get COVID vaccines
By Mustafa Gatollari

Dec. 21 2020, Published 4:40 p.m. ET
At the advent of the COVID-19 pandemic, it became pretty clear that the coronavirus was fast becoming a hot-button political issue, which was only fed by the initial "flip-flopping" of the CDC on the efficacy of wearing cloth masks to help stop the spread of the virus. Even for months after the CDC reverses its position on mask-wearing, the WHO cautioned against the prolonged usage of wearing masks. 
Article continues below advertisement
Now, however, the overwhelming majority of healthcare professionals and medical governing bodies strongly encourage individuals to wear masks in an effort to help curb the transmission of COVID-19 from person to person. And many folks are commenting on a similar acceptance trajectory occurring with the announcement of the vaccine developed to help immunize individuals from this particular strain of the coronavirus.
In addition to all of the memes and social media post conspiracy theories about the true "origins" of the COVID-19 vaccine and some inimical large-scale plot to microchip people for whatever purpose (if you are afraid of being tracked and monitored then we hate to break it to you, your smartphone does a pretty good job of that already) some prominent politicians have vocally expressed their own distrust of a COVID-19 vaccine.
Article continues below advertisement
Now that the first batch of vaccines have become readily available with throngs of individuals getting their immunizations already, some folks on Twitter have noticed that there are some governmental leaders who either previously criticized vaccinations or downplayed the severity of the coronavirus pandemic are now getting themselves vaccinated.
Article continues below advertisement
2/3 I encourage all Iowans and Americans to do the same when their time comes. Thanks to #OperationWarpSpeed and the tireless work of Americans across the country, we are one step closer to defeating this virus.

— Joni Ernst (@SenJoniErnst) December 20, 2020
Article continues below advertisement
One such politician is Iowa Senator Joni Ernst who tweeted an image where she was being injected with her first dosage of the COVID-19 vaccine. The tweet was met with a litany of different responses. Some individuals applauded her for setting a good example and demonstrating the safety of the vaccine. Others questioned her decision to take the first batch of immunizations willingly.
3/3 It's also important that we continue to wear a mask, social distance, and follow CDC guidelines to protect our families, friends, and neighbors.

— Joni Ernst (@SenJoniErnst) December 20, 2020
Article continues below advertisement
When there time comes why did you get priority? There are older high risk people needless to say first responders!! Shame on you

— 🇺🇸LatinaMomInLA🇲🇽 (@LatinaMomInLA) December 21, 2020
And then there were several people who called out the "hypocrisy" of Ernst for previously "mitigating" COVID-19 fatality rates but still getting the vaccine anyway.
Article continues below advertisement
Remember when Joni disrespected our medical professionals and accused them of lying about Covid deaths for money? Then Joni cuts her way to the front of the line to get her vaccine while our medical professionals and frontline workers wait. pic.twitter.com/LEBg0vGlVZ

— Katie Porters Whiteboard (@Amy0227) December 21, 2020
So....y'all are ready to take a virtually untested vaccine? Are we going to be the testing ground ? Also, I thought this was going to be an almost painless patch instead of an injection. Are we really sure the politicians are taking the vaccine ?

— Debbie Nix (@debbienix76) December 21, 2020
Article continues below advertisement
And then there were individuals who thought that she was "jumping in front of the line" and taking up a vaccination spot that might have saved the lie of someone who needed to take the immunization first; someone who was more at risk for not only contracting COVID-19 but dying from it.
Article continues below advertisement
This is dispicable. Many of us have parents in their 70's or 80's, or siblings or children who are essential medical works who wont see vaccinations for months. What right do you have to jump to the very front of the line. You are completely dispicable.

— Martian (@MartinJaske) December 21, 2020
For the most part, individuals were upset that Ernst had suggested doctors were intentionally "bloating" the numbers of COVID-19 deaths so that they could turn a profit and then, herself, received a vaccine for a disease that she said doctors "lied" about to make it seem more severe than it "actually" was.
Article continues below advertisement
Joni Ernst lied and said that the COVID death toll was being inflated by doctors who stood to profit from the pandemic. She lied about the pandemic and now she's getting a vaccine to protect herself from the pandemic she lied about.

— Kyle Griffin (@kylegriffin1) December 21, 2020
It is disgraceful that you jumped the line in front of vulnerable recipients after you knowingly and purposefully made the pandemic worse.https://t.co/CYH3BlE2TY

— The Hoarse Whisperer (@TheRealHoarse) December 21, 2020
The coronavirus has reportedly killed approximately 318,000 Americans as of this writing, with 94% of those who have been killed by COVID-19 suffering from pre-existing conditions. Reuters published a report that explains the finer details of comorbidity that pushes against the claim COVID-19 isn't "as fatal" on its own, as many individuals tried to downplay how fatal it is by pointing to the 6% of individuals who were otherwise healthy who had died from "only" COVID-19.