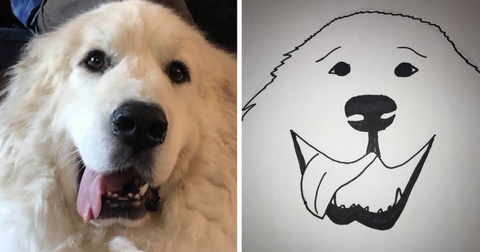 Humane Society will draw your pet (badly) for a $15 donation
By Mark Pygas

Updated
The Wisconsin Humane Society has come up with a pretty creative way of raising money for a good cause. The charity recently took to Facebook with a fundraising idea that proved so popular they've had to shut it down. For the low price of a $15 donation, staff and volunteers are drawing people's pets badly.
The Humane Society shared several examples of their work on Facebook, along with an offer that people found too hard to refuse.
"It's time to put the 'fun' back in fundraising," the charity wrote in a Facebook post. "If you donate $15 to the animals at WHS, we'll draw your pet. The catch? We're a whole lot better at caring for animals than we are at drawing them."
They went on to explain: "We have a pool of staff and volunteers standing by, eager to turn your animal into a timeless work of art (or at least make you laugh). You *might* get one of our extremely talented artists, but we'll be honest… you'll probably get someone who can't draw their way out of a paper bag."
"WHS serves 40,000 animals every year, and we rely on donations to make that work possible, but it doesn't mean we can't have a little fun while we raise those funds!"
The idea proved so popular that the Humane Society has had to close submissions for now. Mashable reports that as of yesterday, over 300 people had donated at least $15, raising over $8,000 for a good cause.
"You all are truly incredible and surpassed our wildest expectations," the charity wrote on Twitter. "Our artists are working tirelessly to get the masterpieces back to you as soon as possible, though it may take a few days at this point. Thank you all so much for your outpouring of support for the animals!"
Hopefully Wisconsin Humane Society are able to work through their backlog and reopen submissions, because who wouldn't want one of these masterpieces on their wall?