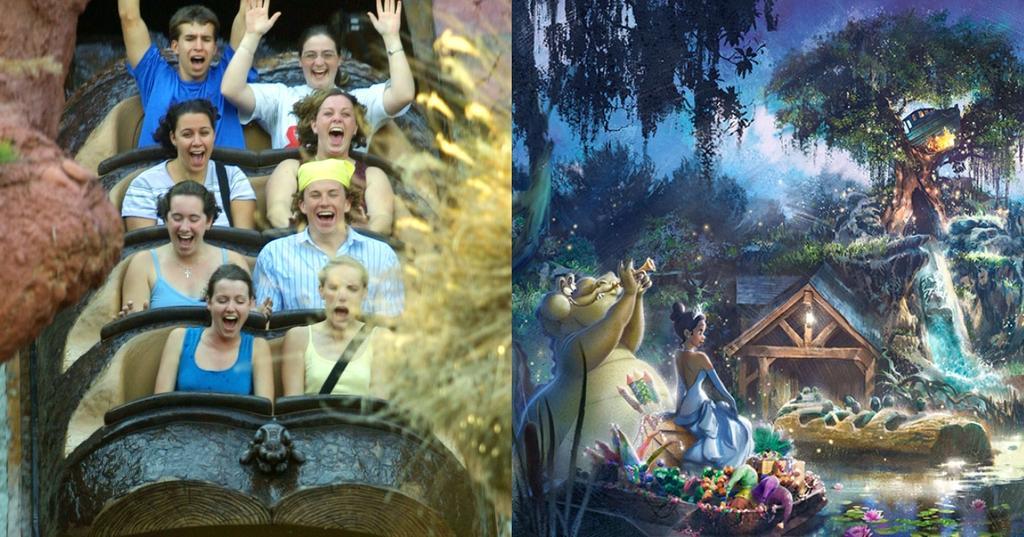 Disney is re-theming Splash Mountain due to racist context of the ride
By Robin Zlotnick

Jun. 26 2020, Updated 6:31 a.m. ET
Disney has officially announced that it will be re-theming Splash Mountain, a beloved log flume ride at both Disney World in Orlando, Florida and Disneyland in Anaheim, California. In a tweet released on June 25, @DisneyParks writes that Splash Mountain will be "reimagined with a new story inspired by an all-time favorite @DisneyAnimation film, The Princess and the Frog."
Article continues below advertisement
For many Disney fans, this change is important considering the racist context behind the ride. But some others see this as "erasing" a classic part of Disney history.
Article continues below advertisement
What movie is Splash Mountain based on?
The current Splash Mountain ride takes its characters and story from the 1946 Disney movie, Song of the South. Song of the South is one of Disney's most controversial movies because of its overt racism.
Polygon reports that the ride's current context is the Br'er Rabbit story from Song of the South, a movie that "presents a glorified view of slavery and reductive and offensive portrayals of Black characters."
Article continues below advertisement
Song of the South has been a stain on the Disney legacy for a long time. There has never been a home release of the movie, and it is not available to stream on Disney Plus along with most other Disney titles. Even when Splash Mountain debuted in 1989, the movie was already considered extremely controversial.
Article continues below advertisement
So why is Splash Mountain being re-themed now?
A petition to change the theme of Splash Mountain has been circulating for a few weeks since protests surrounding the death of George Floyd have swept the country. The Black Lives Matter movement has caused many companies and brands to reconsider their contributions to systemic racism in the United States.
Disney has begun to reckon with its racist past by adding warnings to titles on Disney+ that may have "outdated cultural depictions." And while many have applauded them for those efforts, others don't believe they've gone far enough to address the many instances of racism in their movies and consequently, their theme park rides.
Article continues below advertisement
What are the details of this 'Princess and the Frog' Splash Mountain re-theme?
The Princess and the Frog made history when it came out in 2009 because Tiana was the first African-American Disney princess. But unlike many other Disney movies, The Princess and the Frog hasn't had a dedicated ride at Disney parks... until now.
Article continues below advertisement
In a post on the Disney Parks blog, Public Relations Director Michael Ramirez writes that the Imagineers have been working on re-theming Splash Mountain since last year. In both the Florida and California parks, the ride will be reimagined to celebrate The Princess and the Frog.
The ride will pick up the story after "the final kiss," and riders will join Princess Tiana and Louis on a "musical adventure — featuring some of the powerful music from the film — as they prepare for their first-ever Mardi Gras performance."
Article continues below advertisement
Of course, Disney has received a fair amount of backlash from fans who claim that they're "destroying" history. "This is absolutely ridiculous," one Twitter user wrote. "That's a long time attraction that I've loved as a child that I've been enjoying every summer for 15 years now! You're ruining a Disney classic! How the hell is Princess and the Frog theme going to fit thematically in Frontierland at Magic Kingdom?"
Article continues below advertisement
As many were quick to point out, this sort of outcry seemed all but absent when Disney decided to reimagine rides like California Screamin' as The Incredicoaster and the Tower of Terror, which was rebranded as a Guardians of the Galaxy ride.
It seems that people only get upset when Disney acknowledges its racist past and make moves to change it. When the rides change for reasons other than "decades and decades of racism," there's no outrage.