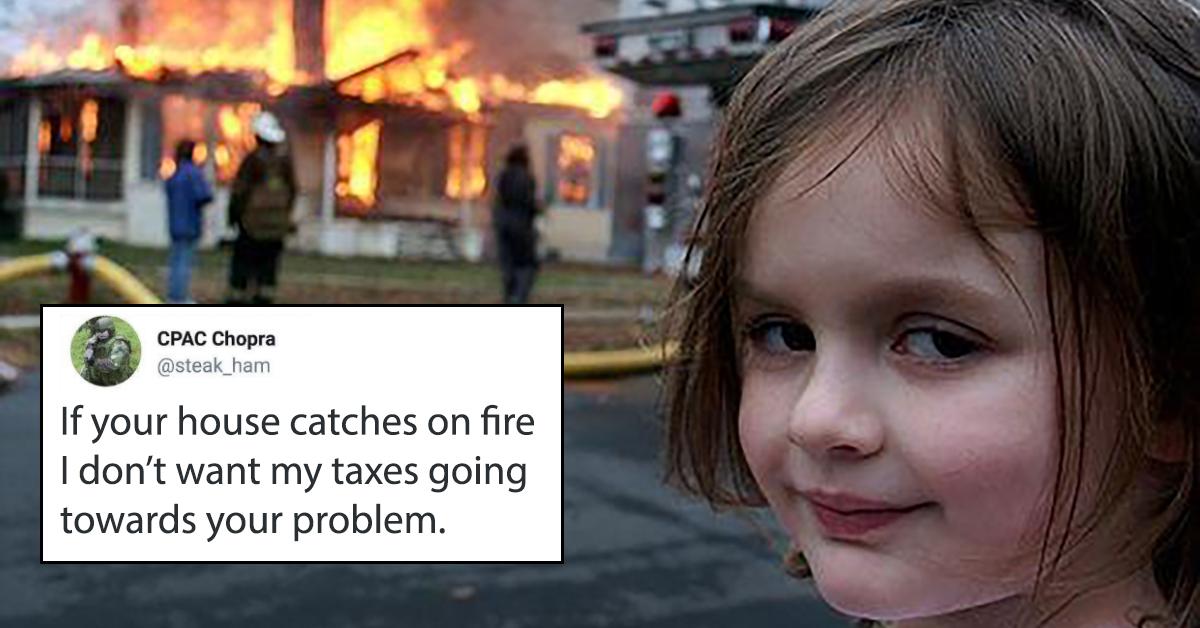 Guy gets taken down by Twitter after comparing universal healthcare to charity
By Mark Pygas

Oct. 15 2019, Updated 10:01 a.m. ET
According to data from the Centers for Medicare and Medicaid Services, "the average American spent $9,596 on healthcare" in 2012, which was "up significantly from $7,700 in 2007." Most Americans seem to agree that something has to be done or costs will continue to skyrocket.
Article continues below advertisement
That figure was more than twice the average of other developed nations, prompting some candidates in the Democratic Primary to call for a universal healthcare system similar to those found in Europe. Senators Elizabeth Warren and Bernie Sanders want to do away with private insurance and introduce Medicare for All, which would be paid for through taxes.
The Kaiser Family Foundation recently found that a majority of Americans (51%) support Medicare for All, while 47% oppose it. As you might expect, support is lower among Republicans, with only 28% supporting Medicare for All, while 58% support a public insurance option as proposed by former Vice President Joe Biden.
Article continues below advertisement
Unsurprisingly, health care is becoming one of the main talking points as we approach the 2020 elections. The conversation prompted one Reddit user, ADxSV to re-share an older Twitter exchange between two users on r/insanepeoplefacebook.
The Twitter exchange begins when one man compares universal healthcare to charity, writing: "You don't think universal health care qualifies as a 'charity handout'? It's people financing other people's problems."
Article continues below advertisement

The tweet earned a pretty interesting response from one user, who responded with: "Hey if your house catches on fire I don't want my taxes to go towards financing your problems with my charitable handouts. Be a man and call around to get some quotes on quality firefighting services."
Article continues below advertisement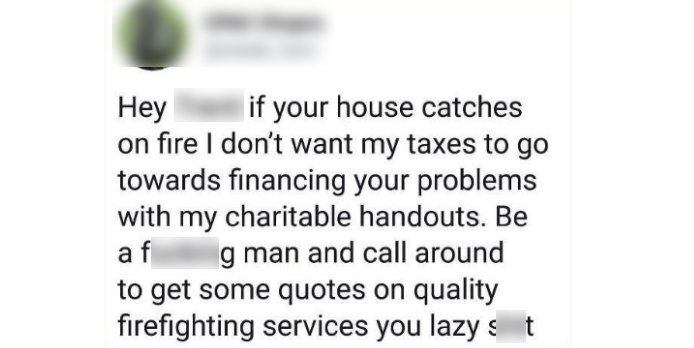 Interestingly enough, we do have some idea of what for-profit firefighting would look like.
Organized firefighting began in Ancient Rome, with Marcus Licinius Crassus creating the first every fire brigade. Upon arriving at the scene, however, the firefighters did nothing while Crassus offered to buy the burning building at an incredibly reduced price.
Article continues below advertisement
If the owner accepted, the crew would put out the fire. If they refused, they would let the building burn to the ground and Crassus would later buy the land. This turned Crassus into "the richest man in Rome."
Crassus was so rich that he equipped, trained, and lead the army that would eventually put down the revolt by Spartacus.
Reddit users seemed to agree with the user's response, with one person writing:
"I was watching The Good Place, and one of the characters explained that as we grow up, we overcome me vs us, putting the needs of the group ahead of your own. This would be like helping your friends or family. Then she said the next step is overcoming us vs them, which most of humanity still struggles with, and is where racism, nationalism, etc, comes from."
Article continues below advertisement
Another added: "'Financing other people's problems...' so they've just described insurance? I don't that person really grasps economies of scale."
While one user concluded: "My tax dollars going to education and healthcare is not socialism. a smarter and healthier population benefits everybody."
One user added: "I fall in the middle of this, I think we should have normal health insurance, but the government should make a cheap competitor to the big health insurance companies."