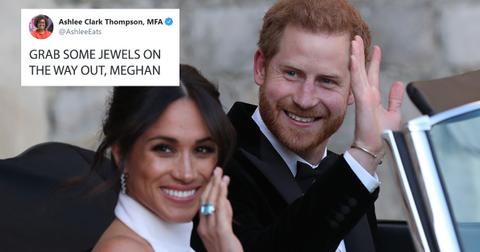 The best, most hilarious tweets about Harry and Meghan leaving the Royal Family
By Robin Zlotnick

Updated
Article continues below advertisement
Needless to say, Twitter went wild with this news. The jokes were swift, plentiful, and genuinely funny! Here are some of the best.
"Do what you need to cope"

Article continues below advertisement
This meme has been exhaustively overused in the past couple weeks, but here it just works. Meghan Markle is living an unfathomable life. She deserves to do what she needs to do to "cope," even if that means causing a giant royal family ruckus.
Bye!
Article continues below advertisement
Not going to lie, this one made me cackle out loud. To myself. Alone. It's just a sublime combination of caption and clip. When she puts two hands up? Gets me every time.
r/Relationship_advice

Article continues below advertisement
This is quite a conundrum. If I came across this post in r/relationship_advice, I would totally say that she has to make sure her husband's on her side, and then they both have to formally announce that they're stepping away from the family due to harsh treatment and a lack of ability to live a normal life.
Good for her!
Article continues below advertisement
OK, this may have been a joke, but it's actually very real. I think this was the first thought I had when I heard the news. I just obviously didn't look as glamorous as Lucille Bluth when I said it out loud to myself and no one else while I sat in my apartment in PJs.
Grab some jewels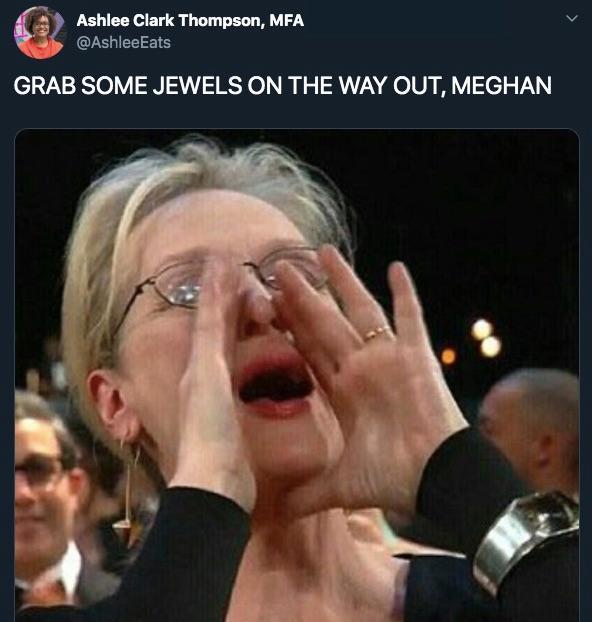 Article continues below advertisement
She definitely deserves at least some candlesticks or something. Maybe a silver platter. Or a pair of earrings. The Queen won't miss one pair of priceless earrings, will she?
Retelling the story
Article continues below advertisement
I totally did this to my husband when he came home from a long day at work and was like, "Is Prince Harry like, kicked out of the royal family of something?" I spoke like I was Meghan's BFF and she'd just texted me the inside scoop. Except I have no inside scoop.
Younger siblings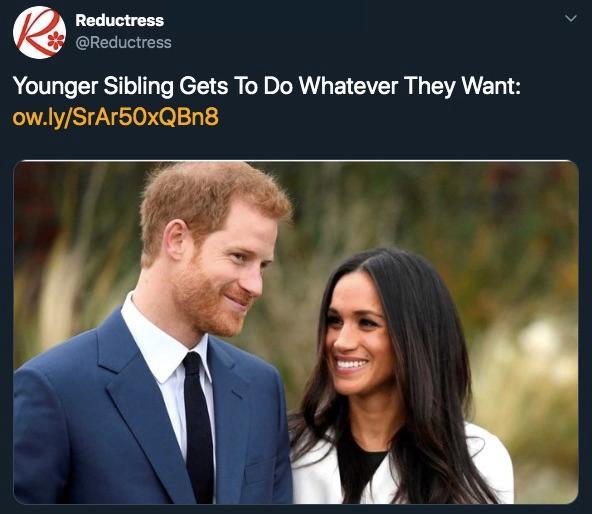 Article continues below advertisement
Speaking as an older sibling with two younger siblings, I can tell you that this Reductress headline is so on point that it has actually become the point. Younger siblings can get away with things older kids would never in their wildest dreams pull off. William is probably pouting in the corner somewhere.
Snooki

Article continues below advertisement
Look, we can only handle one story about a famous person leaving a royal family at a time. And Matt here is still processing Snooki's exit from the United States' royal family.
Knowing glow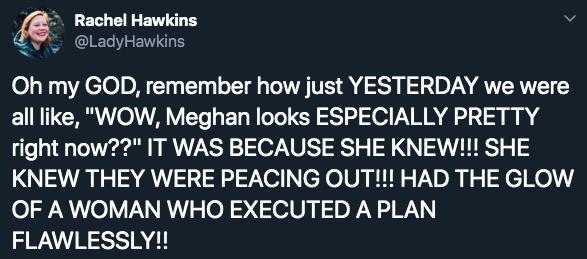 Article continues below advertisement
Have you ever tried just leaving a toxic situation? It does wonders for your skin, your posture, and your general aura. Meghan knew she was getting out, and that's why she's looked so radiant lately.
'Schitt's Creek' GIFs
Article continues below advertisement
Erin took to Twitter to do the lord's work and matched the royal family members' reaction to the news about Harry and Meghan with GIFs from Schitt's Creek. The whole thread is a gift, and you should read the entire thing.
Freelance in January

Article continues below advertisement
This tweet is very specific to people who freelance, but if you know the January struggle, you know how funny this is. January is a dead time, basically. Good luck to Harry and Meghan while they try to find an outlet that will take their pitches.
Leaving the party

Article continues below advertisement
Raise your hand if you've ever been in a social situation with a dude, clearly expressed that you were ready to bounce, and ended up sitting on the floor staring at the wall while he played video games with his buddies for hours on end? It is truly a feat that Meghan got her husband to leave a party that's been going on for centuries.
Megxit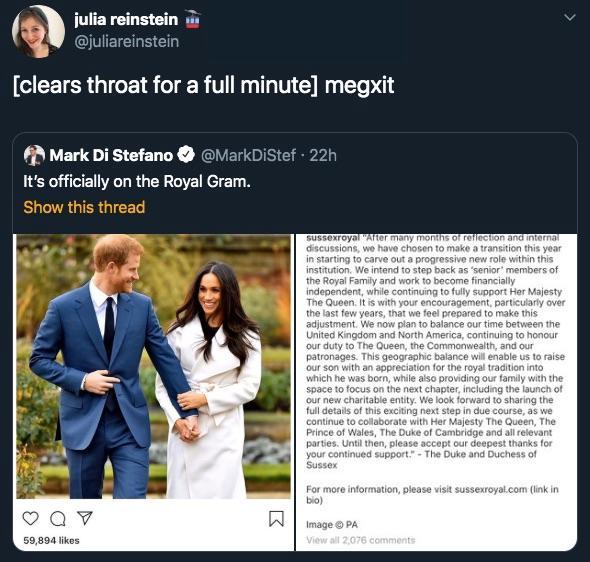 Julia must have known she had a winner here. Megxit is now what everyone's calling the couple's move to moonwalk slowly out of the royal family. And while I would like to say that I'm sure Harry was an equal part of the decision-making process and it's sexist and racist to "blame" Meghan for it, I have to admit that Megxit is a pretty good joke.