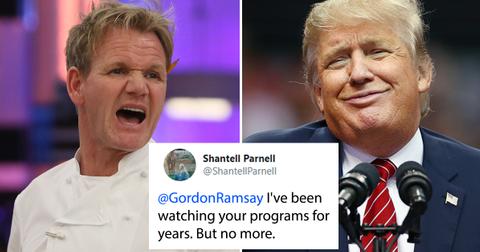 Gordon Ramsay refused to cook for Trump and fans are divided
By Mark Pygas
Gordon Ramsay revealed during an interview for his television show The Ultimate Road Trip that he refused to cook for President Donald Trump during a state visit to the United Kingdom back in 2018.
The Daily Record reports that the celebrity chef was asked to prepare a meal for President Trump, then-British Prime Minister Theresa May, Cabinet ministers, and the nation's top business leaders.
Ramsay told an interviewer that his response was: "Thank you, but no thank you."
The move came after he cooked for the likes of Vladimir Putin during a state visit back in 2010. Ramsay also said that he would be happy to cook for Trump's 2016 Democratic opponent, Hillary Clinton, shortly after she announced her presidential bid.
Ramsay said of the meal he'd prepare for Clinton: "I would say something authentic, rich, and a sauce that had been doused with lots of red wine — like a braised short rib, because she's of that era — of that age — that she understands fine food."
Ramsay's refusal has since gone viral in the United States, after going under the radar when it was first reported in 2018. And unsurprisingly, Ramsay's fans are divided on the subject.
"Just when I thought I couldn't love [Gordon Ramsay] even more," one user wrote. "He decides NOT to cook for Trump while orange man is in the UK! YOU ARE THE REAL MVP GORDON RAMSAY!!!!"
While another added: "Dear Mr Ramsey, I've been watching your programs for years. I even got my family to watch you, but no more. Mr President Trump is the greatest President ever, yet you insult him by refusing 2 cook for him. My family & I will NEVER watch u again."
"I knew I liked his foul mouth for more than one reason," another added.
While one user concluded: "My former favorite cook, flesh-monger, fool and now, coward. Such weakness. What about [Donald Trump] can you not support? That he's more alpha than you? Fills India's 120k+ stadium, while you curry's still s**t?"
And one user added: "Such a shame and disappointment. I still respect his status as a chef, but as a person.. I just can't anymore.. anyone who believes Hillary is a more worthy person to serve food to than our great president, or anyone for that matter, is a f*****g idiot."
What do you make of the drama?