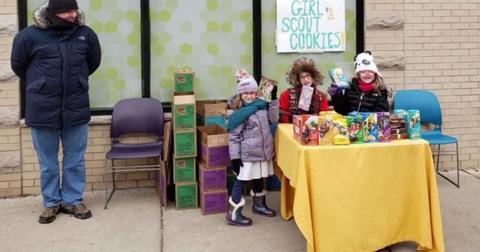 Girl Scouts set up stall outside Chicago weed dispensary, sell 'several hundred' boxes
By Mark Pygas
Marijuana is being legalized in more and more states, whether it's medical or recreational. And many Girl Scouts are seeing it as an opportunity to sell even more cookies. A group of Chicago Girl Scouts and future millionaires took the Internet by storm over the weekend when they decided to set up a cookie stall right outside of a dispensary.
Dispensary 33 shared a video of the stall on Twitter, along with the caption: "Reporting to you live at Dispensary 33. We have Girl Scout cookies!! And not just the cannabis kind. Support your local Girl Scouts with us."
The dispensary sells a strain of cannabis called "Girl Scout Cookie," which made the stall a perfect match for them.
A spokesperson for the Girl Scouts of the Greater Chicago Area and Northwest Indiana told NBC Chicago that the idea was a great success and that the girls sold "several hundred boxes."
"They said they did good sales," said regional Girl Scouts spokeswoman Britney Bouie.
And Dispensary 33 was just as happy with the event, saying: "The response was incredibly positive. People were so excited... our customers loved it, our staff loved it."
Customers flooded social media with positive comments about the stall, with one writing: "Huge shoutout to the Girl Scout troop with the cookie sales table set up outside Dispensary 33. You're the future leaders America needs."
Another commenter gave the troop's leader "major props" for setting up the stall.
The dispensary explained that they worked with the troop to set up the booth, and are planning similar events with other groups.
"I encourage other troops to reach out and sell some cookies - I'm sure they'd have some good numbers," the dispensary said in a statement.
"It's really great to see these very entrepreneurial girls getting out there in the community," Bouie added. "We allow it as long as it's approved by the parents and the troop leaders."