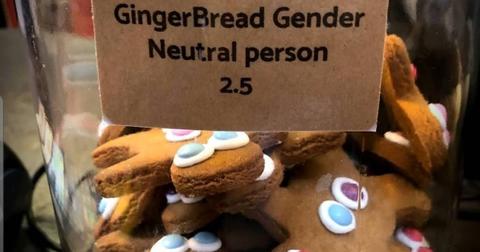 People are getting really upset about this cafe's 'gender-neutral' gingerbread people
By Mark Pygas
There's a few things that probably come straight to mind when you think of the festive period. Pumpkin spice, chocolate, and probably gingerbread men. But one cafe in Auckland, New Zealand, is causing a stir after ditching their gingerbread men for something more inclusive.
Around a month ago, The Tannery in New Lynn changed the label on their jar of gingerbread cookies to read: "gingerbread gender-neutral person."
Owner Andre Cettina said the move was made when customers started asking why they're called gingerbread men and not people.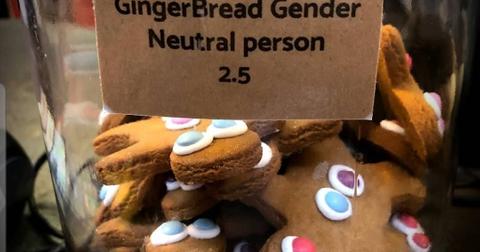 "It was completely tongue-in-cheek at the start," Cettina told Stuff. "But it's become a really good conversation piece in the cafe."
Customers started sharing photographs of the jar on social media, where it's been causing a bit of a stir.
On The Tannery's on Facebook page, the cookies have attracted a range of comments, with one reading:
"PC gone mad, always been ginger bread man, why change now. It's a biscuit, not a living creature. I find this all so sad!!!"
While another commenter added:
"Not sure why people getting so mad. This is a conversation starter, and these issues won't be dealt with until we are open to talking about them. People getting mad about this completely miss the point of what it could achieve."
"It isn't "PC gone mad", it's an opportunity to take a good hard look at yourself and your feelings around a sensitive topic and do some real introspective work on why you feel the way you do."
Cettina also told Stuff about some of the comments he'd seen online, saying:
"We've had a lot of people commenting saying 'stop being so pedantic, it's just a biscuit'. I had to reply to them going, 'Did you miss the whole point?'"
But according to Cettina, some people have seen the fun in the idea.
"It used to be that 90 per cent of the time we sold [the gingerbread biscuits], it was to kids. There's a lot more people buying them now, which is quite funny."
Most people, on the other hand, are seemingly failing to see the humor.
"I never in my lifetime thought some people would get so offended by a biscuit," one user wrote. "That there'd be a gender free version of something you eat."
While another commenter added: "That's pathetic, but to be expected in this day and age."