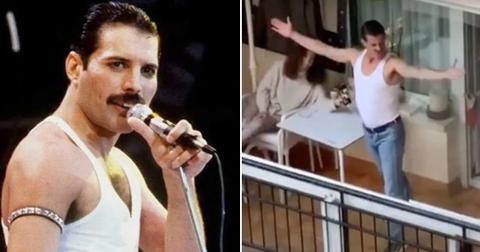 Freddie Mercury impersonator entertains his neighbors and us all with epic 'I Want to Break Free'
By Tod Perry

Updated
Carlos Díaz Ballesta dressed up like Queen frontman Freddie Mercury and put on a show for his quarantined neighbors from his balcony in Spain. He threw on Mercury's iconic jeans, undershirt, and mustache and lip-synced to Queen's 1984 song, "I Want to Break Free."
Article continues below advertisement
In the video, Ballesta dances with a vacuum cleaner, an homage to the song's video. In the "I Want to Break Free" video, members of Queen dressed in drag as characters from the British soap opera "Coronation Street."
Article continues below advertisement
While the video was a hit across the world it was a dud in America where no one knew what the band was lampooning.
"All around the world people laughed and they got the joke and they sort of understood it," Queen guitarist Brian May told NPR Radio. "I remember being on the promo tour in the Midwest of America and peoples' faces turning ashen and they would say, 'No, we can't play this. We can't possibly play this. You know, it looks homosexual'."