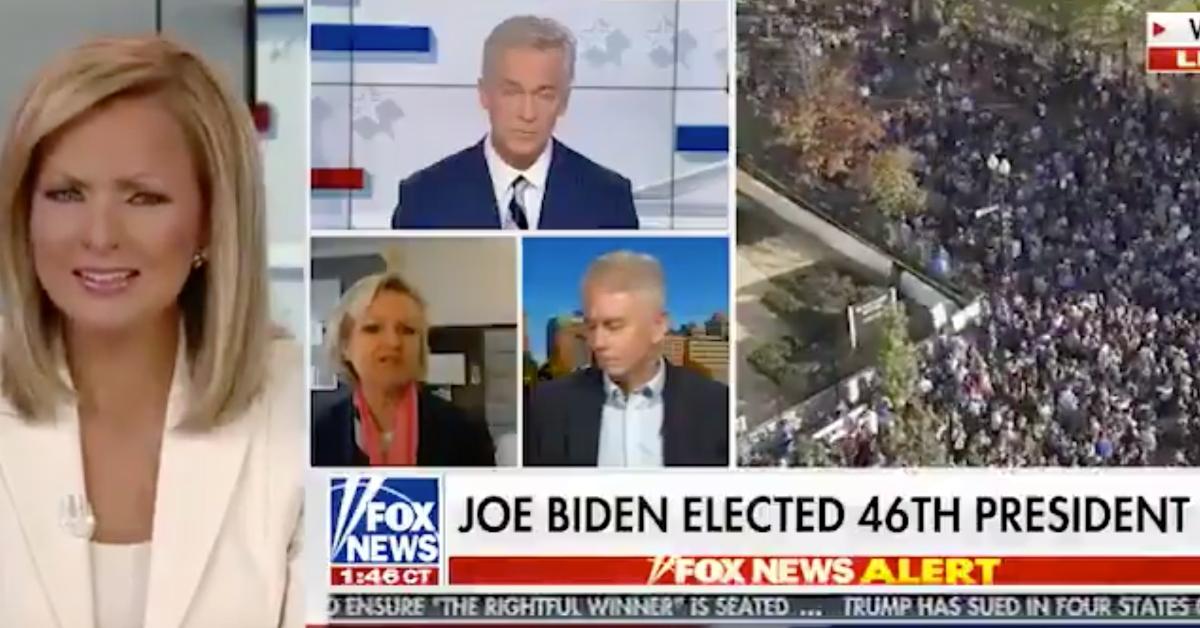 Fox News anchor didn't realize her mic was on when she reacted honestly to someone spouting misinformation
By Robin Zlotnick

Nov. 12 2020, Updated 9:31 a.m. ET
News anchors caught on hot mics when they don't think they're still on the air is never not funny. But when it happens on Fox News, it can be extra telling.
Article continues below advertisement
On November 7, Fox News anchor Sandra Smith seemed to be unaware that her microphone was still turned on when she reacted with — quite frankly — extremely relatable incredulity to a pundit who continued to cast doubt on the results of the presidential election. As the woman claims that Joe Biden's win might not be legitimate, Sandra Smith makes a face and asks, mostly to herself, "What? What is happening? Trace, we called it."
Article continues below advertisement
"Just because CNN says — or even Fox News says — that somebody's president, doesn't make them president," the woman says. At that point, Sandra Smith just can't contain herself anymore. "What?" she asks.
She shakes her head and goes back to writing notes, apparently unaware that she is on air with a hot mic. Sandra Smith seems surprised that someone on Fox News would be spouting such nonsense, but she also doesn't step in to correct it.
Article continues below advertisement
It makes one wonder just how much Fox News anchors actually believe the things they're told to report, how much more they might fight for the truth to be heard and considered if they worked for a network that valued and pushed for their news coverage to be factual and accurate.
In any case, Sandra Smith and her incredulous faces pretty much summed up how a lot of people felt watching that pundit speak, not to mention how a lot of people feel whenever they turn to Fox News.
Article continues below advertisement
There is no question that Joe Biden has won the election and will be the next President of the United States. The fact that Donald Trump refuses to concede and has filed more than a dozen lawsuits in swing states will not change that.
Article continues below advertisement
As Business Insider reports, "There is no evidence of widespread voter fraud or election fraud... This election was among the safest and most secure because of the use of paper ballots and voting machines with verifiable paper trails.
"Moreover, none of the lawsuits the campaign has filed alleges voter fraud, focusing instead on delaying ballot counting or discarding a small number of ballots in states that would have no effect on the final result because of Biden's margin of victory."
Article continues below advertisement
There is simply no question that Joe Biden won the election, and whether he accepts the results or not, Donald Trump will leave the White House in January and his presidency will end.
Article continues below advertisement
I know that. You know that. Sandra Smith of Fox News clearly knows that. And soon, Donald Trump will have to accept it whether he likes it or not.
You know what might help, though? If Fox News started officially calling out misinformation in no uncertain terms when it gets disseminated on their platform, instead of just when their anchors think they're off-camera. That would be nice.