Today marks NASA's 221st spacewalk performed as part of the process of space station assembly, but it is totally groundbreaking for one reason: it is the first spacewalk conducted entirely by women. NASA astronauts Jessica Meir and Christina Koch are making history today! For Meir, it's her first spacewalk ever, and according to NASA, she has become the 15th woman ever and the 14th U.S. woman to spacewalk. 
Article continues below advertisement
That is a big deal! Their spacewalk is being broadcast live and you can watch it right on Twitter. 
Article continues below advertisement
This spacewalk is one of NASA's early steps toward their goal of putting the first woman on the moon by 2024. They hope to inspire students around the world, especially women who have aspirations of becoming astronauts. "All students should be able to see themselves in those achievements," NASA writes.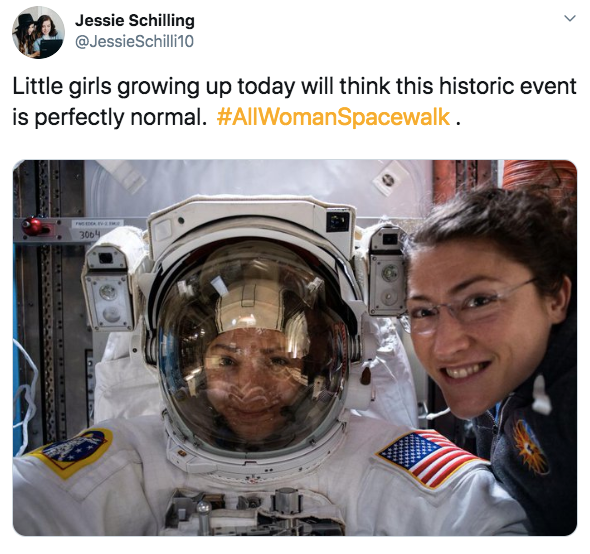 Article continues below advertisement
Although this is a momentous occasion, the all-woman spacewalk isn't exactly something they purposely planned. It just kind of worked out that way since NASA has more and more women astronauts. And that's kind of cool! 
NASA writes, "spacewalk assignments are always made on the basis of which astronauts are best prepared to accomplish the tasks at hand under the conditions at the time. Spacewalks are not easy; astronauts typically describe them as the most physically challenging thing they do."
Article continues below advertisement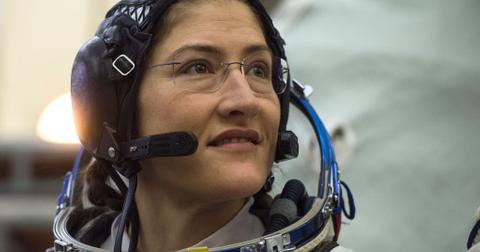 Christina Hammond Koch has been a NASA astronaut since 2013. According to NASA, she is "slated to set a record for the longest single spaceflight by a woman with an expected total of 328 days in space." That's a really long time! She plans on being in orbit until February of 2020. 
Article continues below advertisement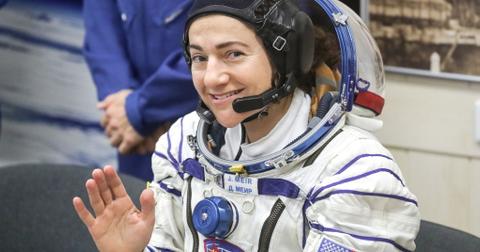 Jessica U. Meir was also been an astronaut since 2013. In fact, nearly half of Christina and Jessica's 2013 NASA class were women. Although Jessica ended up in space, she actually went the opposite way for her Ph.D., earning a doctorate in Marine Biology and focusing on the diving physiology of marine mammals and birds. 
Article continues below advertisement
But she's been involved with NASA since 2000, participating in research flights and as a crew member of their Aquarius underwater habitat. Needless to say, both of these women are extremely tough and totally prepared for this incredibly difficult spacewalk.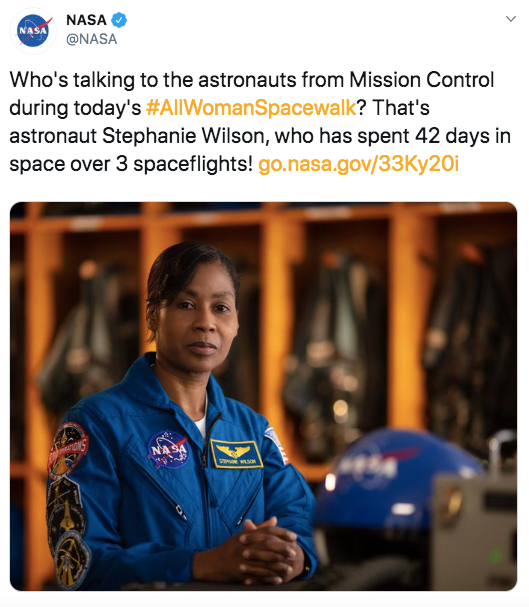 Article continues below advertisement
What will Christina and Jessica actually do on this spacewalk? NASA says that they will "replace a battery charge/discharge unit that failed to activate" on October 11. The unit is one of several that "regulate the charge put into the batteries collecting energy from the station's solar arrays." The failure of the unit is not dangerous to the crew, per se, but it does prevent new batteries from "providing increased station power."

Article continues below advertisement
The spacewalk started on October 18 at about 7:50 a.m. EDT, and it's expected to take between five and six hours, so there is still plenty of time to watch these two impressive astronauts in action. Make sure to follow @NASA on Twitter for updates and tweet your support using #AllWomanSpacewalk. 
Of the all-woman spacewalk, Koch said, "In the end, I do think it's important, and I think it's important because of the historical nature of what we're doing. In the past women haven't always been at the table. It's wonderful to be contributing to the space program at a time when all contributions are being accepted, when everyone has a role. That can lead in turn to increased chance for success. There are a lot of people who derive motivation from inspiring stories of people who look like them, and I think it's an important story to tell."