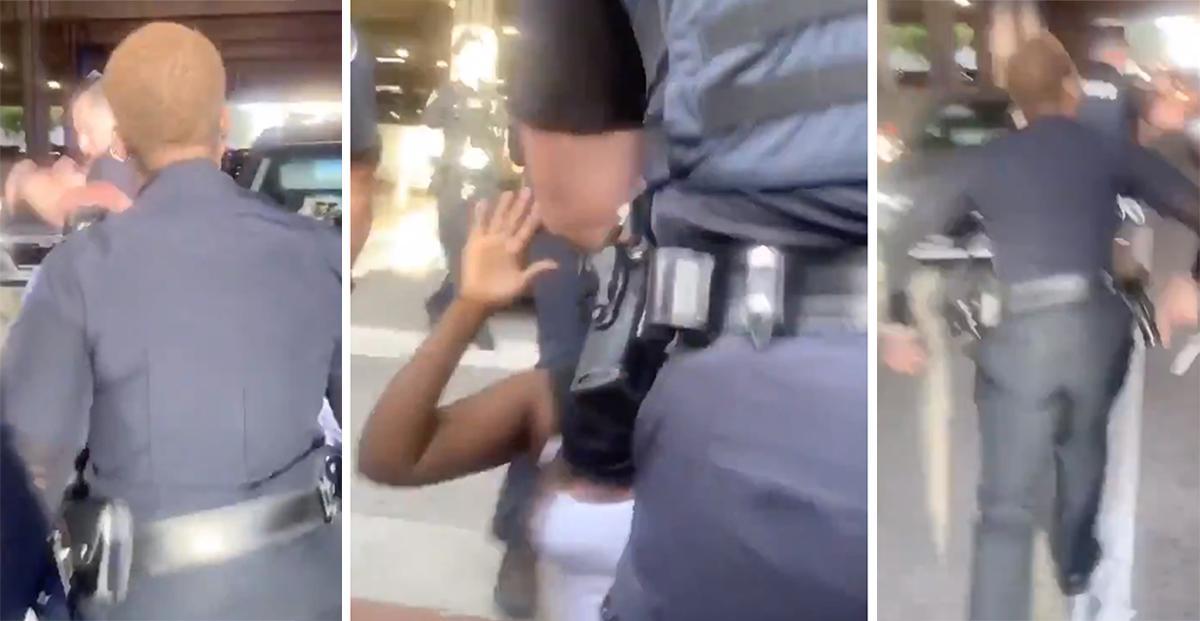 Black female officer confronts cop who pushed woman on her knees to the ground
By Mark Pygas

Jun. 1 2020, Updated 11:16 a.m. ET
A black, female police officer is being praised online after she appeared to confront a male police officer who pushed a woman on her knees to the ground in Fort Lauderdale, Florida.
Article continues below advertisement
Footage captured from a parking garage by a protester, and shared with 10 News, an ABC affiliate, shows a woman kneeling on the ground with her arms up. A male police officer then grabs the woman by the head, pushing her to the ground. Other officers can then be seen pushing and pulling their colleague into the parking garage.
"Here's the deal, I want to show you some video that was provided to us by a protester," a reporter for the news station says. "He says this is what started it all."
Article continues below advertisement
Footage captured from the ground shows the same incident, but it also captures the moment that a female officer seemed to confront her colleague over the incident.
While their conversation is drowned out, the female police officer can be seen waving her arms at the male officer as if she is scolding him. The male officer then starts running away as he is hit with water bottles. The female officer catches up with the male officer and continues to yell at him.
"Yes, thank you," a protester behind the camera can be heard yelling at the female officer.
Article continues below advertisement
Following the incident, Fort Lauderdale Mayor Dean Trantalis and Chief of Police Rick Maglione said that a police officer had been taken off duty pending an investigation.
"While it wasn't resulting in injury, it obviously needs to be looked into," Maglione said, according to Local10. "If disciplinary action needs to be taken, it will. And it will be swift and corrective in nature. I also want to commend the other officers that were there for identifying there was an issue rather quickly and separating the parties. And that's what they should do when they see something that they don't feel is right, or an interaction that they feel is going south."
Article continues below advertisement
The publication says that the incident helped to turn what had been an initially peaceful protest into a confrontation between protesters and police.
"Police used tear gas in an effort to disperse the crowd gathered there," Local10 explains. "Fort Lauderdale police said that there has been damage to police vehicles."
State Rep. Shevrin Jones condemned the incident, saying: "After a peaceful march where we honored the life of George Floyd, Tony McDade, and Breonna Taylor ... needless violence erupted between police and attendees nearly two hours after we ended."
Article continues below advertisement
"This is exactly what we were there to speak out against. Initial reports and video footage are both disturbing. I urge everyone to go home and depart in the spirit that the peaceful protest ended in."
Unsurprisingly, the female officer who appeared to lay into her colleague has been earning plenty of praise online.
"Black women don't get enough credit that's all I'm gonna say," one user wrote.
Article continues below advertisement
While another added: "This is what society is asking for!!! For the GOOD COPS to speak up and hold the bad apples in the system accountable for their dirty ass actions!!!!"
Article continues below advertisement
And one user concluded: "You see how he ran from her...you KNOW she don't play that mess."