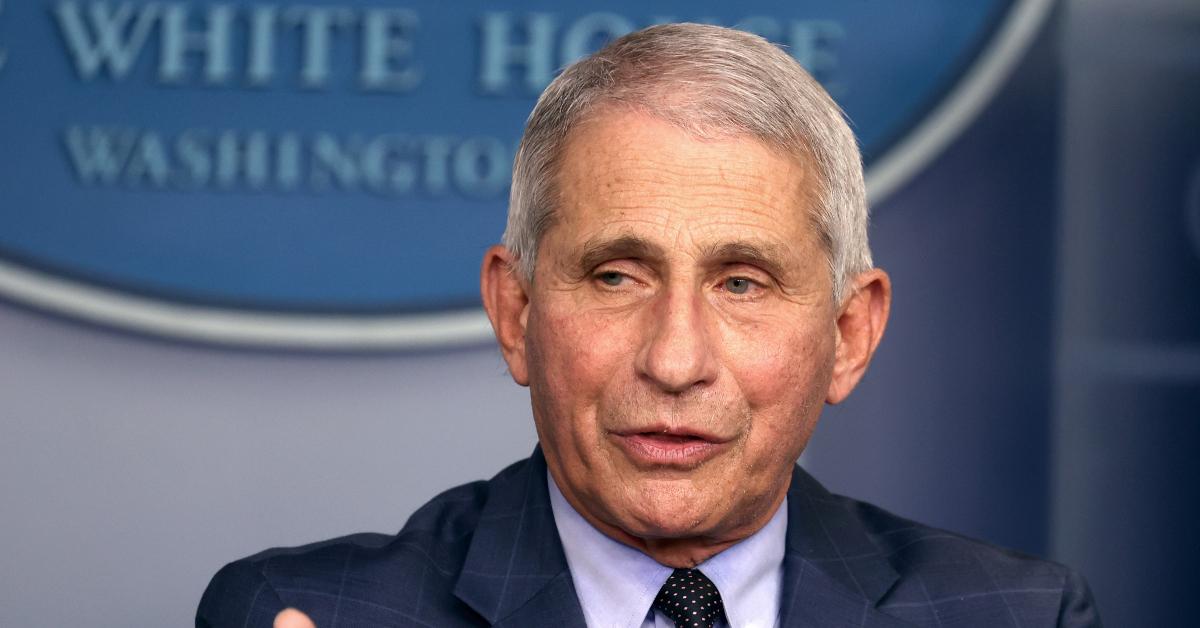 Dr. Fauci agreed to be Biden's chief medical advisor "on the spot"
By Mustafa Gatollari

Dec. 4 2020, Published 10:31 a.m. ET
On Thursday, December 3rd, President-Elect Joe Biden held a meeting with the director of the National Institute of Allergy and Infectious Diseases. Dr. Anthony Fauci. During their discourse, Biden reportedly asked if the doctor would be his chief medical advisor and in an interview with NBC's Today Show, Fauci informed the hosts that he had agreed to do so "on the spot."
Article continues below advertisement
The conversation also included Biden's COVID-19 response team, of which several were already revealed by the Delaware politician's transition squad. It includes Rick Bright who once headed vaccine-developer BARDA, Atul Gawande who was the former CEO of Haven, and Luciana Borio who is an infectious disease expert who was a former official with the Food and Drug Administration.
Gawande's involvement with the COVID-19 task force has raised more than a few eyebrows as his business involvement with Haven, which was a joint venture between JP Morgan Chase-Berskhire Hathaway-Amazon has been viewed as a "corporations first solution" to America's healthcare system. Many have expressed that his involvement in the upcoming COVID-19 response reeks of an attempt at monetization of the disease.
Article continues below advertisement
If you wonder why a healthcare professional might be suggesting that we can just let a ton of people die, I'm sure it has nothing to do with his last job, where he was CEO of Haven.

A private healthcare nonprofit created by Amazon, Berkshire Hathaway, and JPMorgan Chase. https://t.co/BIqILTR3RH

— james_roe (@james_roe) November 15, 2020
Others criticized Gawande's departure from Haven as a generally ominous sign for the COVID-19 response of the upcoming administration, further compounding the calls of "flip flopping" on Dr. Anthony Fauci's mask-wearing policies at the onset of the coronavirus pandemic.
Article continues below advertisement
Same surgeon general who stated that masks don't help 3 hours after the first time Dr. Fauci urged people to wear masks causing Fauci to flip flop his original mask statement.

— christopher richter (@401turbo) July 4, 2020
Article continues below advertisement
However, there are also tons of individuals who are happy the long-time National Health Advisor who has served every President since Ronald Reagan is joining Joe Biden's COVID-19 response team. The advisory board in total consists of 13 individuals and will be headed by three separate chairs: David Kessler, former FDA commissioner, Marcella Nunez-Smith Yale University associate professor of medicine, and former Surgeon General Vivek Murthy.
Dr. Fauci has gone on the record stating that it would ultimately be "better" for the public health sector if he were to work with Joe Biden's transition team to further develop a COVID-19 response strategy. He also stated that Donald Trump's presidential re-election campaign was "harassing" him by playing a clip where he praised America's COVID-19 strategy in the wrong context during an ad.
Article continues below advertisement
News: @JoeBiden tells me he spoke with Dr. Fauci this afternoon, asked Fauci to stay on in his position at NIAID, and also to serve as a chief medical adviser for him.

Clip coming up on @CNN on @CNNSitRoom

Full interview w Biden/Harris at 9 pm ET

— Jake Tapper (@jaketapper) December 3, 2020
The COVID-19 virus has been proven a tricky one to completely nullify. Shortly after reports of New Zealand effectively eradicated the disease from its island nation due to implementing strict nationwide lockdown, mask-wearing, cleanliness, and social distancing protocols, COVID-19 had re-appeared in the country. On June 8, 2020, New Zealand had announced it was COVID free, but reports of its return occurred a little over a month later, around August 18, 2020.
Article continues below advertisement
Germany and other European nations which had effectively flattened their own respective COVID-19 curves experienced similar spikes, yet again towards the end of October 2020 and into the beginning of November. The nation's response to the coronavirus outbreak was praised as the country enjoyed a completely "flat" summer with hardly any cases. It's now experiencing its worst surge of COVID cases ever - even compared to when the pandemic first hit.
10 months since #COVID_19 was first diagnosed in Germany. The country is slowly losing it's "best of the class" image. Wanna hear a grumpy thread about some of the major shortcomings. pic.twitter.com/GADGZD178M

— Alexander Radtke is declustering crises (@alxrdk) December 4, 2020
Article continues below advertisement
The fluctuations in cases proves that any new response team clearly has its work cut out of them, as the COVID-19 outbreak has proven to be a tricky pandemic to quell.
The best way to prevent contracting or spreading coronavirus is with thorough hand washing, social distancing, and wearing a mask or cloth facial covering. If you feel you may be experiencing symptoms of coronavirus, which include persistent cough (usually dry), fever, shortness of breath, and fatigue, please call your doctor before going to get tested. For comprehensive resources and updates, visit the CDC website. If you are experiencing anxiety about the virus, seek out mental health support from your provider or visit NAMI.org.