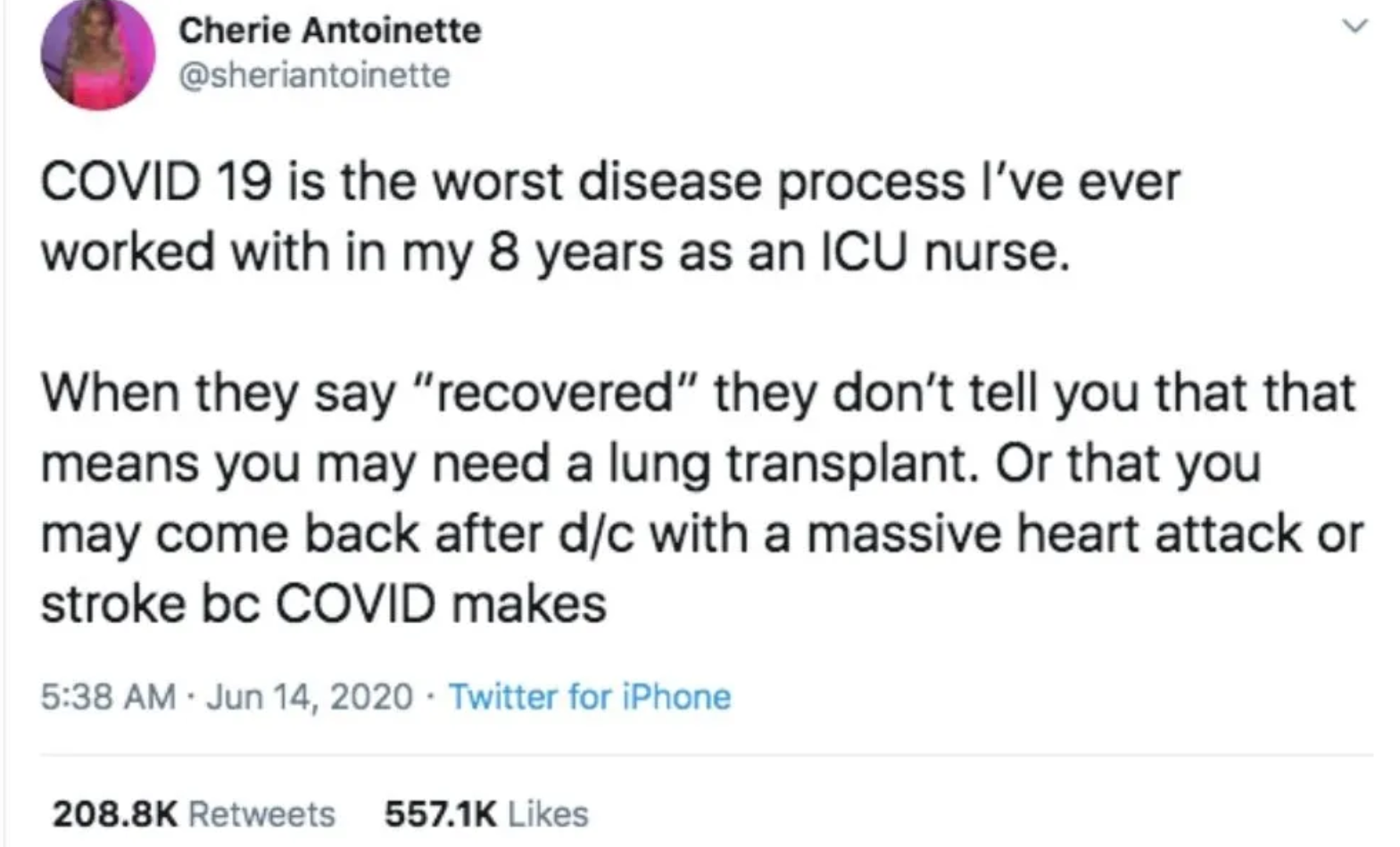 Nurses post startling examples of what being 'recovered' from COVID-19 can look like
By Annie Reneau

Jun. 23 2020, Updated 11:24 a.m. ET
Despite the fact that the U.S. has apparently tossed up its hands in resignation and decided that coronavirus was so last month, we are still in the middle of a global pandemic. More than 110,000 Americans have died from COVID-19 in just the past three months. We have 5% of the world's population and a whopping 25% of the world's COVID-19 cases and deaths. (Is this the "so much winning "we were supposed to get tired of?)
Article continues below advertisement
The death toll is harrowing enough. but what we don't hear about as much is what happens to the people who get sick with COVID-19 and don't die. Once a person's symptoms have begun improving and they test negative twice for the virus, they are considered "recovered." But that's not even close to the whole story for many who wage a weeks- or months-long battle with this illness.
A nurse shared on Twitter how "recovered" doesn't mean what many of us think. Cherie Antoinette wrote:
Article continues below advertisement
"COVID 19 is the worst disease process I've ever worked with in my 8 years as an ICU nurse. When they say 'recovered' they don't tell you that that means you may need a lung transplant. Or that you may come back after d/c with a massive heart attack or stroke bc COVID makes your blood thick as hell. Or that you may have to be on oxygen for the rest of your life. COVID is designed to kill. It is a highly intelligent virus and it attacks everything. We will run out of resources if we don't continue to flatten the curve. I'm exhausted."
Article continues below advertisement
Another nurse chimed in about her own experience of catching the virus and how it impacted her at 24 years old.
"I am a nurse on a COVID floor, I caught it. I am a relatively healthy and could barely walk up a half flight of stairs. My blood pressure skyrocketed, chest pain was debilitating. I'm eight weeks out and still feeling the chest pain and shortness of breath. This is no joke," she wrote.
Article continues below advertisement
Other people added their own experiences:
"I'm just getting over a "mild" case after over two months. There's scarring in my lower right lung and my stomach and digestion are a mess like never before. But I'm coughing way less and can take walks again.
And, by the way, this is the third time in two months that I've 'gotten better'. I'm just hoping it's the last and it doesn't all come back AGAIN."
Article continues below advertisement
Many people report severe, lasting fatigue that lingers and returns in waves.
Article continues below advertisement
More nurses added to the chorus of those saying that what they've seen as they treat patients is downright scary.
Article continues below advertisement
Article continues below advertisement
And some are describing lasting symptoms even with cases that were considered "mild" or "moderate."
Article continues below advertisement
Cherie Antoinette responded to a woman who said she'd gone into acute kidney failure and acquired asthma, chronic cough and an irregular heartbeat, saying that most of her patients had the same issues. "I am traumatized working in this environment," she wrote.
Article continues below advertisement
She also shared a tweet she'd written back in March saying that people needed to be more concerned about the flu. After two months treating COVID patients, she's changed her tune.
Article continues below advertisement
It's true that many people either don't get symptoms or do get truly mild cases. But none of us knows how it's going to affect us. And because we don't get to go to COVID units or people's homes after they leave the hospital, we don't see how difficult many people's recoveries are or how long-lasting the impact can be.
As one healthcare worker wrote: "Without people actually seeing these scenes they honestly just don't believe it. The public believes as a whole that this only kills old people with heart problems or big complications."
Article continues below advertisement
Indeed, there's a whole lot of misinformation about the virus still floating around, from "it's no worse than the flu" to "it's all planned by Big Pharma and Bill Gates." Someone even asked Antoinette who paid her, as if the countless stories we're seeing from doctors, nurses and patients who have had first-hand experience with this virus are being paid to push an agenda. (Insert world's biggest eye roll here).
Article continues below advertisement
Some responded that most people do not have severe symptoms and chastised the nurse for fear-mongering. But it's not fear-mongering to state the truth that many people will suffer greatly from this disease, even if they don't die from it. It's not fear-mongering to point out that there's still so much that we don't know about how the virus works and why it ravages some people's bodies while leaving others virtually unscathed. It's not fear-mongering to share accounts from the front line workers who are the only ones who can tell us what COVID-19 is capable of.
We all need to continue to be diligent and careful, as the pandemic hasn't gone anywhere. As businesses and communities keep opening up, we still need to wear masks in public spaces, keep our distance from others as much as possible and take the virus seriously.