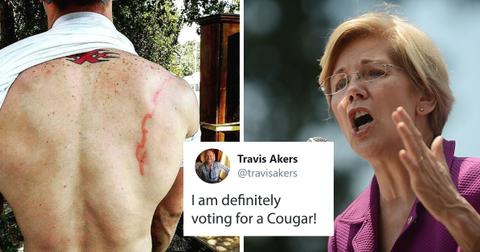 Elizabeth Warren trolled 'cougar' claim that she had an affair with a 24-year-old
By Mark Pygas
President Donald Trump supporter and conservative operative Jacob Wohl, who was charged with a felony last month, is well known for being an Internet troll. So when he and Jack Burkman alleged that Senator Elizabeth Warren had an affair with a 24-year-old former Marine on Thursday, not many people believed him.
Wohl and Burkman hosted a press conference on the latter's driveway on Thursday titled "Elizabeth Warren Cougar."
Daily Beast journalist Will Sommer, who attended the event, wrote on Twitter: "Blundering pro-Trump smear artists Jack Burkman and Jacob Wohl are at it again today with another press conference in Burkman's driveway. As always: these guys love to lie and Jacob is facing a felony charge."
Sommer went on to detail just what a mess the conference was, writing:
"Wohl and Burkman are trying to look really serious but their fake Warren accuser keeps cracking up as he reads his statement. They don't look thrilled."
"The press conference is being drowned by out by Chumbawamba," Sommer later tweeted. "Jacob tells the security guard to remove a heckler, but the guard appears to refuse on the grounds that the man is on public property."
The accuser then took off his shirt to show a scar he'd allegedly acquired during his escapades with the senator. Though NBC journalist Brandy Zadrozny did some digging on the man's Instagram account and found a picture of the scar along with the caption: "Hit my back with a chain trying to take down a swing."
We'll let you make up your own mind as to the validity of these claims, but Elizabeth Warren's campaign doesn't seem to be taking them very seriously. They decided to make a subtweet about the whole "cougar" situation.
"It's always a good day to be reminded that I got where I am because a great education was available for $50 a semester at the University of Houston (go Cougars!)," Warren wrote on Twitter. "We need to cancel student debt and make college free for everyone who wants it."
And unsurprisingly, people quickly caught on to the true meaning on the tweet. "This tweet will end up in a case study of how to run a good campaign social media account," one user wrote.

Another added: "This is the Mona Lisa of politician tweets. Bravo."

While one user concluded: "I am definitely voting for a Cougar!"

Another added: "Oh my god, you're totally trolling Jacob Wohl right now."

The owner of the escort agency that Wohl's accuser said he worked for, Cowboys4Angels, also denied the claims, saying he's "not up to caliber to work at our agency."
"We went through and searched all of our employment requests and all our contacts because we save the names. The guy never even applied to be at our agency," the owner told Rolling Stones.
Wohl's attempt at discrediting Senator Warren is likely the result of her recent surge in the polls of the Democratic primary field.
A survey by Quinnipiac found Warren polling at 27% among Democrats and Democratic-leaning voters, with Joe Biden on 25%
The surge is likely the result of fellow-progressive Senator Bernie Sander's decline to 16% and a strong performance by Warren on the campaign trail which has especially resonated with African American voters.