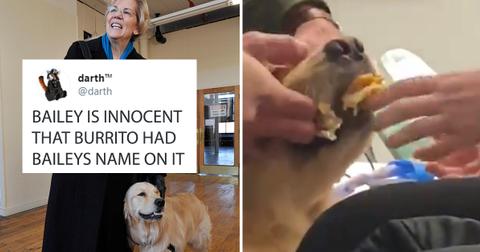 Elizabeth Warren's dog, Bailey, stole someone's burrito and we can relate
By Mark Pygas
Senator Elizabeth Warren dropped out of the presidential race on Thursday, leaving Senator Bernie Sanders and Vice President Joe Biden to battle it out. But Warren's dog, Bailey, quickly softened the mood for the Senator's supporters by stealing someone's burrito.
Gabrielle Farrell, one of Warren's staff members, took to Twitter to share a video of the moment. It quickly went viral with over 6 million because let's be real, we're all Bailey.
As it turns out, a burrito isn't the only thing that Bailey ate. He also snatched part of Rachel Maddow's interview questions later in the night.
And after all that, Bailey refused to leave Warren headquarters.
This isn't the first time that Bailey has become an Internet sensation, either. The dog had followed Warren throughout her campaign and was often at events to take selfies with supporters.
People are understandably on Bailey's side when it comes to this one. One user jokingly wrote: "When the fam no longer has to behave for the sake of the campaign."
While another added: "BAILEY IS INNOCENT. THAT BURRITO HAD BAILEYS NAME ON IT."
They continued in a further tweet: "Just a tip if you are trying to get half a burrito out of a dog's mouth the trick is to have another, whole burrito to give the pup instead they will immediately let go trust me this works. Give Bailey another burrito is what I am saying here."
While Stephen Colbert added: "Bailey would have made an amazing First Good Boy."
"So Elizabeth Warren's dog Bailey is emotionally eating today and I have never loved him more," another user joked.