This guy forces pigeons to draw pictures just by feeding them
By Robin Zlotnick

Oct. 2 2020, Updated 10:32 a.m. ET
I bet you've never thought, "Hey, I should try to draw a picture using pigeons." But this guy is not most people. This guy knew how to harness the hunger of pigeons to draw a picture of a stick figure holding a ball, and now you can watch it happen. The video is below, but it's sped up. So don't worry; we'll take this amazing feat step by step.
Article continues below advertisement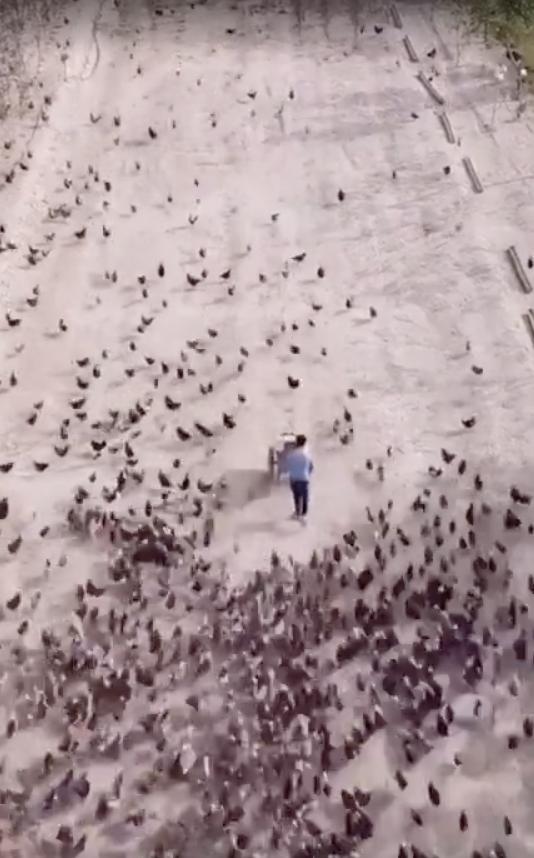 Article continues below advertisement
First, you have to find a spot where a bunch of pigeons hang out. And I'm not talking five or 10 pigeons. I'm talking hundreds. This is the spot where people don't go because if they do, they'll definitely get pooped on.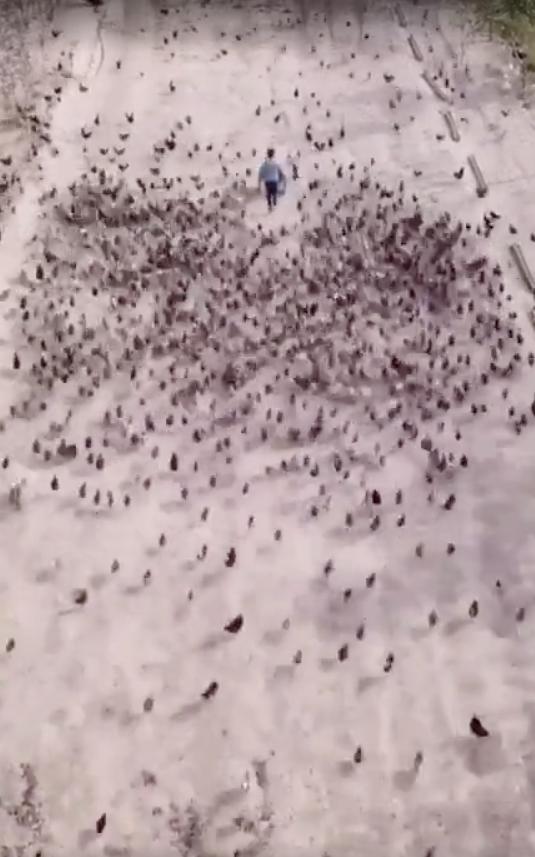 You notice right away that these pigeons start following the man immediately. They see his cart full of food. They know what's going on. They're not stupid.
Article continues below advertisement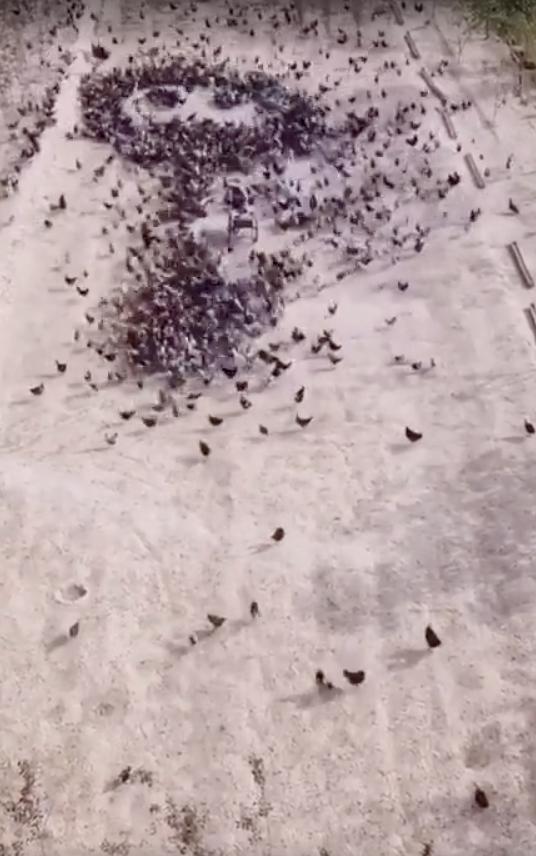 Slowly, the man starts laying the food down on the ground in clusters and circles, and you can see the picture he's painting with pigeons start to form. The face is taking shape.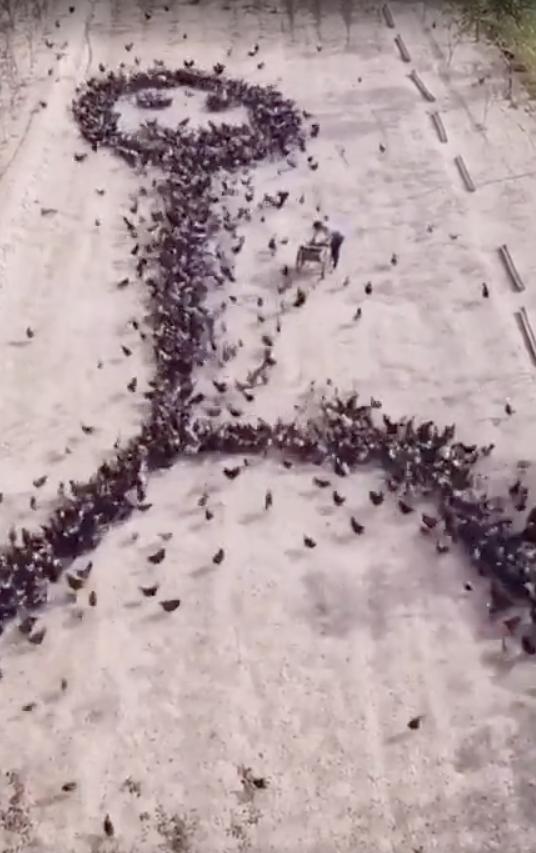 It happens very quickly in the video, but I bet this took a lot of planning and discipline when it actually came time to execute it. It has to be hectic with all those birds pestering you for food too! But this is clearly the picture of a person, taking shape in birds. Amazing.
Article continues below advertisement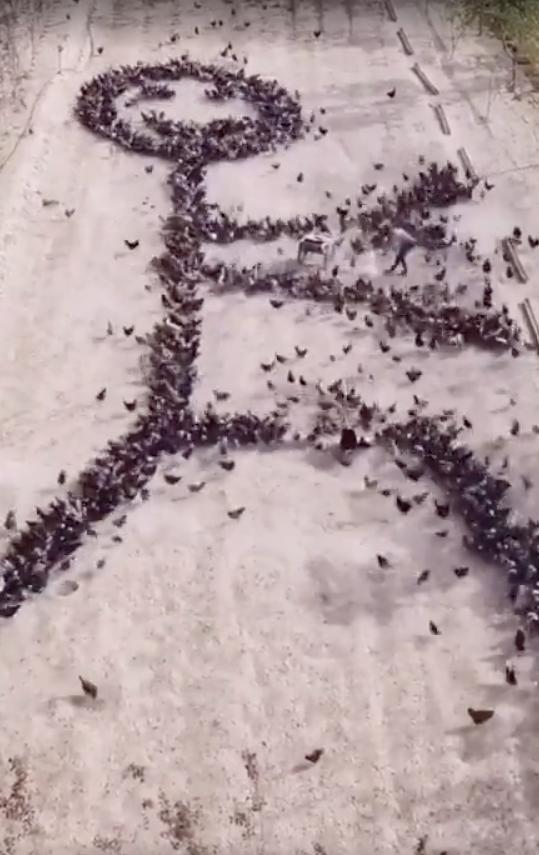 These birds really are predictable, aren't they? I guess that's what pigeons are like. But wait a second? Are they all pigeons? I think that I see something bigger over there in one of the legs...
Yup. That's 100 percent a turkey. A rogue turkey has joined the pigeon painting. Incredible. The turkey caught the attention of Reddit commenters as well. Others also think that there are a bunch of chickens walking around the scene too.
Article continues below advertisement
And isn't that kind of wonderful? All these different birds coming together with one common goal: to help this man achieve his bird painting. OK, fine, maybe the birds don't actually care about the bird painting and are just gathering for the sake of getting some snacks, but still. It's nice to see.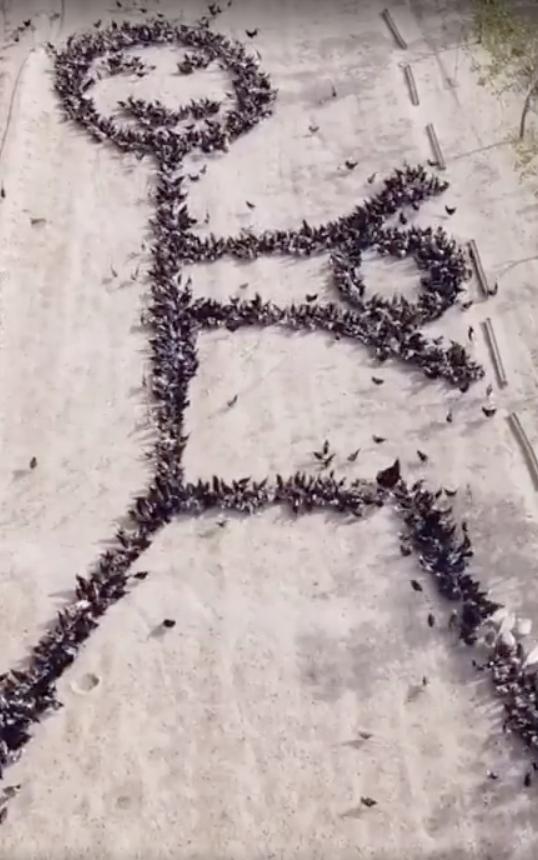 And there you have it, folks! This is a finished picture drawn completely out of birds. And it is just glorious. If you are still quarantining from people but you want to start a new hobby, maybe you should consider pigeon pictures. I don't think there are any cases of the coronavirus being transmitted from birds to humans.
All you need to be a successful bird artist is a butt-ton of birdseed, a cart with wheels, and a thousand birds. That doesn't seem so hard to find, does it? Maybe you'll even land yourself in the Guinness Book of World Records for bird artistry!