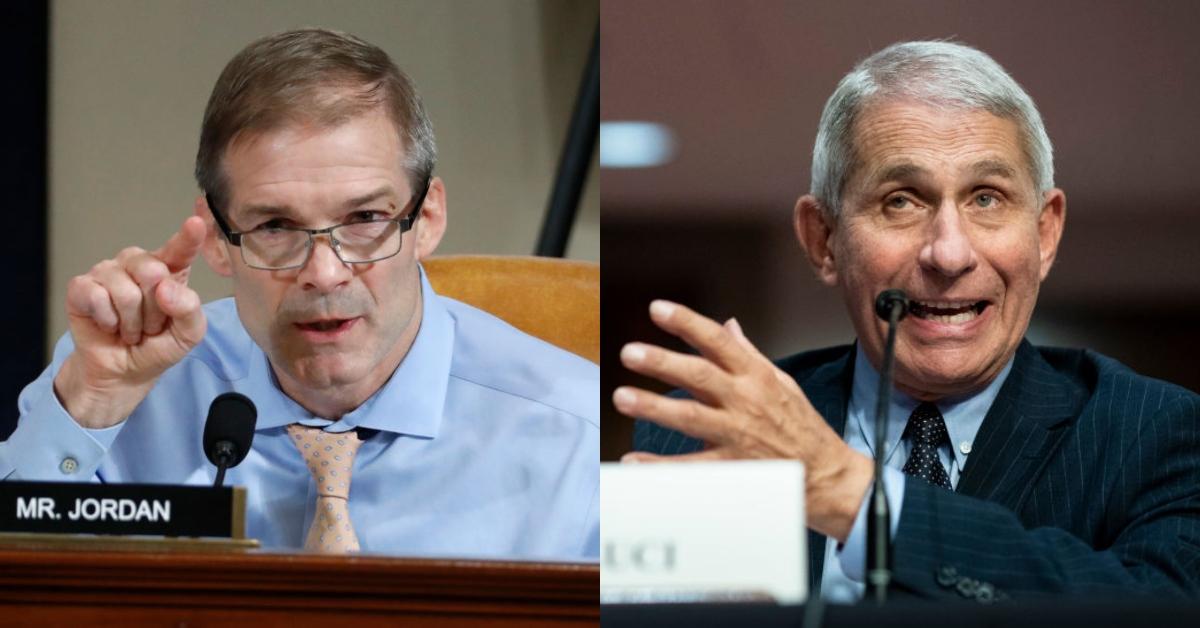 Dr. Fauci shuts down Jim Jordan's ridiculous line of questioning about limiting protests
By Robin Zlotnick

Jul. 31 2020, Updated 2:52 p.m. ET
As cases of COVID-19 continue to rise in the United States, Republican leaders are still trying to politicize the pandemic and use their legislative power to interrogate and limit the rights of supposed "liberals." In one blatant example of this, Ohio Rep Jim Jordan questioned Dr. Fauci about the idea of limiting protests since COVID-19 can be transmitted in large crowds.
Article continues below advertisement
As one of the nation's top health experts, Dr. Fauci refused to take the bait and made sure to stick to the facts even though Jim Jordan continually pressed him to say that protests should be limited.
Article continues below advertisement
Jordan wondered why churches weren't allowed to gather for services while Black Lives Matter protests were allowed to go on without issue. It was clear that he wanted Dr. Fauci to say that it would be good medical advice for the government to limit protests.
But Dr. Fauci stood his ground. He said, "Well, I'm not going to opine on limiting anything. I'm telling you what the danger is. You can make your own conclusion about that. You should stay away from crowds no matter where the crowds are."
Article continues below advertisement
Of course, most religious services in churches or temples take place inside, which is much more dangerous for the spread of COVID-19 than crowds that gather, masked, in outdoor situations, like the protests. On top of that, it's become clear in the weeks after protests broke out that they have not been responsible for the spike in cases around the country.
Contact tracing has found that the virus is spreading due to parties and social gatherings where people aren't wearing masks and workplaces where people are spending the day around others, inside and unmasked. Protests just haven't been shown to contribute massive numbers of cases to the noted rise.
Article continues below advertisement
Jordan continued to press Dr. Fauci to say that protests should be limited, but Dr. Fauci was careful to stick to facts. He said that yes, it's better to avoid crowds of any kind. But he simply wouldn't make the judgment that Jordan was pressuring him to make.
Article continues below advertisement
"I don't understand what you're asking (of) me as a public health official to opine on who should get arrested. That's not my position," Dr. Fauci said, as reported by USA Today.
"Any crowd, whether it's a protest — any crowd of people close together without masks is a risk. And I'll stick by that statement. It's a public health statement. It's not a judgment," Dr. Fauci was careful to clarify.
Article continues below advertisement
When Rep. Jim Clyburn, the top Democrat on the committee, asked Dr. Fauci why cases in the U.S. continue to rise while most of Europe has seemed to successfully contain the virus, Dr. Fauci explained.
Article continues below advertisement
"If you look at what happened in Europe when they shut down or locked down or went to shelter-in-place ... they really did it to the tune of about 95 plus percent of the country ... When you actually look at what we did, even though we shut down ... we really functionally shut down only about 50 percent..."
Jim Jordan's line of questioning was clearly meant to get Dr. Fauci to use his expertise to justify limiting the first amendment right to peaceful assembly. There is a line between maliciously stripping away citizens' rights and legitimately working together to beat a global pandemic, and Republican leaders like Jim Jordan seem to want to use the virus to their political advantage.