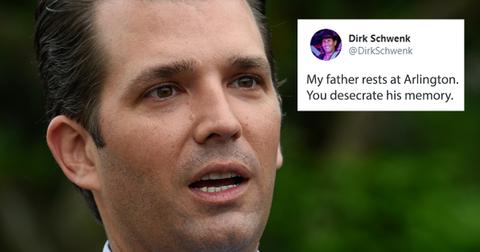 Donald Trump Jr. compared fallen soldiers to 'sacrifices' made by his family
By Mark Pygas

Updated
Donald Trump Jr.'s new book, Triggered: How the Left Thrives on Hate and Wants to Silence Us, launched last week. According to reviewers, the book largely focuses on how the Trump family has been "victimized" by the political left as a result of his father's presidency. 
Article continues below advertisement
But one specific chapter has got people online talking. In the chapter titled "Election Night," Donald Trump Jr. spends a lot of time talking about the financial strain that the election has had on his family and seemingly compares it to the sacrifices made by U.S. soldiers killed in action.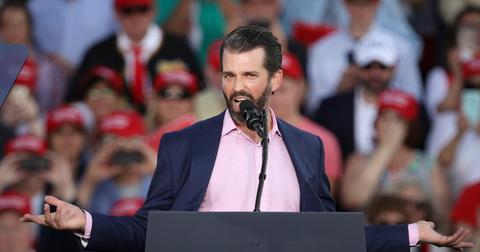 Article continues below advertisement
Writing about a visit to Arlington National Cemetery the day before his father's inauguration, Donald Trump Jr. writes: 
"I rarely get emotional, if ever. I guess you'd call me hyper-rational, stoic. Yet as we drove past the rows of white grave markers, in the gravity of the moment, I had a deep sense of the importance of the presidency and a love of our country ..."
"In that moment, I also thought of all the attacks we'd already suffered as a family, and about all the sacrifices we'd have to make to help my father succeed — voluntarily giving up a huge chunk of our business and all international deals to avoid the appearance that we were 'profiting off of the office.'" 
Article continues below advertisement
He went on to add: "Frankly, it was a big sacrifice, costing us millions and millions of dollars annually ... Of course, we didn't get any credit whatsoever from the mainstream media, which now does not surprise me at all." 
President Donald Trump has broken decades of precedent by maintaining ownership of his business while acting as president. In the past, presidents have placed their assets into a blind trust for the duration of their term. 
Unsurprisingly, social media users weren't too happy about the apparent comparison. 
Article continues below advertisement
"Donald Trump Jr. can f**k right off," one user wrote. "Comparing his silver spoon sucking existence to the ultimate sacrifice a citizen can make is offensive and incredibly disrespectful."

Article continues below advertisement
Another joked: "This Veterans Day, be sure to thank the real heroes: Third-generation multi-millionaires who work at Dad's company and come from wealth built on decades of fraud and tax evasion. These brave men sacrifice every day—braving private jet flights and mean tweets—for your freedom."

Article continues below advertisement
Another user concluded: "My father rests at Arlington. He died from blood cancer likely caused by his time flying nukes aimed at Russia. He was awarded the Airman's Medal for Heroism for voluntarily descending and rescuing a man overcome by sewer gas. You desecrate his memory."

Article continues below advertisement
While one user added: "You offensive little worm, don't you dare compare your 'sacrifices' to the soldiers buried at Arlington. I have family buried there. My family has served in every war since WW1. One of my grandpas was KIA in Korea. Your family sacrificed nothing. Ever."