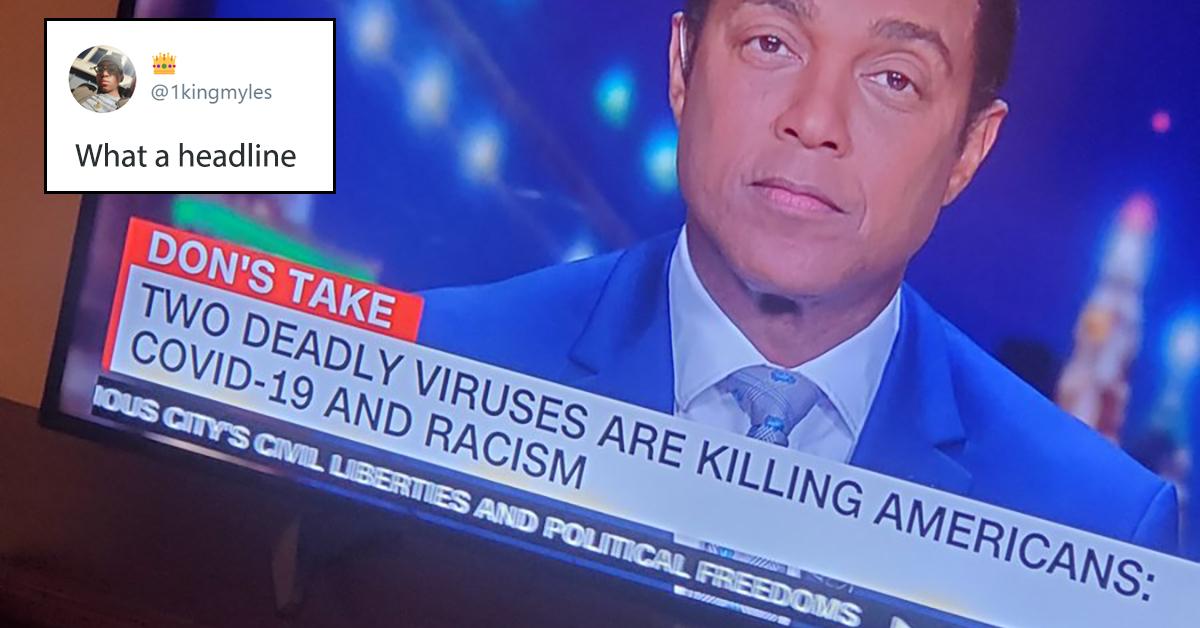 Don Lemon says there's two viruses killing Americans: 'COVID-19 and racism'
By Mark Pygas

May 28 2020, Updated 12:50 p.m. ET
CNN host Don Lemon gave a powerful statement following incidents of racism that have become national headlines in recent days.
Article continues below advertisement
A video of a police officer kneeling on George Floyd's neck has dominated headlines and led to protests across the country. Floyd died at the hospital a short time later, and the four Minneapolis police officers, who were responding to an alleged forgery in progress, were fired.
On the same day, an African American bird watcher, Christian Cooper, filmed a woman calling the police and telling them he was threatening her after he asked her to put her dog on a leash.
And most recently, a man threatened to call the police on a group of black men using their WeWork's gym.
Article continues below advertisement
In a statement on CNN, Don Lemon talked about two of these incidents, and said that "two viruses" are killing Americans - COVID-19 and racism.
Article continues below advertisement
Criticizing President Trump for focusing on Twitter's correction of two of his tweets instead of the growing coronavirus death toll, Don Lemon said:
"There are two major crises in this country tonight. Two deadly viruses killing Americans. COVID-19, Racism-20. Now we all know that racism is not new this year, but the latest racially-charged incident is from just last night."
"The death of George Floyd. He's a black man in Minneapolis who died after a white officer arresting him held him down with his knee on his neck. Four Minneapolis police officers were fired today as the FBI has opened an investigation."
Article continues below advertisement
"A disturbing video showing two officers with George Floyd on the ground. This video doesn't show what led up to the arrest. We don't see what police described as the victim resisting arrest. He's on the ground for a long time with the police officer's knee on his neck. How can he resist? He couldn't move, he's saying 'I can't move,' he's saying 'I'm done."
"But what we do see is this police officer with his knee on George Floyd's neck forcing his face into the ground. He hear [George Floyd] screaming 'please, I can't breathe.'"
CNN then cuts to footage of the incident, with Floyd telling police officers that he can't breathe.
Article continues below advertisement
"It is hard to watch," Lemon continues. "Imagine what he felt like. When you say 'oh my god, I can't watch that' or 'why are they showing that' imagine that Mr. Floyd felt like. Imagine what his family feels like."
"Police said he died at a hospital shortly after that. After begging 'please, I can't breathe.' Just like Eric Garner, nearly six years ago in New York. His final words, 'I can't breathe.'"
"Another another one, then there's the case of Ahmaud Arbery, the young black man who was chased down and shot to death when he was jogging in a Georgia neighborhood in February. Three white suspects are charged with murder in the case."
Article continues below advertisement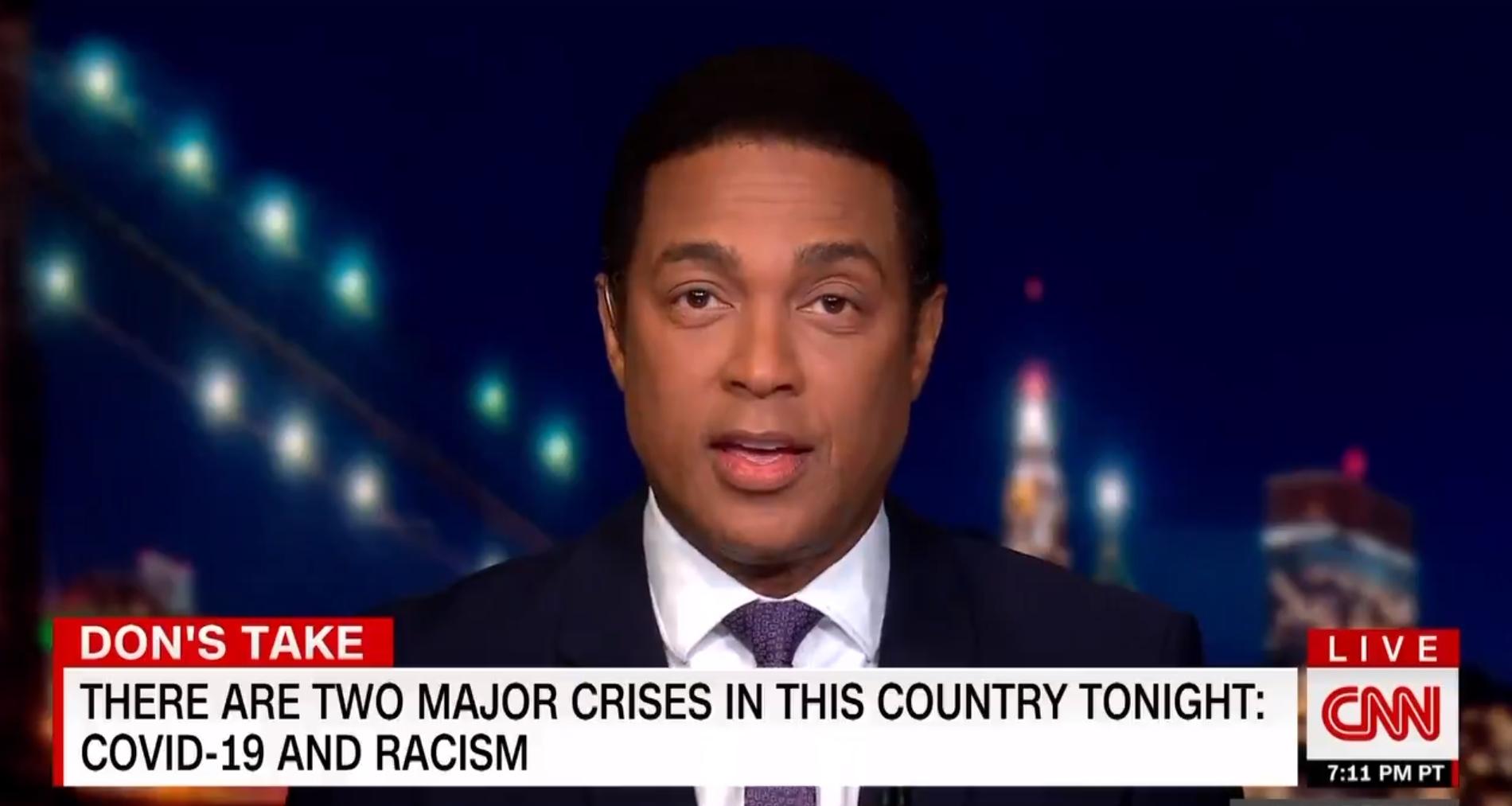 "Racism is infecting this country, continues to infect this country. Just as surely as COVID-19. And we don't only see it in encounters between African Americans and the police. It even infects a simple walk in the park."
Article continues below advertisement
"A black man out in Central Park bird watching asks a white woman to follow the rules and put her dog on a leash. A man films the incident, as a woman calls the police claiming she is being threatened by an African American man."
CNN then showed the footage recorded by Christian Cooper.
"Oh the fake tears," Lemon remarks. "The scary black man. Notice, she's the one who's breaking the rules. But she wants to call the cops on the man who asked her to follow the rules by putting her dog on a leash."
Article continues below advertisement
"Happens a lot, this one was just filmed. So when people tell you this BS happens, maybe you should believe them. And by the way, she knew the power that she had. This is a white woman calling the cops, saying that a black man is threatening her."
"Those cops should have showed up, his fate could have been similar as Mr. Floyd. Different relationships with the police, Amy Cooper has than that black man. That woman, her name is Amy Cooper, she apologized but was fired from her job today, after the video sparked outrage."
Article continues below advertisement
"And the fact is, all too often is encounters like this have spiraled out of control with tragic results. But this man, his name is Christian Cooper, no relation, says he didn't want to see anyone's life ruined."
Lemon then shared a tweet from Bernice King, the daughter of Dr. Martin Luther King Jr., which has gone viral.
Article continues below advertisement
Lemon ends his statement by adding: "In a moment like this, racism and coronavirus ravaging this country, we need leadership. Instead, this President is dragging us right into the mud."
Unsurprisingly, the response to Lemon's statement has been strong.
Article continues below advertisement
While another added that there was "no vaccine for that virus."
Article continues below advertisement
"How long are we going to keep letting Americans die from the deadly virus of racism," another added.
What do you make of Lemon's statement?