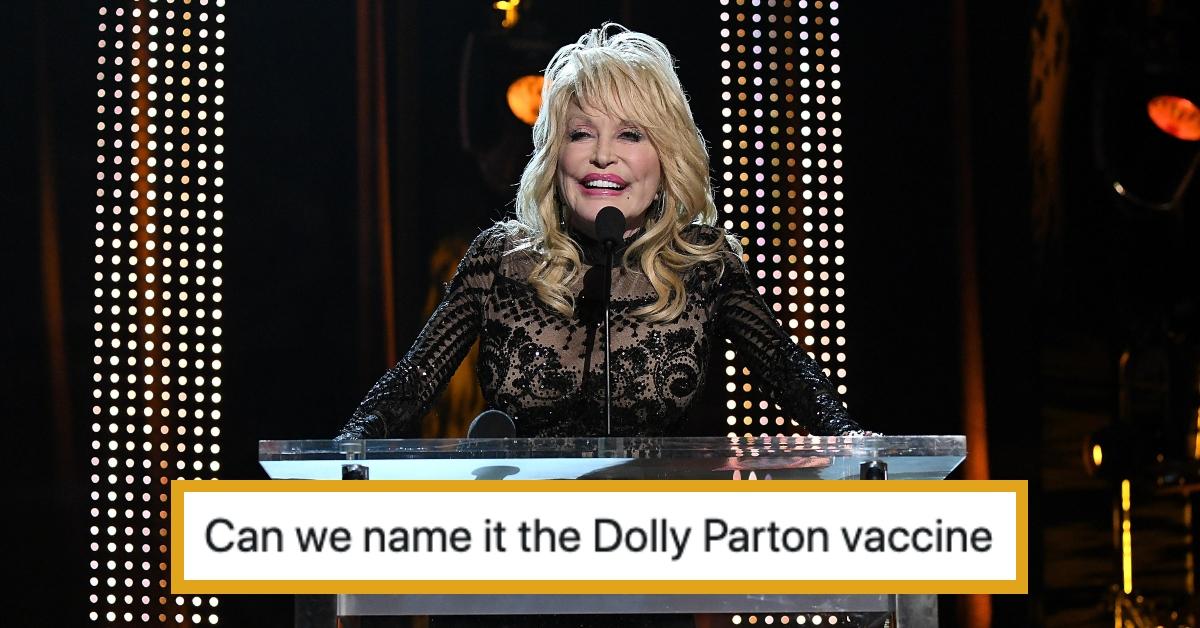 Dolly Parton donated $1 million to Moderna's successful COVID vaccine research
By Robin Zlotnick

Nov. 18 2020, Updated 8:42 a.m. ET
Back in April, country superstar announced that she would be donating $1 million to Vanderbilt University for COVID research. Turns out that Dolly's donation helped fund Moderna's COVID-19 vaccine research, which is one of the two with extremely promising trials (the other is Pfizer's). Y'all, Dolly Parton might have just saved us all.
Article continues below advertisement
And when the internet found that out, they went ballistic. CNN reports that Dolly Parton's name "appears in the preliminary report on the vaccine among sponsors like the National Institute of Allergy and Infectious Diseases, which Dr. Anthony Fauci heads, and Emory University." But only one of those sponsors also wrote "Jolene" and "I Will Always Love You" on the same day.
Article continues below advertisement
When Dolly Parton appeared on TODAY and was asked about her donation, she was amazingly humble, saying, "I'm just happy that anything I do can help somebody else."
Article continues below advertisement
Immediately, the internet exploded with hyperbolic statements about how Dolly Parton is going to save us all and Dolly Parton is the only good rich person in the world. And yeah, these statements might be dramatic, but they're also what we need right now.
We've been up a creek* without a paddle** (*going through a global pandemic, **an effective leader and / or plan) for almost an entire year. It's about time someone took the wheel (of this boat, I guess, look, don't at me for mixing metaphors, you get what I'm saying) and steered us toward the shore (saved it). And we're all just so glad this person is Dolly Parton.
Article continues below advertisement
Article continues below advertisement
Article continues below advertisement
"Can we name it the Dolly Parton vaccine?" several people asked. "Dolly Parton is the one rich person we won't eat," another person asserted.
Others used this as a learning opportunity. "Let's be clear," one person wrote. "Dolly Parton is a millionaire and not a billionaire because she *keeps giving money away.* Being a billionaire is a MORAL FAILING. She gives away shockingly large amounts of money every year and is STILL RICHER THAN YOU AND I WILL EVER BE."
Article continues below advertisement
How many successful vaccine trials would we have if billionaires like Jeff Bezos and Bill Gates gave away tons of money? Maybe the pandemic would be over by now! But Dolly Parton seems to be the only mega-wealthy public figure who's making a real difference here. And not just with the vaccine trials.
That's right. She's also starring in an hour-long Christmas special and a brand new Christmas musical on Netflix. Oh my goodness, I figured it out, y'all. Dolly Parton is Santa. She's the real deal, performing Christmas miracles and spreading joy and virus immunity wherever she goes. And that's something worth celebrating this holiday season.