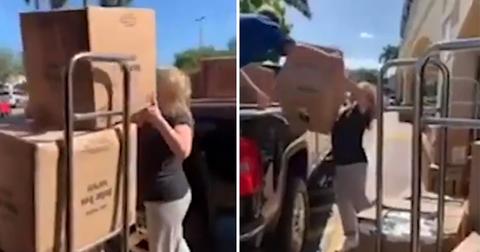 Woman shouts 'go Donald Trump' as she buys Dollar Tree's entire supply of toilet paper, napkins, and paper towels
By Mark Pygas
A woman is being shamed online after she allegedly purchased all the paper products at a Dollar Tree store in Florida. Video emerged on twitter of a woman loading boxes of toilet paper, napkins, and tissues onto the back of a truck. And we mean a LOT of boxes.
"Look at this wonderful woman who just told me to go f myself and minding my own f'ing business, who just bought the entire store of toilet paper, paper towels, so that no one else can have any," another woman recording the incident says in the video.
"It's really lovely," the woman recording continues. "And I wish I had gotten it earlier when she was telling me to go f myself and mind my own f'ing business. But now she's being all calm because she knows she's gonna be on everywhere."
"Why don't you go video inside the store, they sold everything," a passerby off-screen interjects. "Yeah, I saw that. It shouldn't be allowed though," the woman who is recording replies.
"I hope you're not going to go sell it to other people," she adds. "Don't worry, you'll see here around the corner selling it for double in a minute."
"That's exactly what I'm going to do," the woman who purchased the products replies.
"She bought it all from the store and she thinks it's right and OK," the woman who is recording tells a man off-screen. "I bet you she likes Donald Trump too," she continues.
The woman loading the toilet paper into her car then shouts: "Donald Trump! Go Donald Trump!"
"I knew it," the woman who is recording replies.
The woman loading products responds: "You're so pathetic."
"I'm pathetic?" the woman recording asks. "I'm did not buy the entire Dollar Tree out of paper towels, toilet paper, and napkins for myself."
"What street corner should I go to to buy it from you," the woman adds as the other woman drives away. "The one you're a hooker on," the other woman retorts.
Brian Tyler Cohen, the managing editor of Occupy Democrats, shared the video on Twitter. In a caption alongside the video, Cohen explains: "This woman buys out a local Dollar Tree of every single box of paper towels, napkins, and toilet paper so that no one else can buy any."
In reply to his tweet, users called out panic buyers and stores for enabling them. "I blame the stores for allowing this c**p," one user wrote.
While another added: "I work in a pharmacy. I have been dealing with hoarders for a week. Biggest question is how and why Dollar Tree allowed it. Plus I would bet she is indeed selling it. If she wasn't she'd be proud to say she is donating it."
The viral video comes as stores around the world struggle to keep with increased demand due to panic buying. In response, many have limited the number of goods that people can buy and even introduced shopping hours reserved for the vulnerable.
UPDATE: Dollar Tree spokesperson Kayleigh Painter told the Miami Herald that while they are restricting the quantities of certain items sold per customer, the policy was not followed in this case.
"Dollar Tree has had a policy in place for more than a week limiting the quantities on select high-demand products sold per customer," she said. "Unfortunately, the policy was not followed in this specific instance and we have addressed it with the store team. We appreciate the hard work of all of our associates serving their communities during this unprecedented time."
The best way to prevent contracting or spreading coronavirus is with thorough hand washing and social distancing. If you feel you may be experiencing symptoms of coronavirus, which include persistent cough (usually dry), fever, shortness of breath, and fatigue, please call your doctor before going to get tested. For comprehensive resources and updates, visit the CDC website. If you are experiencing anxiety about the virus, seek out mental health support from your provider or visit NAMI.org.