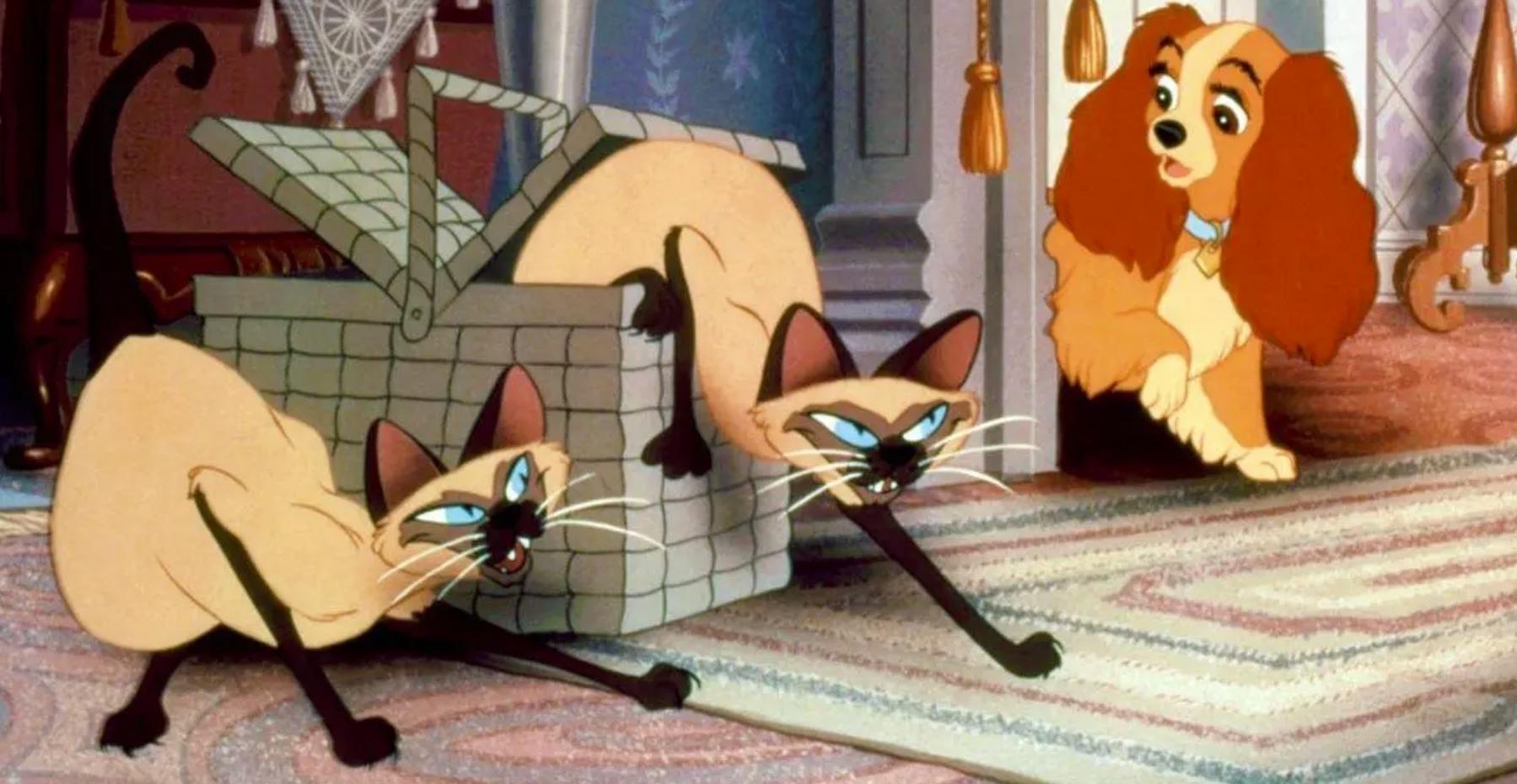 Disney Plus has added a disclaimer on old movies with racist elements
By Robin Zlotnick

Nov. 14 2019, Updated 1:00 p.m. ET
Disney Plus is now where you can go to stream some of the most beloved Disney classics, from Dumbo to The Jungle Book to Peter Pan. The descriptions for these movies and more now contain a disclaimer: "This program is presented as originally created. It may contain outdated cultural depictions."
Article continues below advertisement
Older Disney films that include racist elements — like Lady and the Tramp, The Aristocats, Fantasia, and others — have the disclaimer, which usually sits toward the bottom of their plot descriptions. Many are applauding Disney for acknowledging that many of the older titles in their library contain inappropriate racist depictions and stereotypes...
Article continues below advertisement
Peter Pan, for example, contains racist depictions of Native Americans. Both The Aristocats and Lady and the Tramp contain Siamese cat characters that speak with offensive Asian accents and were voiced by white actors, according to BuzzFeed News. In Dumbo, there is a crow character actually named Jim Crow. He and the other crows sing a song in a scene that uses heightened racist stereotypes.
While Disney has placed this disclaimer on many of its older films, some even more blatantly racist properties, like Song of the South, remain absent from the streaming library. Additionally, a "dark-skinned centaur named Sunflower in Fantasia who took care of the lighter-skinned centaurs" has been edited out of the current cut of the film. According to The Verge, "some subscribers are asking Disney to do more, and release controversial titles with a much more direct disclaimer."
Article continues below advertisement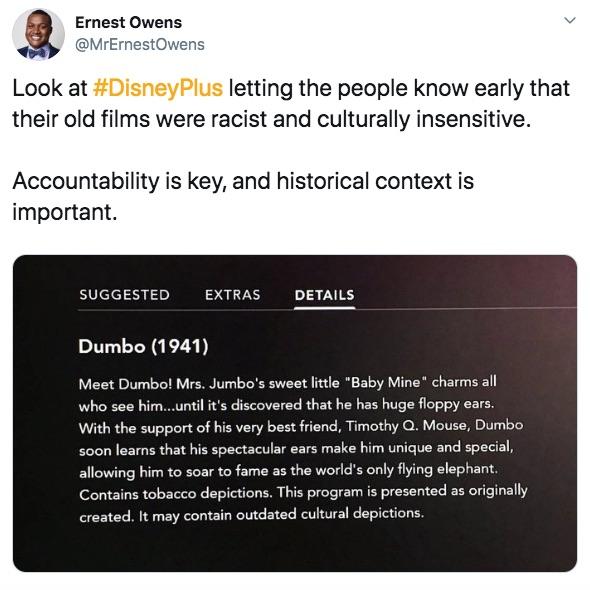 Some argue that by editing Sunflower out of Fantasia and not releasing Song of the South, Disney is failing to take responsibility for its own racist past. And the disclaimers aren't used uniformly. Jeva Lange points out that 1992's Aladdin, which contains racist tropes, doesn't have the warning. Neither does Pocahontas, which also contains Native American stereotypes, not to mention a completely sanitized and fictionalized version of real history.
Article continues below advertisement
While many were impressed with Disney for including this disclaimer, others don't believe it goes far enough. Writer and critic Josh Spiegel told The Verge, "It's encouraging to see Disney acknowledge the darker elements of its past film and TV content, but this disclaimer is also the bare minimum. Frankly, a lot of Disney Plus subscribers might not even notice the disclaimer, instead just clicking Play on a title."
And some are criticizing the language of the disclaimer as well. When one Twitter user asked why people were outraged about the disclaimer, another responded, "I think it's the fact that Disney is trying to gloss over the fact that some of the s--t is flat-out racist by calling them 'outdated cultural depictions.'" The disclaimer also says the films "may" contain these depictions, which some argue skirts around Disney taking responsibility for its content.
Article continues below advertisement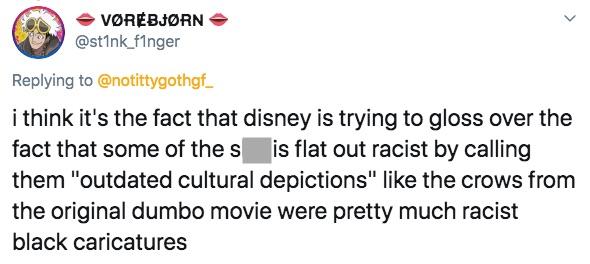 Disney Plus's disclaimer is being compared to one that Warner Bros. included in their home video cartoon releases. Warner Bros.' message is much more explanatory, not to mention bigger and more noticeable. "The cartoons you are about to see are products of their time," it reads. "They may depict some of the ethnic and racial prejudices that were commonplace in American society.
Article continues below advertisement
"These depictions were wrong then and are wrong today. While the following does not represent the Warner Bros. view of today's society, these cartoons are being presented as they were originally created because to do otherwise would be the same as claiming these prejudices never existed."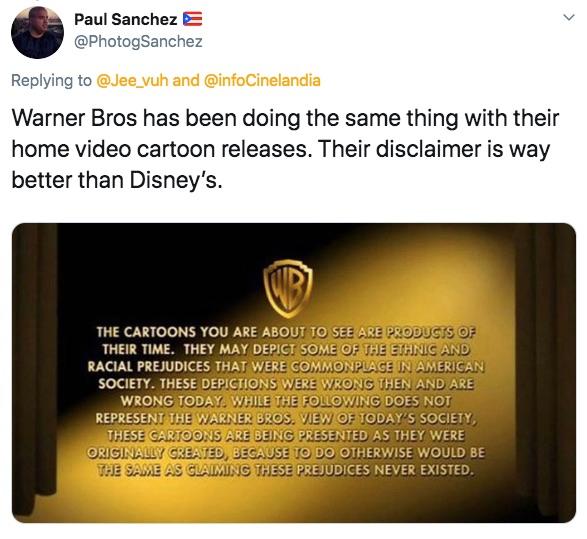 Article continues below advertisement
Warner Bros. has put this disclaimer in front of its older cartoons, like Tom and Jerry, for years, and it has traveled with the cartoons as they've been made available on home video and then digitally. According to The Verge, the DVD box set of Tom and Jerry went even further and included an introduction from Whoopi Goldberg explaining why producers decided to leave in racist scenes.
"The Tom and Jerry episodes included in this collection come to us from a time when racial and ethnic differences were caricatured in the name of entertainment," she says in the introduction. "These prejudices were wrong then and they're wrong today."
Disney has not yet commented on its use of the disclaimer or if there are plans to release other titles in its library.